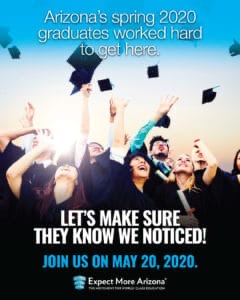 Now more than ever, it is important for teachers and students to feel celebrated and seen since we will not be able to celebrate their personal milestones and show our appreciation in traditional ways. So, Expect More Arizona put together two holidays—Arizona Teacher Appreciation Day and Arizona Graduate Recognition Day—to celebrate our educators and their students. AZFoothills had the opportunity to speak with Christine Thompson, CEO of Expect More Arizona, in regard to these celebrations.
What inspired you to start the celebration?
Even though celebrations can't look like they usually do, we want teachers and graduates to see that the community supports and honors their dedication and accomplishments. Arizona's educators are amazing. That has been made even more clear as we read story after story of teachers working double time to meet students educational and physical needs after schools were closed. Educators sacrifice so much to help students succeed at every level, from preschool through college. We also know that Arizona's 2020 graduates worked hard to reach their individual milestones. These students are missing commencement ceremonies that would have capped their journey through anything from high school all the way to doctoral degrees. We know many overcame personal obstacles to achieve their goals. Some may even be the first in their family to graduate. It's so important that educators and graduates know all of Arizona recognizes and celebrates them.
When and where will the events take place?
Celebrations will take place in May:
Tuesday, May 5, 2020 – Arizona Teacher Appreciation Day
Wednesday, May 20, 2020 – Arizona Graduate Recognition Day
People may choose to celebrate at home, online, in the neighborhoods or otherwise, depending on what's safe and what's available. Since physical distancing measures may still be in place, Expect More Arizona has compiled ideas on ways to mark the occasions (click here for the list).
What events can our community expect to see?
Some ideas for celebrating include:
Chalk your driveway or the sidewalk in front of your house with encouraging messages for grads and notes of appreciation for teachers
Orchestrate a block driveway party to celebrate graduates
Share messages of congratulations/recognition on social media using the appropriate hashtag, #AZTeachersRock or #AZClassOf2020
Families (or graduating classes) could coordinate a virtual graduation party; create school-themed virtual backgrounds that all students can use
Support this year's seniors by sharing your senior year picture (no matter how old you are) on social media as a tribute to the Class of 2020 graduates
Make homemade yard signs or banners
How many people are you expecting to participate?
We hope everyone in Arizona gets involved – individuals, businesses, organizations, local governments, media outlets, and more.
Is there anything locals can do to help the celebration?
We'd like everyone to help spread the word about the days of celebration. Encourage your friends, families, neighbors and colleagues to get in on the action. Arizonans should get creative and find unique ways to get involved. If you live somewhere with a neighborhood association, share this info with them and ask them to help organize a safe celebration. And, if there is a teacher or graduate in your home, make sure people know!