January 2020 is coming to a close, and many parents around the Valley are contemplating their New Year's resolutions. This year, a top trend was making resolutions to help your kiddos stay healthy, active, and motivated. Today, both moms and dads alike are scrambling to figure out how they're going to fulfill this annual undertaking. We can report that you give yourself the best shot at success by setting a goal that's doable — and meaningful too. That is why we are introducing MY FIRST WORKOUT.
Created by Michelle Miller, a mother and certified personal trainer, MY FIRST WORKOUT is an active option to strengthen the parent child bond while creating lifelong good habits. The company website states, "We believe parents are looking for a way to connect with their children, and exercise is one of the best ways to do that. We believe children who exercise regularly will perform better at school intellectually, socially and emotionally."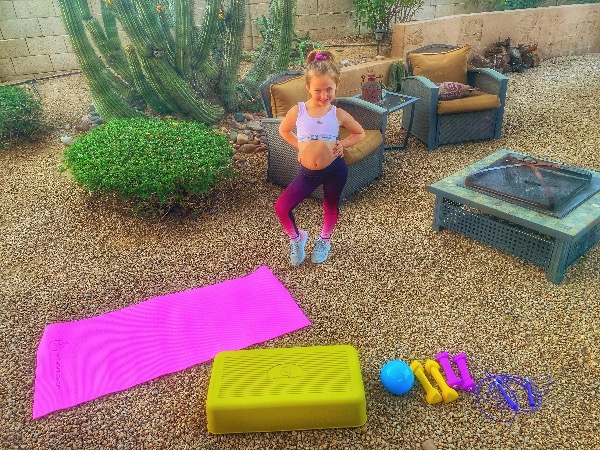 What is MY FIRST WORKOUT - An exercise kit especially intended for children ages 5-10. Of course, the program requires adult supervision, so parents get to teach their children the fundamentals of exercise. Exercise videos are available for purchase, so the family can watch CEO and Founder, Michelle Miller, as she furthers their familiarity of physical activity education.
The MY FIRST WORKOUT Kit - When purchasing MY FIRST WORKOUT, first decide on age. (Either 5-7-year old OR 8-10 years old.) The Kit includes:
Program One Exercises – instructional video and step-by-step poster
Two sets of triangle free weights; Depending on age, 2lb, 3lb and / or 4lb
3-meter-long adjustable jump rope
Easy-grip sand ball (4lb or 5lb, depending on age)
Comfortable non-slip, eco-friendly exercise mat
Aerobic step that doubles as a storage case for all of your child's equipment (max supported weight: 265lbs)
Our Experience - The kit is sturdy and compact, and made in bright colors, so children are quickly drawn to this. At first my daughter was unsure, since she assumed she was too young to exercise with this equipment. The step by step program quickly gave her confidence, and the pieces in the kit were so manageable to her size. I especially loved that it is an accessible activity and healthy alternative to tech.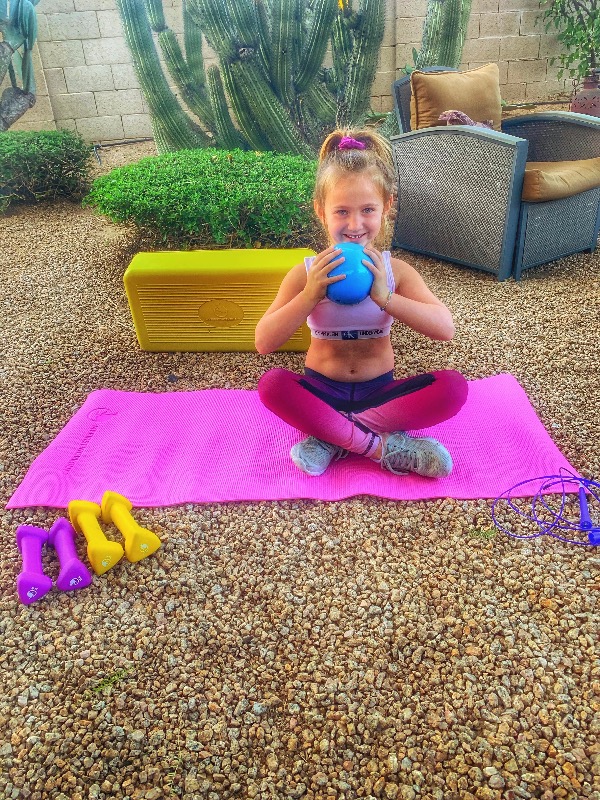 More About MY FIRST WORKOUT - The MY FIRST WORKOUT purpose is to help parents connect with their children and teach them lifelong exercise habits at an early age; specifically for children between the ages of 5-10. With an emphasis on ease-of-use and a focus on fun, MY FIRST WORKOUT® brings you a Certified Personal Trainer and Physician approved workout program that will benefit the whole family!
To learn more about MY FIRST WORKOUT and to purchase your kit, visit https://myfirstworkout.com.
Amanda Rumore is a writer, mom blogger and lifestyle expert. Scottsdale-based, by way of Chicago and Los Angeles, she writes for various magazines and appears on local television stations featuring family and lifestyle stories. She was also voted "Favorite Valley Mom" in the Best of the Valley. Follow here on Insta!