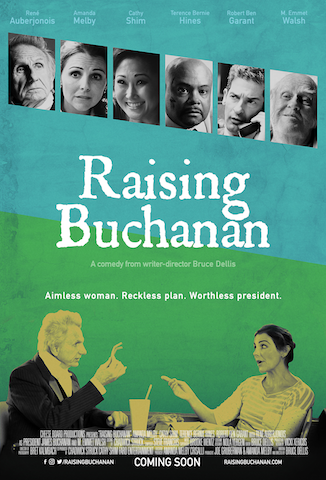 "Raising Buchanan" first debuted at the Phoenix Film Festival back in April of this year. Unsurprisingly – at least to those who know a truly great movie when they see one – the full-length feature charmed audiences and critics alike with its diverse cast, superb homage to Arizona scenery, and its spot-on portrayal of the complexities of human interaction.
The film, which was shot in and around both Phoenix and Prescott in 2017, tells the comedic tale of a woman named Ruth who steals the corpse of President James Buchanan. The movie follows Ruth's journey as she tries to score a large payday through her actions, but ultimately finds that due to the late President's complicated and largely disliked personality, no one really has much interest in getting him back.
Rocky Mountain Emmy Award winner and Tempe resident, Bruce Dellis, is the brains behind the operation, as he served as the writer and director on the project.
While the vision was that of Dellis', the heart of the film originates in its cast. Emmy-nominated and Tony Award-winning actor Rene Auberjonois stars as President James Buchanan, while protagonist, Ruth Kiesling, is played by local actress Amanda Melby Crisalli.
Much of the film's success can be attributed to the team working behind the scenes, with a 100-percent local production crew comprised of producers Joe Gruberman and Amanda Melby Crisalli, Director of Photography Bret Kalmbach, and so many others.
The project is a rarity in today's entertainment climate, as few films manage the balance between a drama and comedy so seamlessly. But the film's actor and producer, Amanda Melby Crisalli, attributes much of that success to great writing and an outlandish storyline that speaks for itself.
"When we were doing auditions, it was interesting because some people came in, and they would audition like it was some sort of wacky, Disney show sitcom [LAUGHS]. And it's like no, this is still based in reality," says Crisalli. "The comedy does come out of the situation in a sense, but it's ultimately about people who find themselves in a situation that's unusual. From the actor's perspective, it's really more like a drama. But the ridiculousness of the situation is what makes it so funny."
This year has already proven to be a whirlwind season for those involved with the making of the film, after a strong festival opening earlier this year and nonstop praise from audiences since.
In honor of the film's supremely unique journey thus far, Harkins Shea 14 will be playing the feature starting Friday, Sept. 27, all the way through Thursday, Oct. 3. For more information on the film, visit the official "Raising Buchanan" website. Tickets are available for purchase on Harkins website.