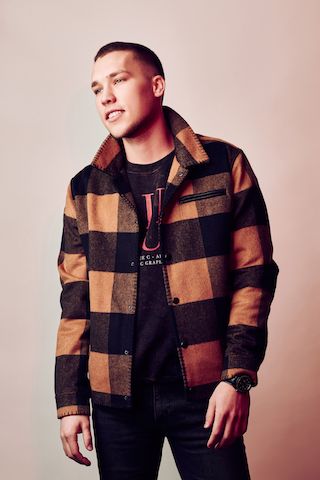 Photo courtesy of Matthew Berinato.
Situated in a backyard in Central Phoenix, Brandon Ratcliff is preparing for his SoFar Sounds show. It's a Saturday afternoon in early March, and as the small crowd begins to settle into their seats, the 24-year-old musician is visibly eager.
His comfortable and unexplainably-cool mood before hitting the stage is an arguable parallel to how he seems to be approaching his budding and relatively fresh career. While he may still be trying to find his footing in the ever-changing industry of country music, Ratcliff is no stranger to the creative world.
The Louisiana-born artist is a product of a musical family – with his mother being Suzanne Cox of the famed Cox family. His early exposure to the world of music and songwriting has helped him to sharpen his skills over the years.
"I got to grow up in this sort of constant environment, where every holiday, instruments were guaranteed to be broken out at some point. Getting to grow up in studios and go on tours and sleep in tours buses when I was younger with my family – doing all of that stuff was just incredible and honestly I grew up just not knowing anything different," says Ratcliff.
In the process of finding great co-writing partners, Ratcliff developed friendships with producer and co-writer, Pete Good, as well as AJ Babcock, another well-experienced co-writer. The trio has worked tirelessly to hone Ratcliff's tone over the years, in the hopes of crafting him to be a different sort of country artist – a man enthralled within the magic of the industry, but also unique enough to break outside of the mundane mold of a traditional musician.
Though he's a master at creating catchy hooks that depict relatable stories – particularly about the triumphs and tribulations of young and innocent relationships – what stands out the most about Ratcliff is his dedication to the craft of songwriting. In a world that is often drawn to unsubstantial pop tunes, paired with the eclipsing hymns of techno sounds and DJ-inspired mixes, Ratcliff's music inspires something different and refreshingly nostalgic. At the heart of his talents, Ratcliff is quite simply a storyteller.
While his inspirations come from legendary creatives like Stevie Wonder and John Mayer, Ratcliff is determined to forge his own path. And his current tour with SoFar Sounds – a music events startup company that provides intimate gig spaces for artists to connect with fans and for audiences to enjoy live music – is helping him to do just that.
"SoFar Sounds is such an interesting concept and when I first heard about it, I was so attracted to the idea because in Nashville, we do a lot of like songwriter series sort of things, and it really puts an emphasis on the song. This thing is kind of built around that, where you're connecting new musicians and songs and fans together, and just seeing where they go. And the coolest part, is that it's happening in really intimate settings. Because these settings allow room for conversation – which I'm super pumped about," says Ratcliff. "The idea of getting to bring what we essentially do in Nashville on the road is just awesome."
After teaming up with Grammy Award-winning producer Shane McAnally – who is a frequent collaborator with beloved country musicians like Kacey Musgraves, Kenny Chesney and Sam Hunt – Ratcliff has seemingly found his niche, after releasing his debut track, "Rules of Breaking Up," which has already accumulated more than 2.5 million streams on Spotify.
This coming April, Brandon will embark on another adventure: a tour with fellow country music artists Kelsea Ballerini and Brett Young.
"I'm a huge fan of them both [Kelsea and Brett] not only as artists, but also as songwriters – because, I'm a huge songwriter. So, I have a huge admiration and level of respect for them both. This is my first tour, so to get out and see the fans and to play – I'm beyond excited about it," says Ratcliff.
The same level of warmth and sincerity that Brandon affords to all who come in contact with him – case in point, every audience member at his SoFar Sounds Phoenix performance – is similarly present in his music – with each lyric carrying a level of authenticity that few musicians are able to seamlessly articulate, if ever.
To learn more about Ratcliff or to check out tickets for one of his upcoming shows, visit his official website.