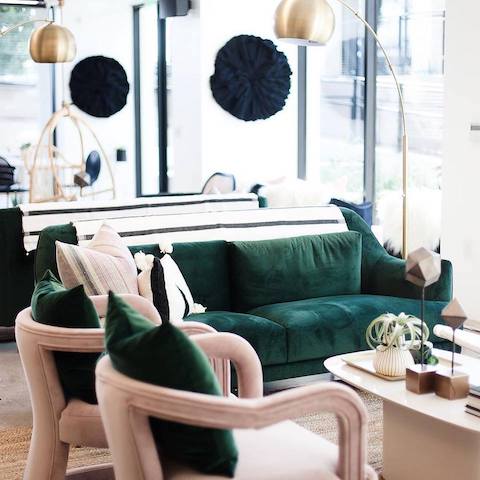 Shirley Chisholm once said, "If they don't give you a seat at the table, bring a folding chair."
Though it's a statement that has long been recited and rephrased, the idea has become particularly pertinent over the last few years. The rebirth of a feminist wave has garnered the support of millions of women from across the world and in nearly every realm of work. Whether it be in politics, business or even media, women are working to regain leadership roles and to be at the forefront of key decision-making. And it's no longer about women simply discovering their power or finding their voices, but rather them unearthing the courage and support to actually use them.
While the recent movement has already brought about more progressive changes, the most inspiring might just be the noticeable increase in collaboration amongst females, and the value that has now been placed on the idea of "women supporting women."
Taking on a patriarchal society or building businesses from the ground up, are no small feats. Their ventures that challenge even the most experienced of women to reimagine their idea of success. With the reintroduction of the importance of female collaboration, more women are looking to create authentic spaces that house creativity and fun, promote cooperation and that may serve as the base for quality, relationship-building in business.
Thus, enters the Valley's newest gem, The Emerald.
The Emerald is a membership-based club and co-working space that not only gives women the office space and freedom necessary to cultivate their dreams, but it also works as a place that allows women to connect, grow, collaborate and even learn from one another.
The Emerald was created by founders Ashlyn Rowe and Abby Leadon – two friends who, despite succeeding in their own respective fields, shared a common love for connecting women and dreamed of owning their own business.
The dream later blossomed into a full-fledged passion which resulted in The Emerald's birth in late 2018. A central concept of the co-working space is the idea that when women surround themselves with other positive, successful women, they too become empowered.
"When you get to hear from other women entrepreneurs that you see on the cover of the magazine or that you've heard about their company and you admire them, to actually meet them – hear their story, hear their wins, hear their struggles – there's something really inspiring and encouraging about that. And it's great for other women to feel like they too can go start their side-hustle," says Leadon.
The Pinterest-worthy, 4,200-sq.-ft. space features all of the amenities necessary to create, connect and build freely: open seating space, dedicated desks and private offices, a conference room, café area and library. Framed photos of female world-changers like Oprah, Princess Diana, Beyoncé and Audrey Hepburn grace the buildings' walls. Guests can also enjoy a quiet room, a vanity wall, copious amounts of natural light in a vibrant and airy setting, and even flamingo-centric bathrooms – which have evolved into being a selfie-haven for members and visitors, alike.
Though the space is still relatively young, Rowe and Leadon are already looking to expand throughout the state, as well as the country. The market for positive, vibrant co-working spaces for women certainly isn't going anywhere, anytime soon. So, as these 'girl bosses' continue to grow their business venture, we'll just be snuggled up in the café, snapping selfies in the bathroom and plotting how to make our dreams a reality over at our new favorite place: The Emerald.
For more information on The Emerald, visit its official website.