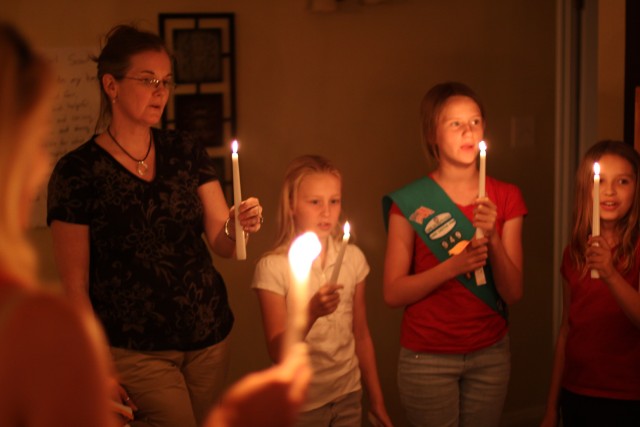 On November 12, 2013 Audra Sanders, her mother Carol, as well as her uncle Tom Fitzpatrick were murdered by Audra's father. It was a fall afternoon, like any other except that four lives in a quiet Central Phoenix neighborhood would be ended in a horrific act of domestic violence. The murder-suicide quickly dominated local and even national news.
Audra was only 14-years-old and the bright spot of so many school friends. One of her best chums was 13-year-old, Darby House, a fellow Girl Scout in a troop led by Carol Sanders. This fall, Darby House, now 18, has left for college without her best friend. As Darby enters Northern Arizona University as a pre-med student she wonders what path Audra would have taken.
To celebrate the lives of Audra Sanders and her mother Carol, Darby is hosting a Lip Sync Battle on October 6, 2018.
"My goal is to raise money to name a Girl Scout Camp cabin in honor of Audra and Carol Sanders," explains the NAU freshman. "I want their legacy of strength and dedication to Girl Scouting to live on and touch the lives of other Arizona girls."
The fun evening, complete with food, a touch of competition and community building will commemorate the lives of Audra and Carol Sanders.
"Nothing will ever bring my friend, or her mother, back," reflects Darby House. "However, I now have the wonderful opportunity to change the lives of other girls and young women by supporting the work of the Girl Scouts – Arizona Cactus-Pine Council, and the Bob and Renee Parsons Leadership Center for Girls and Women."
WHAT: The Carol and Audra Sanders Memorial Fund LIP SYNC BATTLE
WHEN: Saturday, October 6, 2018 | 6:30pm Dinner | 7:30pm Lip Sync Battle
WHERE: The Bob and Renee Parson Leadership Center for Girls and Women, Camp South Mountain
WHY: To fund a Girl Scout camp cabin in honor of the Girl Scout Leader Carol Sanders and her daughter Girl Scout Member Audra Sanders. Mother and daughter, along with Carol's brother Tom Fitzpatrick were murdered in an act of domestic violence.
EVENT DETAILS AND LINK: https://aesaz.co/ELP/LIPSYNC18/
CONTACT: Emily Zobel, 602-348-8635, houselipsyncbattle@gmail.com