Marika Meeks, Scottsdale resident and founder of the Incredibull Stella Mission, recently released her book Incredibull Stella: How the Love of a Pit Bull Rescued a Family, courageously sharing how her cancer diagnosis "gave her gifts."
At age 41, Meeks was an established entrepreneur, mother and wife diagnosed with stage three breast cancer. After a debilitating diagnosis, Meeks temporarily left her husband and two daughters in Indiana for Scottsdale to receive treatment. The combination of radiation treatment and a distant support system proved difficult. Meeks decided to take control of what she could. Boldly, she ventured to buy a bicycle for traveling to and from her doctor. When meeting the sellers, their dog approached her and calmly pressed its head into her chest. Never fully interested in dogs, Meeks immediately felt a "shift of energy," believing it to be a sign.
Upon completing cancer treatment, she returned home to Indiana. While grateful to be alive, Meeks forgot what it meant to truly live. Guilt for not feeling "brighter and crisper" or eager to "embrace every breath" overwhelmed her. Caught in a constant state of anxiety, Meeks reminisced on the dog who showed her kindness when she needed it most.
She contacted a local Indiana Dog rescue, later attending an adoption event where she met Stella, a 7-month-old pit bull who was abandoned and left to die. Empathetic toward Stella's fear, they immediately connected, forever changing both of their lives.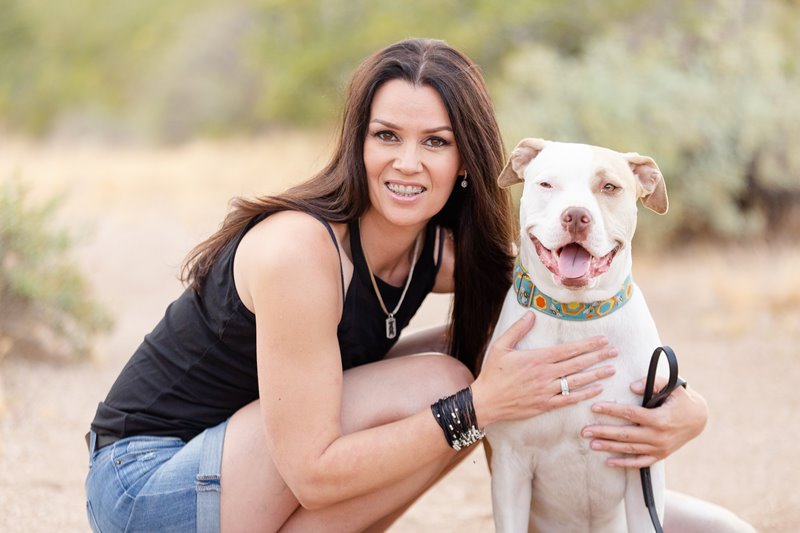 After adopting Stella and experiencing a refreshed sense of spirit, Marika began to miss the place and people she previously called home. Meeks and her family packed up and headed for Scottsdale, where they currently reside. Appreciative to Stella for a renewed view on success, happiness and life's purpose, Meeks was inspired to help others, leading to the creation of Incredibull Stella.
Incredibull Stella is an organization dedicated to rescuing one dog at a time, finding their forever home and restoring hope in humanity. With such an amazing story, it would be a surprise if Meeks and Stella were not known around the valley. Stella's picture is now on Hopdoddy's Burger Bar wall (next to Willie Nelson). In October, the restaurant will begin selling an "Incredibull Impossible Vegan Burger." For every Incredibull burger purchase, a dollar will be donated to funds for rescue efforts in honor of Pit Bull Awareness Month.