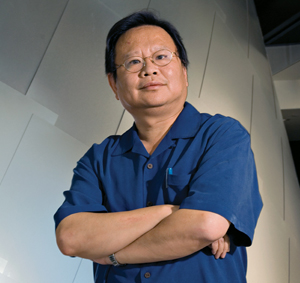 To a select group of highly influential people, Bing Hu is the brilliant architect who brought their housing dreams to life. To others, he's an award-winning visionary who many aspire to someday work with. Allow us to introduce Bing Hu, architect and general manager of Scottsdale's H&S International, and the man behind some of the Valley's most jaw-dropping dream homes.
Born in Beijing, Hu set out to conquer his dreams and follow in the legendary footsteps of Frank Lloyd Wright and his organic architecture philosophy. In January 1988, Hu made the pilgrimage to Scottsdale to attend Taliesin West, Wright's famous school of architecture. "Taliesin's program was different. The students were encouraged to build their own living facility, called a shelter. [Taliesin students lived on property at the North Scottsdale headquarters.] It was not very much; one room—no electricity or water," Hu says. The three months of hands-on experience constructing his shelter solidified Hu's belief in Wright's philosophy of learning by doing.
After completing his graduate degree at Taliesin West, Hu went on to design some of Scottsdale's most lavish custom homes. Based out of Scottsdale Airpark's architecturally acclaimed Hangar One, Hu and his team have had the great privilege of designing award-winning clubhouses (which include the Apache Outlaw and Chiricahua clubhouses at Desert Mountain in Scottsdale and the Kiva and Blackstone clubhouses at Vistancia in Peoria) and homes all over the world, including Hawaii, Korea, China and the Bahamas. "As an architect and a design professional you always have to challenge yourself," Hu says. "What we do is all about quality. We put our heart and soul into [designing], making sure it fits the client's needs and desires, all while working with the site design and philosophy." Today, H&S International is the leading residential architecture firm in the Southwest with custom homes best described as residential resorts.
Out of Office: In between balancing family and work, Hu enjoys collecting fast cars.
H & S International, 480.585.6898, www.handsinternational.com.