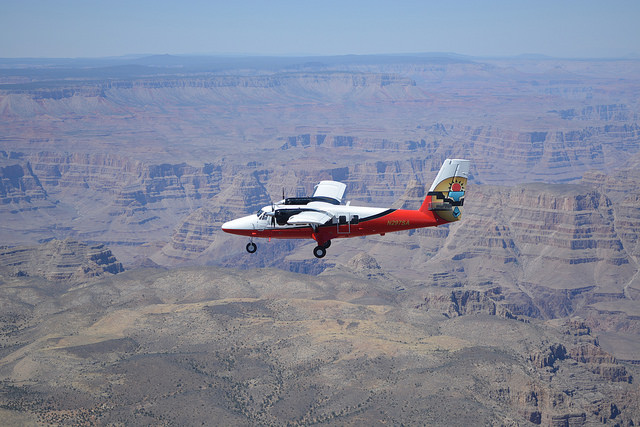 On Aug. 1, Grand Canyon Scenic Airlines (GCSA) will launch the brand new tour, Antelope Canyon Expedition, featuring the beautiful views of Las Vegas and Page. GCSA will become the only flightseeing operator to serve Antelope Canyon and Horseshoe Bend from Las Vegas and the Grand Canyon. 
Guests begin the adventure by checking into the Grand Canyon Scenic Airlines Terminal in Boulder City. Guests will then fly to Page where they will experience a guided tour of Antelope Canyon, one of the most spectacular slot canyons in the world featuring Navajo Sandstone rock deposits that were formed millions of years ago. Next, the tour continues with a visit to the famous Horseshoe Bend where guests can peer off the edge of the Colorado River. Highlights include picturesque photo opportunities where guests will spend approximately one hour on the rim enjoying one of the most spectacular natural wonders.
A light, yet satisfying, picnic lunch will be served before departing Page and returning to Las Vegas and transferring back to their hotel. The adventure takes approximately 11 hours, including transportation, flights and time in the canyon. Complimentary round-trip transfers are available from nearly every Southern Nevada resort and casino.
The price is $3,500 for the Cessna Caravan seating up to nine passengers. The Twin Otter/Vistaliner, which seats up to 16 passengers, is priced at $6,000. Finally, for travelers interested in adding a helicopter component to the tour, at the conclusion of the airplane experience, guests can add a helicopter flight to the top of Tower Butte, the incredible sandstone pinnacle that rises 5,000 feet above sea level, located in Lake Powell Navajo Tribal Park, also located in Page. With the helicopter ride, the tour takes approximately 60 minutes and costs an additional $299 per person.
Non-stop service for individual guests to be available starting April 1, 2018. For $499 per person, individual guests will fly to Antelope Canyon with the experience to include transportation and a picnic lunch. The Antelope Canyon Expedition Tour will be available year-round.