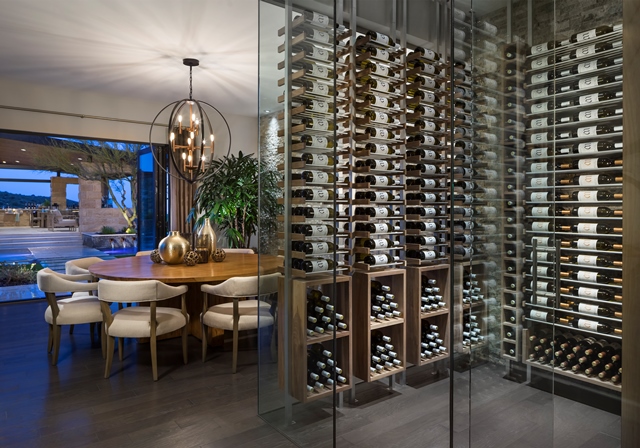 Toll Brothers has introduced new in-home Wine Showrooms, glass-enclosed, above-ground custom spaces for showcasing and storing wine that maximize refrigeration and humidification benefits.
Toll Brothers has seen demand for in-home wine storage increase 50 percent since 2013. In response to wine enthusiast's demand, the builder has created a partnership with Innovative Wine Cellar Designs, headquartered in Scottsdale.
"Toll Brothers and Innovative Wine Cellar Designs is a perfect pairing. Our partnership scores 100 points with fine wine connoisseurs who appreciate ideal storage conditions and having a designated in-home space to exhibit their collections," says Toll Brothers Senior Division Vice President Kevin Rosinski.
Buyers typically spend between $15,000 to more than $60,000 on their wine rooms, and there are a variety of custom design options at a range of price points. On average, Toll Brothers Wine Showrooms hold 1,000 to more than 3,000 bottles of wine.
Wine Showrooms are available for viewing in model homes at Turquesa and Talon Ranch in Scottsdale; Reserve at Tranquil Trail in Carefree; and at Toll Brothers at Blackstone in Peoria. They are offered as an option at all Toll Brothers new home communities in Arizona. For additional information, visit www.TollBrothers.com/luxury-homes/Arizona.
Photo at Talon Ranch by Joshua Caldwell