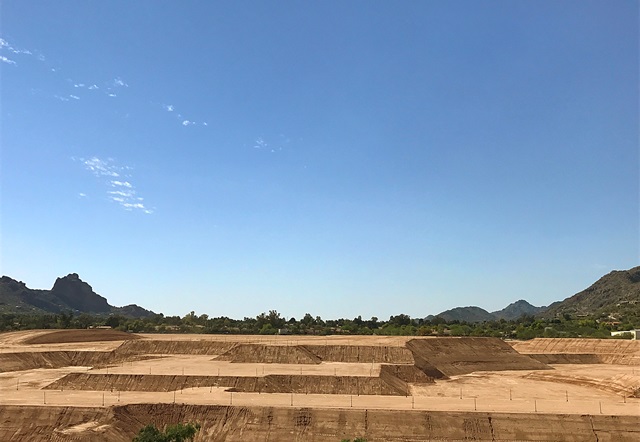 Five Star Development, owner and masterplan developer of the community known as The Ritz-Carlton, Paradise Valley, closed a deal this week with Shea Homes who is debuting a new high-end brand called Shea Signature, for the sale of 23-acres within the 105-acre development.
The sold parcel, which has always been part of the approved development plan, is located on the southeast corner of Indian Bend Road and Mockingbird Lane, directly north of the future resort site. It will comprise 66 single-family luxury homes and will be its own gated community, not branded or serviced by the venerable hotel company. Nathan and Associates brokered the transaction.
"Five Star Development remains the master developer and will continue to control and guide the quality level of the homes made available in the master plan. Five Star has established the standard of luxury and aesthetic to ensure there is a synergy with the resort and all residences within the community," says Jerry Ayoub, president of Five Star Development. "It has been a long, diligent process to select a developer we found worthy of making their mark on this one-of-a-kind community. Shea Signature is a perfect fit and we look forward to working alongside them."
The project includes a 200-room Ritz-Carlton resort that will be surrounded by 91 single-level villas and 40 estate homes, all of which will be whole-ownership and branded and fully serviced by The Ritz-Carlton. Five Star also plans to build non Ritz-Carlton branded luxury townhomes as a future phase. Last year, all 91 villas, priced from $1 million to over $5 million, were released as the first phase of sales and achieved record success with all being spoken for in one day, totaling over $250 million in real estate.
The second phase of sales for the estate homes will be underway this spring with an interest list now forming. "Paradise Valley is the ideal location for Shea to announce our new luxury brand. Known as the 'jewel in the desert' this area is a perfect match for the elevated living and lifestyle we will bring with Shea Signature," says Ken Peterson, Shea Homes Arizona Vice President of Sales and Marketing. "From the unprecedented architectural styles to the level of personalization and distinction, these residences will offer an unparalleled experience to those looking for a rare opportunity in one of the finest corridors in the Valley."
The Solvere Group, well-known for luxury resort and branded real estate across the world, leads the sales and marketing for Five Star Development and has also been retained by Shea Homes to market and sell the 66 homes in the gated parcel now named Azure, a Shea Signature Community. Additionally, Five Star along with Dolce Vita Development, LLC is well underway with plans for a sister community known as The Palmeraie. The initial phase of The Palmeraie will encompass approximately 160,000 square feet of high-end, mixed-use space located on 18 acres at the corner of Scottsdale Road and Indian Bend. Home to more than 60 exceptional luxury and specialty boutiques, The Palmeraie will also incorporate a variety of dining destinations lead by celebrated local and international chefs. A future phase is expected to include a selection of collectible luxury residences, best-in-class gourmet grocery store and food emporium and a boutique hotel. This 105-acre development is the largest undertaking of a new master-planned community to feature a Ritz-Carlton with Residences in close to a decade. All-encompassing of the land, construction and sales, the total project, inclusive of The Palmeraie, is valued at approximately $2 billion. For more information on The Ritz-Carlton Residences and to join the interest list for the upcoming release of estate homes, visit RCPVLuxury.com.