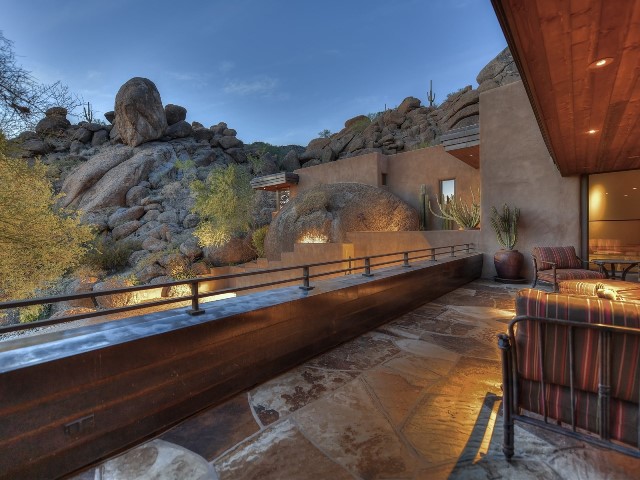 Over the years there has been quite a bit of talk about a certain home which was literally built into a boulder in Carefree. On April 25, the home will be auctioned to the highest bidder through Concierge Auctions, the global leader of luxury real estate auctions.
Located on a private road within the exclusive Grand View Estates community on over two acres in Carefree, 35237 North Ridgeway Dr. – a contemporary, three-bedroom estate with award-winning interior design and artwork – will sell April 25 to the highest bidder.
The property will sell without reserve via Concierge Auctions' custom mobile bidding app Instant Gavel, allowing prospective buyers to bid from anywhere in the world.
The one-of-a-kind estate features landscape designed by leading architect Donna Winters of Enchanted Gardens, a covered deck and patio area, theatre room, fitness room, outdoor 20-yard lap pool and hot tub. Perfect for entertaining, the home offers a separate guest house equipped with a kitchen, living area and private patio.
The 7,706-square-foot estate was previously listed for $3.5 million and will sell without reserve in cooperation with Frank Aazami of Russ Lyon Sotheby's International Realty.
"When we built the home 12 years ago, the idea was to create a modern but comfortable home. There are so many wonderful places to read a book, drink coffee on the patio and simply relax here, yet it has also been a special place to entertain guests. It really is an amazing place," says the seller, former commercial real estate developer Chuck Palmer. "My wife and I have enjoyed the house tremendously, but at this point, we have chosen to downsize and move to the smaller home we've built nearby. We're confident this process will yield the right buyer, and create a win/win for all on auction day."