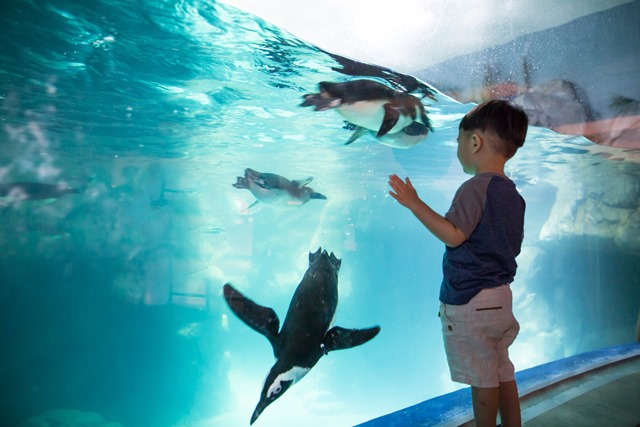 The long-awaited Penguin Interaction Program ("PIP") at the new OdySea Aquarium in Scottsdale launched Jan. 14, allowing guests to interact with African penguins, right in their own habitat. 
"PIP" is an intimate 45-minute program that begins with an orientation session led by OdySea Aquarium's Animal Care Specialists. Participants are then escorted on a private tour of Penguin Point, home to OdySea Aquarium's colony of African Penguins. Known for their charismatic personalities and donkey-like bray, African Penguins are acclimated to the warmer climate of South Africa.  They are listed as an endangered species due to declining populations, and OdySea Aquarium is proud to provide a safe and enriching home to this colony. 
During "PIP," guests have the opportunity to see the penguins waddling about their home and possibly enjoying a meal.  They then participate in the seabird's enrichment program which incorporates interactive playtime, giving these flightless wonders mental and physical stimulation.   "PIP" also allows up close observation of the relationship between the penguins and the Animal Care Specialists, while they learn the specifics on penguin behavior, and eating habits. A professional photographer will provide a complimentary souvenir photo of guests' experience inside the penguin environment at the end of the session.
The cost of the "PIP" is $49.95 plus the cost of admission. Advance reservations are recommended. There is a maximum of 8 participants each session, and guests must be 6 years or older.  Children must be accompanied by a paying adult, and all participants must wear closed toe shoes. For more information, visit www.OdySeaAquarium.com.