Page 7 of 8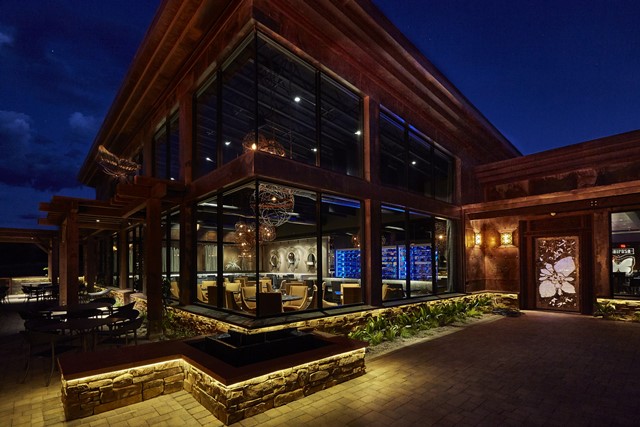 44.     Sedona spotlight: Cress on Oak Creek
A fairytale scene with glowing lanterns and candlelit tables, Cress on Oak Creek's unique dining experience allows guests to enjoy exquisite and artistic cuisine along the banks of the beautiful Oak Creek. Trees surround the stone floor of the outdoor patio, while clear crisp water rushes past, making it feel as though you're nestled right within an idyllic forest scene. The fine-dining establishment uses local, organic ingredients as often as possible. Cress on Oak Creek is part of the luxurious L'Auberge de Sedona resort. lauberge.com/cress.
45.   Sedona spotlight: Mariposa Latin Inspired Grill (pictured)
Moving from the fashion industry to culinary arts, chef and restaurateur Lisa Dahl brings the flair of South American cuisine to northern Arizona with her Latin-inspired grill, Mariposa. Gorgeous architecture, floor-to-ceiling windows and a spacious patio offer views of Sedona's spellbinding red rocks. You've got to try the fried avocados, filet mignon, yucca fries or skirt steak chimichurri. In addition, chef Dahl makes handmade empanadas, ceviches, grilled chorizo and more on a wood-fired grill and wood-burning oven. mariposasedona.com.
46.   Sedona spotlight: Elote
Chef Jeff Smedstad spent 15 years in total traveling Mexico to develop the fabulous Mexican cuisine offered at Elote Cafe in Sedona. Featuring local products like wines from Page Springs Winery and Sedona/Verde Valley produce, Elote is a fantastic place to get your fill of spicy, flavorful Mexican dishes amidst the beauty of the Sedona landscape. In addition to entrée items like roasted squash chile relleno, flat iron asada and camarones en chipotle, Elote serves a stellar selection of tequila. elotecafe.com.