Page 5 of 8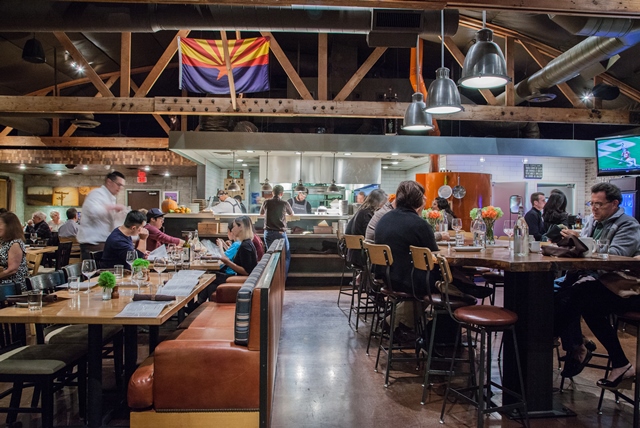 A classy establishment with a modern flare that has hosted many a special-occasion dinner, Tarbell's in Phoenix prides itself on an atmosphere of "refined relaxation." Chef and owner Mark Tarbell's chic spot serves wines from around the world, quality, Contemporary American food, produce from local farmers and hand-selected meats. Have a seat at the expansive bar, and enjoy a glass of French rosé. tarbells.com.
32.  Vincent on Camelback
Chef Vincent Guerithault brings his training in classic French cuisine to the table at 30-year-old Vincent on Camelback and pairs it with the unique ingredients only the Southwest can provide. Although set in Phoenix, the restaurant's charming atmosphere and exemplary staff will make guests feel as though they're spending the evening in France. vincentsoncamelback.com
A gourmet gastropub in Downtown Scottsdale, FnB employs a mix of modern and classic style interior with elaborate lighting and chandeliers overhead. A farm-to-table experience, many of the ingredients that go into its dishes come from local farms—and FnB prides itself on offering a variety of Arizona-sourced wines by the bottle like Rune Grenache (Cochise County) and Callaghan's Lisa's White Blend (Sonoita). FnB's menu changes with the seasons. fnbrestaurant.com.
Employing the robata Japanese-style cuisine, Roka Akor is a Japanese steakhouse, seafood and sushi restaurant in Scottsdale that exudes energy and sophistication. Food is cooked on a 12-ft. robata grill with mesquite charcoal and almond wood. And it's bound to get hot—this grill, similar to a barbecue, can get up to 1,900 degrees. The name Roka Akor is a play on "Ro," which means "hearth," and "Ka," meaning "burning fire." Soak up this exuberant atmosphere with sushi and sake. rokaakor.com.
With gorgeous execution and fresh ingredients, The Parlor offers magnificent Italian fare. Get your pizza fix, but do it with style and sophistication. The restaurant has its own gardens where produce is freshly harvested, and everything from pastries to pastas are handmade daily. Wood-fired pizzas include varieties like the Smokey pizza (speck, smoked tomato sauce, olive tapenade, ricotta, smoked mozzarella and arugula) and the Autunalle (prosciutto, caramelized onion, sweet potato ricotta, fig jam, almond and arugula). While the building of this Phoenix restaurant used to be a hair salon, The Parlor has transformed the space into a jovial Italian eatery. theparlor.us.
36.    Beckett's Table (pictured)
Located in the Arcadia neighborhood in Phoenix, Beckett's Table blends elegance with comfort food in an inviting atmosphere. Appetizers include roasted Brussels sprouts with lemon-basil vinaigrette, while entrées include everything from seared organic Scottish salmon to bacon cheeseburgers. The restaurant itself has a sleek, modern warehouse style to it, with a comfortable rustic feel. Founded by four close friends, restaurant namesake and chef Justin Beckett partners with local Arizona farmers for fresh ingredients, evoking the fond memories of home-cooked meals. beckettstable.com.