Page 3 of 8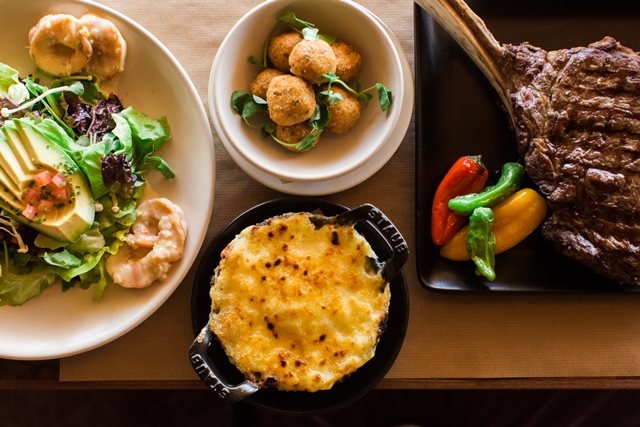 11.  J&G Steakhouse (pictured)
Like amazing wine, jaw-dropping views and a stick-to-your-ribs piece of meat? Swing by J&G Steakhouse at The Phoenician for all that—and more. One of the Valley's best-looking steakhouses, the restaurant impresses our sense of sight as much as our taste buds. The menu features steakhouse classics that have been kicked up a notch—or 20— by Executive Chef Jacques Qualin. Try the J&G cheeseburger or any of the cuts of steak paired with the dreamy mac and cheese or potato gratin. jgsteakhousescottsdale.com.
J&G Steakhouse has received the Wine Spectator Award of Excellence every year since they opened in 2008, including in 2016.  
Located at W Scottsdale, it is easy to believe that Sushi Roku is one of the sexiest dining spots in the Valley. Beautiful interiors and thoughtful presentation make for plenty of eye candy, while diners can't get enough of the creative sushi dishes that even non-seafoodies will want to savor, like the popcorn shrimp roll with jalapeño. Finish your feast with the s'mores dessert—a Zen garden of crushed graham cracker, vanilla cream, chocolate and green tea truffles and a personal fire for warming it all up. innovativedining.com/restaurants/sushiroku.
13.  Andreoli Italian Grocery
Part restaurant, part market—all delicious. Locals pop into Andreoli Italian Grocery to pick up sometimes hard-to-find Italian ingredients while also snatching up impeccable pasta dishes, sandwiches and salads and eyeing a pastry case filled to the brim with glorious Italian cakes and cookies. Relax with a porchetta sandwich—nibble a sfogiatelle for dessert, naturally—in the charming dining room filled with regulars and mismatched chairs. andreoli-grocer.com.
True Food Kitchen has proven once and for all that you don't have to rely on lean chicken and kale to make a healthy meal (though the restaurant makes poultry and greens enticing, too). At its two Valley locations, the Fox Restaurant Concepts eatery focuses on anti-inflammatory, nutritious eats with great flavor. New favorites include the butternut squash pizza and Chiogga beet bruschetta. truefoodkitchen.com.
There are few Valley restaurants more "Arizona" than this historic landmark in Paradise Valley. A picturesque spot with a popular patio and a reputation for hosting beautiful weddings, El Chorro also impresses with its time-honored eats, like shrimp cocktail, bourbon cream corn and beef stroganoff. Just don't fill up on the gratis sticky buns pre-meal—you've been warned. elchorro.com.
16.  Michael Mina's Bourbon Steak/La Hacienda by Richard Sandoval
Found at Fairmont Scottsdale Princess, Michael Mina's Bourbon Steak and La Hacienda by Richard Sandoval have delighted resort guests and locals for years with first-class service and, of course, impressive eats. At Bourbon Steak, dig into both Japanese and American wagyu beef selections (and don't forget the truffled macaroni gratin on the side). From tacos to a guacamole sampler to enchiladas, La Hacienda is home to what might be the best Mexican dining in Scottsdale—with more than 200 tequilas to wash it all down. scottsdaleprincess.com.
17.  Marcellino Ristorante
In October, Marcellino Ristorante celebrated 13 years in the Valley, hand-crafting the best pasta in Scottsdale daily (the server may even bring out samples of each featured pasta to view) with one of the area's most affable chefs at the helm, Chef Marcellino Verzino. Toast with him at Chef's Island for a personalized, intimate four- to six-course feast (taking place monthly) or enjoy live music on Thursday and Saturday nights and world-class service in the main dining room. marcellinoristorante.com.
In a 1913 bungalow in Downtown Phoenix, Cibo Urban Pizzeria dishes out some of the Valley's most beloved slices and glorious handmade pastas. (The restaurant itself with is a charmer too, thanks to exposed brick, a fireplace, hardwood floors, stained glass and a twinkle-light patio.) More than 20 artisanal pizza options fill the menu, so grab some pals and order up a few. cibophoenix.com.
The coming year marks the 20th anniversary of the beloved Old Town staple, Cowboy Ciao. To celebrate, on Sunday, Feb 12, join in the five-course 20th Anniversary Alumni Dinner. Nobuo Fukuda, Gio Osso and Keenan Bosworth are among the chefs slated to take part. $150 per person includes wine pairings; $125 for cocktail pairings. cowboyciao.com.
Via Clever Koi's Asian-inspired menu, guests of the Phoenix restaurant are taken on quite the journey of sweet, spicy, savory—often in one delectable dish. Start with a few steamed buns or the Pig Face dumpling before digging into Clever Koi's ever-changing ramen selections, with the seasonal pick always being the favorite. thecleverkoi.com.
A second location just opened in Gilbert.