Page 1 of 5
If presentation is just as important as flavor in the culinary world, then the eye-catching establishments on our list of top local restaurant designs are more than meets the taste bud. We asked the designers, architects and managers of these five gastronomic and aesthetic hot spots to weigh in—and got everything from Dr. Weil and feng shui to "Phantom of the Opera" and spiral staircases.
Avalon Restaurant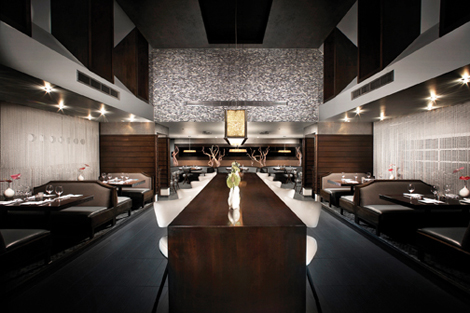 Expert: Ryan Leslie, managing partner of Avalon Restaurant
Aesthetic: Contemporary glam
Go With the Flow: In a restaurant, form, function and flow go hand in hand—whether it's the physical flow of waiters and diners coming and going in a space, or the feng shui-esque flow of energy triggered by curves, corners and colors. Accordingly, Leslie sought harmony and balance in the layout and design of his first restaurant.
Opposites Attract: Casual yet formal, cosmopolitan yet familiar, spacious yet intimate, Scottsdale's Avalon is a seamless study in contrast. Diners can take up casual bar seating or make a commitment at the 12-seat community table. Large glass garage doors bring outdoor elements in, while across the room white beaded curtains lend a small shroud of Oriental mystery. The color palette—blacks, silvers and blues punctuated by bold chocolate browns and whites—is light and airy by day and rich and soothing by night. "I wanted something timeless, not something that's cool today but not tomorrow," Leslie says. "We can accommodate everyone."
Foodstuffs: Because Leslie considers food a restaurant's most important component, Avalon boasts a delicious spread of contemporary coastal American dishes crafted with Mediterranean spices and French technique. These organic offerings echo Avalon's atmosphere: formal yet accessible, like the butter-poached Maine lobster with ricotta gnocchi and asparagus.
The Scoop: 7707 E. McDowell Rd., Scottsdale. 480.656.0010, www.avalon-scottsdale.com.