Page 2 of 4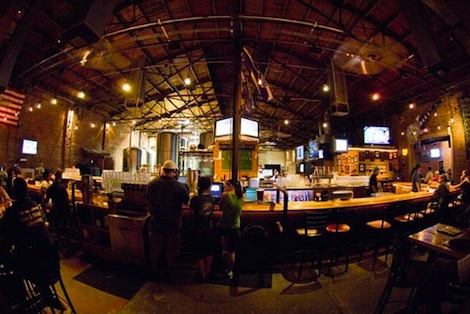 Four Peaks Brewing Company, Tempe                       
What makes Four Peaks Brewery the best brewery in Arizona? It isn't just the beer; it's the atmosphere, the food, the people, the history, the feeling of community that is conveyed to every guest that visits the old Pacific Creamery originally constructed in 1892.
Their eight standard beers are the most rewarded beers in the state and have garnered international acclaim. Most recently, The World Beer Cup awarded Gold Medals to their Sunbru Kölsch Style and Hop Knot India Pale Ale and a Bronze Medal to their 8th Street English Style Ale. While I have enjoyed many a pitcher of their banana and clove flavored HefeWeizen on their patio on a hot summer day and downed numerous pints of the Raj IPA, it is their Scottish Style Ale – Kilt Lifter that has made Four Peaks famous. A strong Scottish Ale that boasts a 6% ABV, amber color, malty sweetness and just a touch of smokiness with a caramel & toffee aroma, this beer is sure to make you hear the legendary sounds of bagpipes playing "Danny Boy" in the background. If there is a singular point to this article, it is "Run, don't walk, to Four Peaks Brewery." www.fourpeaks.com
SanTan Brewing Company, Chandler       
Another newcomer to the Arizona craft brew scene that is consistently vying for the top spot for best brewery in Arizona opened up in downtown Chandler in 2007 and hasn't looked back since. With its dedication to only distributing their beer in cans, SanTan Brewery has established itself as the front runner of the recent canned beer renaissance. Once believed by beer snobs that canning beer was less attractive, SanTan brewers realized that despite its appearance, canning beer was the best way to keep the beer away from harmful lights and temperature to maintain its superior quality and freshness. They are the National sponsor of the Ameri "Can" Beer Festival recently held in Scottsdale that welcomed over 150 local and National canned beers. MensHealth magazine recently named SanTan the best beer in football cities in 32 teams, 32 beers.                 
Their list of standard and seasonal beers is incredible and I have yet to have a beer there that I didn't love. My favorite is the Devil's Ale which is a West Coast Pale Ale that takes its name from the maroon and gold color of the beer and the nearby ASU Sun Devils. It is not only my favorite, but recently received a Gold Medal at the 2011 Great Arizona Beer Festival. Their seasonal beers are a lot of fun and are quite creative with names like Count Hopula Blood Red I.P.A., Sex Panther Double Chocolate Porter and Mr. Pineapple Wheat Fruit Ale.  www.santanbrewing.com 
Lumberyard Brewing Company, Flagstaff        
The owners of Flagstaff's iconic Beaver Street Brewery & Whistle Stop Café have truly outdone themselves when they restored one of the town's last standing buildings from the lumber era in 2000 and created the Lumberyard Brewing Company. Two of their beers have been consistently awarded best in class including their Red and IPA. The American Craft Beer Festival has awarded the IPA from Lumberyard Brewing the gold medal two years in a row, which is an amazing feat as it is by far the most popular category with nearly double the entrants of other categories. This American IPA has an ABV of 6.1% and hits 90 on the IBU scale. This copper colored ale is heavier bodied with a high bitterness that is sure to please any and all "hop heads." The citrus & floral notes with a subtle malt ending make this beer one of the best IPA's that I have experienced. www.lumberyardbrewingcompany.com