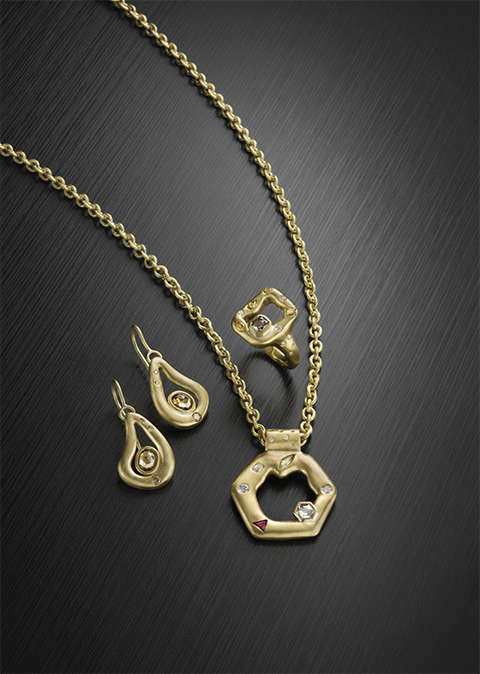 From gleaming black diamonds to feminine amber gems, Lisa Des Camps, owner of Lisa Des Camps Jewelry, shares her take on rare natural-color diamonds.
If the height of luxury is to experience or acquire something extremely limited, then turn your attention to natural-color diamonds. Though De Beers brilliantly convinced us that white diamonds are the most aspirational gemstone, natural-color diamonds are far rarer.
How rare? Experts estimate that only one out of every 10,000 diamonds mined is a natural-color diamond. Some of these colors, in the brown, gray, black and yellow color ranges, remain affordable. Pinks, blues, greens, reds, oranges and purples command astronomical prices and are coveted by diamond collectors around the world.
Natural-color diamonds have finally become an important part of high-end diamond fashion jewelry and bridal styles. If you are looking for jewelry produced in a more sustainable and socially aware manner, natural-color diamonds are a smart choice. These diamond producers tend to be easier on the earth, invest heavily in mining communities and are primarily located in Australia, India, Canada and Russia.
But you don't have to sacrifice beauty to do good. Natural-color diamonds are earthy and warm, subtle and rich—the perfect complement to today's grounded and sophisticated styles. If you are looking for something delicious and understated, you'll fall in love with amber and Champagne diamonds set in rose gold. If it's drama you want, a gleaming black diamond in frosty white gold makes a big statement.
True luxury is not common. Add some uncommon beauty to your jewelry wardrobe, and fall in love with diamonds all over again.