Lisa Des Camps Jewelry (lisadescampsjewelry.com) offers summertime jewelry-styling tips.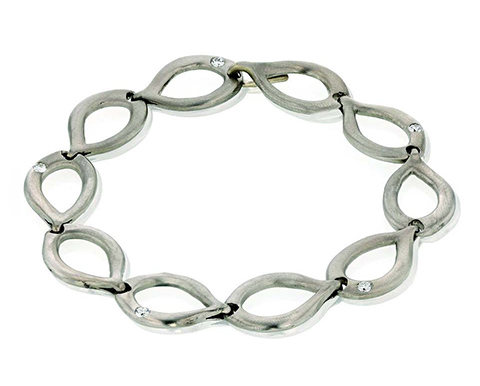 Don't you love summer days that stretch from meandering morning walks to lunch at outdoor cafes to an afternoon of biking, and end with a glass of wine or an IPA at a local tavern? It's delicious to take off and not worry about when you're coming back. The last thing you want to stress over is your jewelry. Summer fun requires a bit of jewelry planning, because you certainly don't want to do without. Think twice about wearing silver in the heat and sun. Silver and sweat mean tarnish, and cleaning jewelry isn't on your agenda. If you want to wear a lightweight, no-tarnish metal, consider palladium (pictured), platinum's lighter cousin. It holds up well in all conditions, it's durable, and its color is similar to that of white gold.
If you're doing anything particularly strenuous, you might want to leave your 18-karat gold in the safe. Much softer than 14-karat gold, 18-karat is more likely to get nicked and dented.
For a fun outdoorsy look, wear a simple ring stack or a bracelet stack—or both. Instead of layering lots of metal on your wrist, combine one lovely chain with bracelets of leather or wooden beads. Stick to earring backs with more secure closures, like a lever back instead of a simple hook or a latch back instead of a post. And remember, chokers are in but the tan lines from them are not.