Page 2 of 2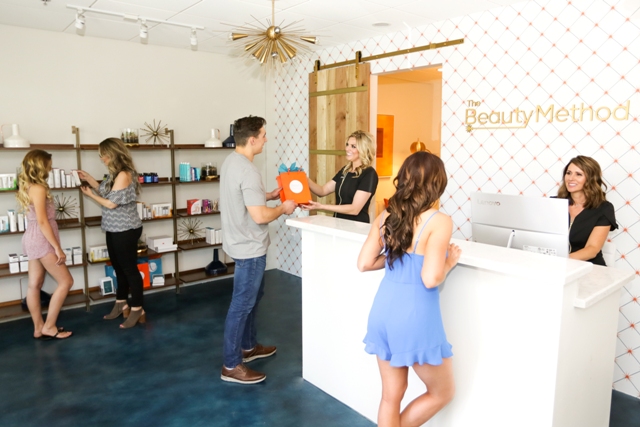 Tell us about The Beauty Method.
I created The Beauty Method after spending years in the medical aesthetics and spa settings, listening to my clients' concerns, and developing methods they can easily adapt into their lifestyles. Today, we live in a society that places a lot of demands in our lives - from working adults to stay-at-home parents, from teenagers and young adults keeping up with the trends, and from retired adults wanting a youthful glow as they enjoy more freedom and travel. The Beauty Method has a positive, comfortable environment where clients can easily implement regular, results-oriented treatments into their busy, daily lives. We offer a range of skincare products, HydraFacials, chemical peels, microdermabrasion, dermaplaning, microneedling, LED Light Therapy, IPL for brown and red spots, laser acne treatments, ResurFX Laser Resurfacing, Botox and Dermal Fillers, Kybella, PRP facials and facelifts, Nova Threads, waxing, laser hair removal, microblading and permanent makeup, fat melting, The Beauty Drip IV Therapy and medical weight loss.
What treatments and services are most popular right now?
There are some services that will never go out of style, such as laser hair removal, Botox and dermal fillers. HydraFacials are very popular because they give you an instant glow without any downtime, and can be done within the hour. Microneedling has gained a lot of buzz over the past few years because the results you get over time is smooth, radiant skin and is excellent for aging skin, fine lines, acne scarring and discoloration of the skin - it basically gives you that internal, youthful glow.
Are there any treatments that are new or on the verge of becoming mainstream?
I truly feel we are moving into a new age of effective treatments that require little to no downtime. We all want the results, but don't have the time for recovery when our lives are so busy. Plastic surgery is costly and requires a good amount of downtime. Microneedling has become mainstream, along with other non-ablative treatments such as the ResurFX Laser Resurfacing. We want to look fresh, youthful and healthy. The technology we carry can give you just that - skincare for the modern lifestyle.
I understand you specialize in microneedling. What exactly is that and what are the benefits?
We love microneedling at The Beauty Method. It is one of our most popular treatments and our clients are extremely happy with the results. Microneedling creates microscopic breaks in the blood vessels below the skin's surface to create platelets that release a series of growth factors; this promotes the production of collagen and elastin and is used for reducing scars, stretch marks, fine lines, evens skin tone, and tightens sagging skin. It is also extremely effective in reducing pore size and discoloration from post inflammatory acne or hyperpigmentation. Essentially microneedling stimulates your skin's own natural response to produce collagen. The results can be seen in as little as 30 days but as your skin continues to heal and produce collagen, you will visibly see extended results. We've noticed that after receiving three treatments spaced four to six weeks apart, the skin has a youthful, internal glow and the texture of the skin is smooth, radiant and soft. It is virtually painless as we use a topical numbing cream for comfort, and there is minimal downtime with being pink or red for about a day. Some clients with deeper scarring and fine lines may require more treatments, but it is well worth the investment to see the change in texture and clarity of the skin. This treatment gives dynamic results, and we often pair a mild skin brightening solution and retinol solution to increase the results; or you can pair LED light therapy to reduce redness and increase collagen and elastin production. We also have our signature methods where you can pair dermaplaning with microneedling, or IPL Photo Facial with microneedling. We love delivering these treatments to our clients and share their same excitement when they come in and tell us how happy they are with their results!
How can us desert dwellers prep our skin for the coming cooler months?
Right now with the heat being so intense, it is essential to keep our skin hydrated. Receiving a HydraFacial in the hot summer months truly offers that bridge of hydration our skin so desperately needs, along with hydrating internally with the Beauty Drip IV Therapy. Using the proper SPF is mandatory in getting through these hot months. Receiving a chemical peel once the heat starts to calm down is a great way to prep our skin for the cooler months. Shedding some layers of dead skin that you built up on those family vacations and swimming pools is wonderful so your skin can breathe again and your home care products will also be more effective. After that chemical peel, it's great to get an IPL for those pesky red and brown spots you've accumulated over the summer. Then you can dive into microneedling, ResurFX Laser Resurfacing, Botox and fillers, and get ready for the fall and holiday season. A nice Pumpkin Resurfacing treatment will help too, which we also carry at The Beauty Method.
What are your top three "musts" for skin care?
Double cleanse when you wash your face at night.
Invest in a professional line of skin care and don't be afraid to occasionally switch up your products.
Enjoy a professional treatment every four to six weeks to make your at-home routine more effective.
Why is it important for men and women to care for their skin?
The technology we have today is far from what we had in the past. Why not utilize the science that has developed, for us to look and feel great? My bottom line is this: any physical changes we make on the outside, can speak volumes for how we feel on the inside. There is nothing vain about that. There is nothing wrong with enhancing our natural canvas for us to put our best face forward. The outward appearance speaks for itself when we feel amazing on the inside.