Page 1 of 5
2010 marks our third year of celebrating an influential group of women who help move this Valley in a positive direction. This year, AFM picked 10 fearless females who pave the way in business, sports, food, philanthropy, arts, culture and health. Read about why these leaders do what they do, and how the rest of us benefit from the good they bring to this town.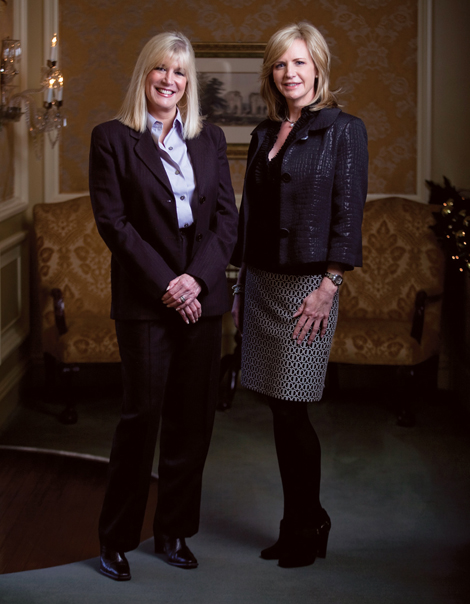 Susie Wesley
Community Volunteer
Donated 10,000-plus hours over the last 30 years to Valley charities in need of a helping hand.
Susan Wesley is a third-generation Los Angelino who lived in the Valley as a child, but relocated to Northern California as a young girl. At 18 years of age, she returned to attend Arizona State University, met her now husband Tim, and stayed, making the Valley a better place through countless hours of volunteer work.
After marrying in 1978, Wesley would volunteer her time while pursuing a full-time career as an aspiring actress and model. Growing up with parents in the entertainment industry, Wesley felt it was only natural to follow in her family's footsteps. While awaiting jobs, she joined the Junior League of Phoenix where she developed a knack for fundraising and helped in forming The Emily Center at Phoenix Children's Hospital. She went on to spend the following 30 years aiding several of the Valley's most deserving organizations, which include the American Heart Association, the Arizona Kidney Foundation, March of Dimes and the Phoenix Symphony.
In addition to her volunteerism, Wesley is a mother of one and works full-time as a real estate agent at Sandra Wilken Luxury Properties.
Looking back, Wesley credits her own 81-year-old mother, Sharon McCarey, for instilling in her the desire to volunteer. As a child, her mother would volunteer at school, sometimes bringing a lonely child home for dinner. She remembers her mother saying, "Just because someone doesn't have a dad [or a mom] or their clothes aren't as nice as yours, doesn't mean their heart doesn't want the same things yours does." To this day, Wesley's mother's words replay in her head, pushing her to do more for people in need. And she does. To date, Wesley estimates that she has donated 10's of thousands of hours - not because she had to, but because she wanted to.
Today, charities seek her out in hopes of fulfilling a need. Her selflessness makes her one of the most admired among her peers. Wesley will co-chair the 2010 Childhelp Drive the Dream Gala set for this month, as well as co-chair the 2010 O'Conner House Supreme Evening of Jazz planned for March. But, of everything she has done and grateful to be a part of, her proudest achievement was implementing the Have a Heart for Babies program - a DVD tutorial given to parents on how to properly perform infant CPR—for the American Heart Association when she was chair of the 2007 Phoenix Heart Ball. -C.W.
Andy Kramer
President and Chief Executive Officer, Banner Health Foundation
Has aided in upping the number of pediatric beds in the Valley with the recent opening of Cardon Children's Medical Center and has helped to change the face of local cancer care with the recent groundbreaking of the M. D. Anderson Banner Cancer Center.
Andy Kramer is no stranger to raising funds for causes she believes in. "When I was a kid, I remember holding carnivals in my backyard for UNICEF," says Kramer, who grew up in New Jersey. Today, after holding posts at the Valley of the Sun United Way and American Heart Association, Kramer is helping to make serious strides in Valley healthcare as the president and chief executive officer of the Banner Health Foundation.
When it comes to her four-year career with the nonprofit, Kramer calls herself a "matchmaker." "The human nature is to want to help people," says the Arizona State University grad. "I get to work with people who have the financial capacity to make a philanthropic investment in something they believe in. Dealing with an organization that has so many worthwhile causes, I get to match people who have the financial capacity with the causes that have great need." For some, Kramer says donating to the Banner Health Foundation is part of the healing process. "Whether it's a $100 or a $10 million donation, you get to see this great satisfaction that comes from that, particularly when it's part of something they've been through."
With Kramer's help and the generous dollars from those she works with, Banner Health was able to unveil the Cardon Children's Medical Center in late 2009, which has nearly 250 pediatric beds. "The fact that there were not enough pediatric beds [in the Valley] was unacceptable, whether you have small children or not," she says. In two years, the M. D. Anderson Banner Cancer Center will open. This project, which is Banner Health's partnership with the world-renowned Houston-based cancer center, is particularly close to Kramer's heart, as she's supported friends who've dealt with the disease. "This cancer care will allow someone from the moment they are diagnosed to get complete comprehensive services all in one place," Kramer explains. "For us to have a partnership with [M. D. Anderson] is really going to change the way cancer is dealt with locally."
Though Kramer firmly believes that she has "the best job that exists," it isn't strictly work and no play for this mother of two. The family's favorite pastimes: baseball and basketball games and Friday pizza-and-movie nights. In her line of work, Kramer says she is able to realize her priorities in life and keep a balance: One day, opening a new medical center for children. The next, sharing some pizza with her own. —M.L.