Page 4 of 5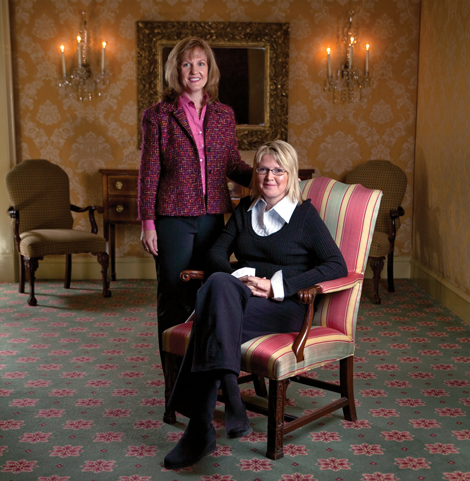 Tammy McLeod
Vice President and Chief Customer Officer of Arizona Public Service Company (APS)
Incorporated her unique marketing background to become one of APS's communication experts, all while forging her own energy to fight breast cancer.
As vice president and chief customer officer of Arizona Public Service, Tammy McLeod advances the many ways Valley residents utilize electricity—a job fairly uncommon for a woman in the utility industry. More importantly, though, she is a wife, a mother and a breast cancer survivor.
McLeod relocated to Arizona in 1991 to work for the Education Management Group, which was sold to Viacom in 1994, leaving McLeod to explore other areas of business that would utilize her bachelor's degree from the University of Colorado in Boulder and her master's degree from the Wharton School of the University of Pennsylvania. Soon after, she was interviewing with APS, one of Arizona's largest employers, and hired on as general marketing manager of customer service and Southern Arizona operations in 1995.
Over the years, McLeod climbed the corporate ladder learning more about the company's delivery of electricity (the electric grid is largest in the United States) and its commitment to customer service. So much so, that in 2007, she was promoted to vice president and chief customer officer. Over the next two years, McLeod would oversee the statewide customer service operations, customer marketing, call center, credit and collections and customer offices. Though she racked up responsibilities, she says her biggest challenge was the position's learning curve. "It [APS] is one of the most complex businesses that exist in the world. There is no other industry that we can think of where people are producing and consuming at the same time," McLeod says. But, nothing could've been as challenging as what McLeod and her family conquered shortly before her promotion.
In March 2006, McLeod was diagnosed with breast cancer. As the mother of three young boys, she knew she had to devote all her energy to defeating the disease. "I think a cancer diagnosis causes you to realize that you don't have an unlimited amount of time," McLeod says. "And therefore you focus on your highest-impact activities and events. I am first and foremost a mom." She has been cancer-free since July 2006. Today, McLeod balances work and play, running between corporate meetings, her kid's sporting events and the eight community boards she is a member of. -C.W.
Dee Alschuler
Director of Lucky Dog Rescue
Has placed more than 1,500 abandoned and distressed dogs into safe new homes, while raising more than $50,000 in donations for the nonprofit organization.
"I wish I could make everyone see dogs the way I see them," says Dee Alschuler. Early this year, Alschuler took over Lucky Dog Rescue, which was founded by Lisa Maturo in 2004. The nonprofit organization, which functions solely on donations and volunteers, focuses on saving stray and impounded dogs and placing them in safe and nurturing homes. An animal advocate and vegetarian since birth, Alsculer says she's always been dog-obsessed. When she realized the Valley had an overwhelming number of stray and mistreated dogs, she decided she would be the one to do something about it.
Alschuler's life revolves around canines from the moment she wakes up. The phone starts ringing at 6 a.m. with calls from people who have located stray dogs and from foster families with questions or concerns. She juggles her time between visits to boarding facilities, trips to the pound, orientating volunteers and taking care of her own seven large rescue dogs. For Alschuler, it's the visits to the pound that can be particularly emotional. "I'm happy for the five [animals] that I save, but for the hundreds that I can't, it's so hard," she says. At home, her husband of nearly 20 years is her support system. "I could not do what I do without him".
Lucky Dog Rescue's program (which runs off a donated budget of $8,000 per month) is designed to work with the dogs from start to finish. "That's what makes us different," Alschuler says. "It's not good enough to pull the dogs [off the street or from the pound]. We save them, rehabilitate them and work with them." After a dog has been placed in a home, Alschuler stays in touch with the owners to monitor the dog's progress. Seeing a positive change in the animal's health and demeanor is the most rewarding part of the job for Alschuler.
On top of her around-the-clock commitment to Lucky Dog, Alschuler has a "real full-time job." She works as a booking agent and touring manager for two Valley bands, as well as a band based in Germany. But, juggling two full-time careers doesn't faze her. "Everyday I think, 'I am so lucky, I do what I love to do.' I pretty much have dedicated my life to saving dogs now. This is not something you can just do as a side project. This is a full-time job and a lifelong commitment." -E.V.