Page 2 of 5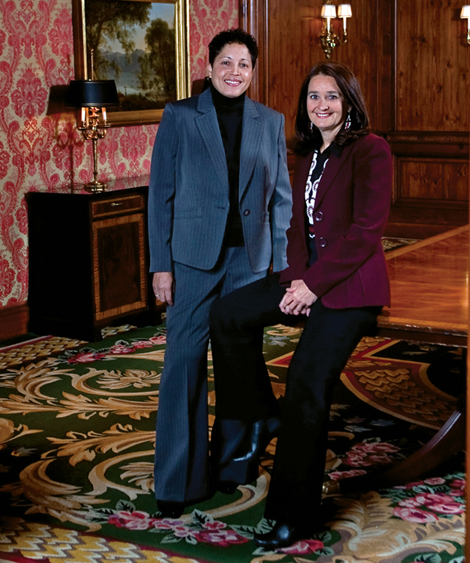 Nona M. Lee
Vice President and General Counsel of the Arizona Diamondbacks
Oversees all legal transactions for the Arizona Diamondbacks, which she has worked with for five seasons.
Though you haven't seen her tote a bat and ball, Nona M. Lee has been a big part of many Valley sports teams. Combining her love of sports with her profession as a litigator, she has worked for almost all of the Arizona sports teams, including the Phoenix Suns, the Phoenix Mercury, the Arizona Rattlers and, currently, the Arizona Diamondbacks. Originally from Los Angeles, Calif., Lee received her bachelor's degree from Pepperdine University where she played water polo, basketball and swam competitively. She went on to get her paralegal degree and began working for a law firm in Beverly Hills, but eventually left L.A. to attend Oklahoma City University School of Law. After graduation, Lee moved to Phoenix and worked as a litigation associate at Meyer Hendricks. Being active in sports when she was younger, Lee realized she wanted to return to that world.
She was not fully aware of the numerous and diverse opportunities available to women in the sports industry until the WNBA began playing in the mid-90's. "It just didn't even occur to me that it was a reality until that happened and the light bulb went on," Lee says. Though Lee didn't want to play out on the court, she did want to work behind the scenes. Today, as vice president and general counsel of the Diamondbacks, Lee oversees a wide variety of tasks. Her day- to-day activities include managing and reviewing contracts, working with facility-related issues, advising the senior staff on legal duties and managing outside counsel litigations.
Lee is often asked how she deals with working in such a male-dominated field. She believes her ability to work in the sports industry is a direct result of her playing sports when she was younger. "It's challenging, but one of the things that participating in sports my entire life did for me was, I think, prepare me well for this sort of opportunity because I have never seen gender as a barrier to anything," Lee says.
Her love of sports is also apparent through her community involvement: She's the founder and past president of the Phoenix Women's Sports Association, a local nonprofit organization that aims to empower girls and women through sports. Lee also serves as a vice president of the board of trustees of the Women's Sports Foundation in New York, a nonprofit founded by Billy Jean King that strives to advance the lives of girls and women through physical activity and sports. Plus, Lee won the YWCA of Maricopa County Sports Leader Award in 2006 and was an Athena Award honoree in 2008. -C.A.
Diana Yazzie-Devine
President and Chief Executive Officer of Native American Connections
Leads her nonprofit organization in helping more than 5,000 Native Americans each year become self-sufficient through a variety of service programs including supportive housing and behavioral health services.
Having celebrated her 30-year anniversary with Native American Connections this past June, Diana Yazzie-Devine has never thought twice about her lifelong career in tribal services. Immediately after college, she began participating in a tribal community economic development project in Northern Wisconsin, and she never looked back.
In the early 1970's, Native American Connections began as a small organization that offered substance abuse and alcohol recovery, and since joining the nonprofit in 1979, Yazzie-Devine has been at the forefront of its expansion. She now oversees a $7.5 million annual budget and the organization operates 15 service sites throughout Phoenix, offering a full-range of behavioral health services and affordable housing. "We're not a program of a hand-out but a hand up, really giving them the skills to help them in the beginning but then to create those foundations, those skills and those tools in which they can learn to help themselves in the long term," Yazzie-Devine says. "I really like that I've been able to build a full continuum of taking somebody from a desperate, homeless situation to becoming a homeowner." Another proud moment for Yazzie-Devine was in 2005 when Native American Connections became the developer who brought the 85,000-sq.-ft. Native American Community Service Center to Phoenix—what Yazzie-Devine calls a "one-stop service center" for Native Americans in need of anything from dental work to financial assistance.
While Yazzie-Devine's preservation of old native traditions combined with modern practices contributes mightily to her success, so does her business savvy. She recognizes that although she runs a nonprofit, it is also a business and it should be treated as such. While attending Arizona State University's MBA program from 1997 to 1999, Yazzie-Devine was also running Native American Connections full-time and playing her role as a single mother of three. "I was the student who, when we learned a new tool, was already implementing it in our organization to try to have better business practices," she says.
In addition to her position at Native American Connections and her role on many local and national committees like the Federal Home Loan Bank's advisory board and the City of Mesa Housing Advisory Board, Yazzie-Devine is also a grandmother of four and an avid triathlete. Although her hobbies outside of work are a significant part of her life, her work is clearly a deep passion as well. "I see that we literally do save peoples' lives and reunite families," Yazzie-Devine says. "I think I was born to organize the community around social justice." -A.S.