Page 1 of 7
Breakfast, lunch, dinner. Spicy, sweet, salty. Whatever they're craving, hungry Phoenicians turn to the Valley's best in...Food & Restaurants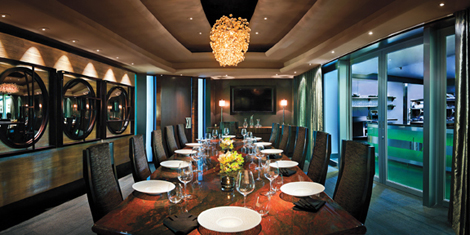 Best Private Dining Room
XII, Sanctuary on Camelback Mountain Resort & Spa-2011 Winner
Diners at Sanctuary on Camelback Mountain Resort & Spa's private dining room, XII, get a front-row seat at a celebrity chef (Beau MacMillan) in action. Plus, Chef MacMillan's menu of locally inspired eats never ceases to please the taste buds. www.sanctuaryoncamelback.com.
Best Bakery
Classic Cakes & Confections-2011 Winner
Repeat winner, Phoenix's Classic Cakes & Confections, impresses with its scrumptious flavors—which range from traditional faves like red velvet to the jaw-dropping Tahitian vanilla butter cake— and flawless presentation. www.classiccakesandconfections.com.
Best Burger
Smashburger-2011 Winner
Fresh toppings and artisan butter-toasted buns top off the 100 percent Certified Angus Beef burgers at Smashburger. The burger joint, which has several Valley outposts, got its name because of the smashing technique used to create the burgers (smashing caramelizes the beef, making it more tender and flavorful). www.smashburger.com
Best Frozen Treat: Yogurt or Low-Cal Alternative
Tasti-D-Lite-2011 Winner
Tasti-D-Lite takes the guilt out of dessert time with its selection of low-calorie—and mighty delicious—soft serve. Most of Tasti-D-Lite's flavors weigh in at less than 70 calories per 4-oz. serving. www.tastidlite.com.
Best Frozen Treat: Ice Cream,
Gelato or Custard Gelato Dolce Vita-2011 Winner
The husband-and-wife team behind Gilbert- and Mesa-based Gelato Dolce Vita satisfy Valley gelato lovers with their selection of classic (think pistachio or hazelnut) and outside-the-box (habañero-chocolate, for instance)flavors. www.gelatodolcevita.com.