Page 7 of 7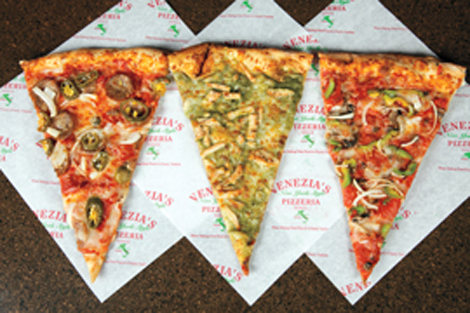 Best Slice
Venezia's Pizzeria-2011 Winner
New York-style pizzas and authentic Italian tradition make Valleywide Venezia's Pizzerias popular dinnertime destinations for local families. Plus, diners can't beat the pizza joint's daily slice special (a slice and a drink for a mere $3.61). www.venezias.com.
Most Amazing Restaurant Interior
AZ88-2011 Winner
Even with neighbors like the popular LOVE sculpture and the Scottsdale Center for the Arts, AZ88 still impresses with its hip, modern interiors, courtesy of the talented designer, Janis Leonard. In addition to beyond-slick furnishings, AZ88 houses an ever-revolving selection of artwork, including large installation pieces. www.az88.com.
Old Favorite
Pinnacle Peak Patio-2011 Winner
In a world where restaurants come and go, it's refreshing to come across one that has been thriving in Scottsdale since 1957. Pinnacle Peak Patio not only delights those in the mood for steakhouse fare but also diners who want to step back in time thanks to its dose of wild west fun (think live country music). www.pppatio.com.