Page 1 of 5
When it comes to hiring the most trusted lawyers, event planners and real estate agents, Phoenicians turn to the following...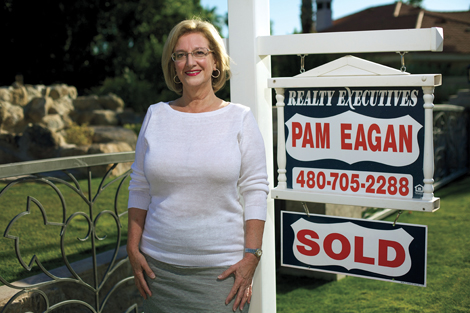 Best Realtor in the Valley and Best Realtor: Ahwatukee
Pam Eagan-2011 Winner
If you glance at the for-sale signs on your street, you may recognize this name: Pam Eagan. Eagan, who also received Best of Our Valley honors in 2011, sells homes all over the Southeast Valley and prides herself on changing with the real estate business and finding the newest and most innovative ways to market and advertise homes. The respected realtor has been a presence in the Valley for 26 years. www.pameagan.com.
Best Realtor: Chandler
Amy Jones-2011 Winner
Voters who are looking to buy or sell a home in Chandler, and elsewhere in the East Valley, turn to Amy Jones Group, a full-time real estate team with decades of combined experience. The Amy Jones Group prides itself on marketing and negotiating strategies and the ability to utilize the best real estate technology. www.amysellsaz.com.
Best Realtor: Paradise Valley
Ronnie Gilbert-2011 Winner
Luxury home buyers and sellers in Paradise Valley choose Ronnie Gilbert from Moskowitz & Gilbert Group to handle their real estate woes. International clients and high-profile businesspeople are loyal to Gilbert for his relationships with Valley luxury home builders and his architectural and construction knowledge. www.pvscottsdale.com.
Best Realtor: Scottsdale
Gilbert Houseaux-2011 Winner
Gilbert Houseaux has been buying and selling homes professionally in the Valley for more than 20 years. Voters picked Houseaux because he works hard, is dedicated and always looks for ways to improve his clients' experience. www.azhomesbygilbert.com.
Best Realtor: Tempe
Thomas Tokoph-2011 Winner
Thomas Tokoph is the owner and designated broker of 9-year-old Urban Realty & Development. The Tempe-based real estate business is a full-service sales, leasing, consulting, managing and developing service. Voters trust Tokoph to buy and sell urban developments in Tempe. www.urbanrealtyaz.com.
Best Realtor: Glendale
Susan Ramsey-2011 Winner
Susan Ramsey and her revered real estate team takes a family approach when it comes to their business, keeping in mind their own experiences with moving as well as their more than 40 years of combined experience. www.theramseyteam.com.