Page 2 of 5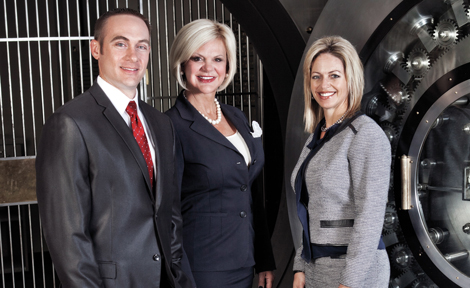 Best Private Banking
National Bank of Arizona-2011 Winner

The National Bank of Arizona has served the Valley for more than 25 years, offering personalized products and services to its clients. The bank prides itself on building relationships with clients and providing expertise with exceptional customer service. Pictured: Ben Allen, Vice President, Private Banking Relationship Manager; Deborah Bateman, Executive Vice President, Director of Wealth Strategies; Mary Collum, Senior Vice President, Private Banking Manager. www.nbarizona.com.
Best Advertising Firm, best Graphic Design firm, best Public Relations or Marketing Firm, and best Social Networking and Online Media Firm
Zion & Zion-2011 Winner
When it comes to advertising, public relations and social media, voters continue to be loyal to Zion & Zion for creative business marketing. With more than 35 years of combined experience, the agency provides its marketing expertise in the fields of health and wellness, home improvement, real estate and development, retail, engineering and hospitality. www.zionandzion.com.
Best Bankruptcy law firm, best Intellectual Property law firm and best Real Estate Law Firm
Lewis and Roca LLP-2011 Winner
For more than 60 years, Lewis and Roca have served up justice in the Southwest. (The firm has clients in Phoenix, Tucson, Las Vegas, Albuquerque, Reno and Silicon Valley.) The law firm prides itself on its counsel's knowledge of law and business and the ability to build relationships with their clients. Voters are a testament to the firm's long-term attorney-client relationships. www.lrlaw.com.