Page 1 of 2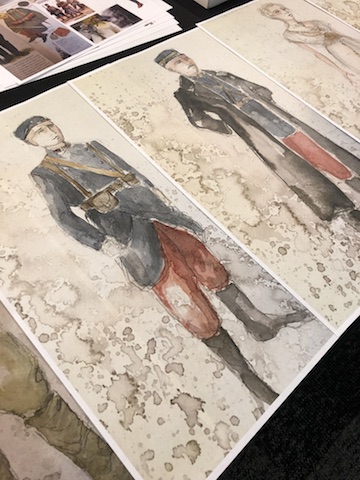 Photo courtesy of Jacqueline Keidel of Off Madison Avenue.
Anyone who has had the privilege of working in theater understands that the preparation and pre-production stages of a show often require just as much energy and attention-to-detail as the actual performance.
Whether it's constructing towering sets, painting intricately-detailed props, rehearsing performances, developing fresh compositions or designing accurate, eye-catching costumes, the process of putting on a theater production requires a unique commitment to the creative process and an unparalleled love for the arts.
But, putting on a Pulitzer Prize-winning opera? That's an entirely different feat. Though it's a challenge that the Arizona Opera has boldly accepted and has managed with grace – even if only in the early stages of pre-production.
In 2019, the Arizona Opera will welcome to their stage "Silent Night"– a Pulitzer Prize-winning performance that tells the tale of the Christmas Eve cease-fire that was negotiated across the battlegrounds of World War I in 1914. During this evening, a reported 100,000 French, British and German troops laid down their weapons in an effort to acknowledge each soldier's humanity. The timeless tale is a thrilling and beautiful example of human-kindness. Beyond that, it is also a remarkable example of the power of peace – an idea that all-too-often is seemingly forgotten within our modern society.
Typically, many musical theater companies will simply rent or borrow costumes from one another, as these shows will often travel to several destinations throughout the opera season. This system assists in limiting unnecessary spending of money, and it also helps to conserve hours and re-concentrate the efforts of the opera house's most diligent workers.
With this show though, the Arizona Opera's creative talents are now being uniquely tested, as the company faces the challenge of replicating already-designed costume pieces for their larger cast.