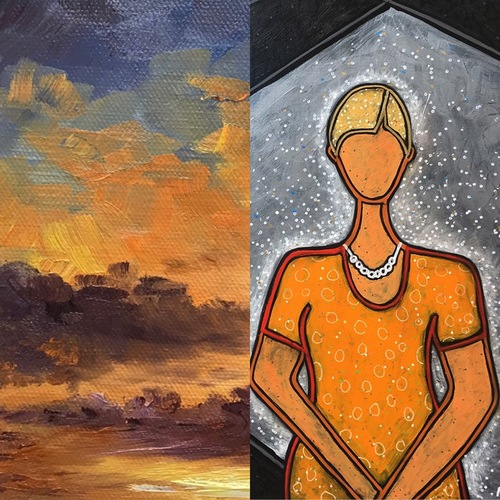 Carstens Fine Art Studio & Gallery hosts the opening reception for "The Art of Fearlessly Doing Business IV (AoFDB) – The Gratitude Series" featuring the work of artist Michelle Micalizzi this Thursday, November 15, from 6:30pm to 9:30pm during the Scottsdale Gallery Association Golden Palette "Contemporary" Artwalk. Visitors will have the opportunity to meet the artists and enjoy light refreshments accompanied by live music performed by renowned acoustical guitarist John Calvert.
Art of Fearlessly Doing Business (AoFDB) is a unique project celebrating how art, business and community connect. "I am inspired by the fearless entrepreneurial spirit," states Micalizzi, artist and owner of Fearlessly Deliver. "Small business owners are the backbone of our country," who goes on to say, "As an artist, a fellow entrepreneur and a philanthropist; I am compelled to tell our stories." Her paintings are created using a combination of acrylic, oil pastels, colored pencil, and paint markers. Each painting is a mini documentary arrived at from active listening and deep interest in her subjects. She has created multi-media paintings inspired by a conversation she has had with business leaders, asking them why they started their business and how they overcame their fears to take the leap into entrepreneurship.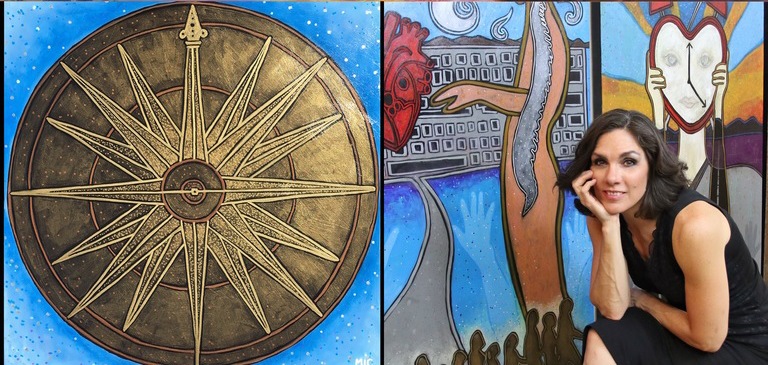 Artist Michelle Micalizzi with her artwork "True North"
This is the fourth in a yearly series, featuring seven fearless entrepreneurs that have gone above and beyond their call of duty partnering with artist Micalizzi on her past eight fearless art projects. Entrepreneurial subjects of the work include Elena Thornton, Founder of The Arizona Consortium for the Arts and Co-owner of Photos by Elena & Jim; Margaret Quinn/ Freelance Editor; Bob Diercksmeier, Artist, Founder and owner of RJD Creative; Kay McDonald, Founder of Charity Charms; Stacy Phillips, Optavia Health Coach; David Hussey, Freelance Contractor; and Tyler Butler, Owner of 11Eleven Consulting. Their conversations have also inspired a blog featuring "Five Key Take Aways" from these fearless entrepreneurs that can be found at fearlesslydeliver.com/aofdb4. "The Gratitude Series" will be on exhibit November 15 through November 29, 2018.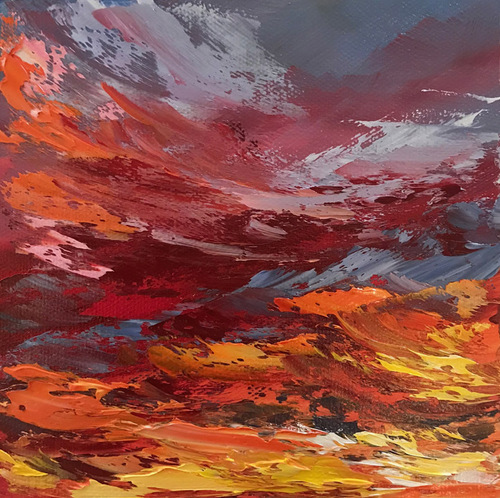 "Peaceful Rhythm" By Cyndy Carstens
Cyndy Carstens is a painter and gallery owner who creates oil paintings exploring expansive spaces, moments of stillness, and faith. She utilizes a broad spectrum of colors, along with layering and combining genres within her work reinventing the southwest landscape. "The colorful compositions are the music in my head; the light in my soul and the passion of my heart imparting a message of contentment, peacefulness and hope; trees, cacti and other images tell our human stories of fortitude," states Carstens. Finding inspiration in atmospheres, exploring cloud formations and color combinations, her work focuses on the ever-changing weather patterns of the Southwest balanced by organic forms and landscape. She goes on to say, "My artistic point of view revolves around making art that can be visual music for all generations and sentiments." Carstens has exhibited her work extensively across the country and her work is represented at UGallery, of San Francisco, CA, as well as her own gallery. Her work is included in both private and corporate collections around collected the U.S. and 9 countries on 4 continents. Carstens' work has been featured on many television/radio news programs throughout her career and her work has gleaned numerous awards.
The Carstens Fine Art Studio & Gallery is located at 7077 E. Main Street #5 in the heart of Old Town Scottsdale, AZ. The gallery and studio are open daily. The exhibition may be viewed during business hours. For more information about Cyndy Carstens or the "Contemporary" Artwalk on November 15th, 2018, please visit http://www.cyndycarstens.com. *All Images are courtesy and copyright of artists.