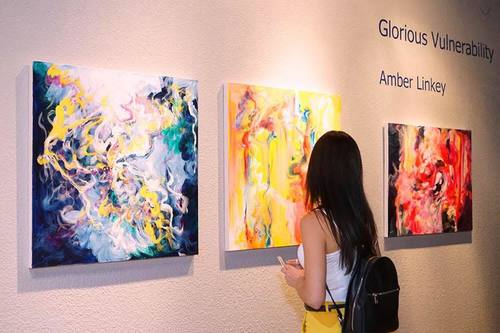 Walter Art Gallery is currently showcasing self-taught local artist Amber Linkey with her solo exhibition Glorious Vulnerability. This exhibition offers a vibrant and dynamic selection of new abstract paintings which offer fluid brushwork, organic forms, and luscious color palette.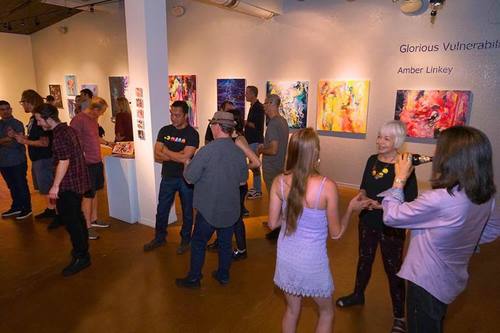 Opening Reception of Glorious Vulnerabilty hosted by Walter Art Gallery
With each of her paintings, the artist seeks to capture a moment in time, a moment in life, a moment without labels or captions or limits. The works suggest the possibility for color in the absence of light and represent an inseparable layering of emotions. Linkey wants her work to be an inspiration for those who see it and a reminder to be comfortable with vulnerability. "I think art and vulnerability need each other to exist," she says. "The ability to create and to aspire to more than survival is one intangible beauty about humans that I want to capture and use to connect people, or spark something within them."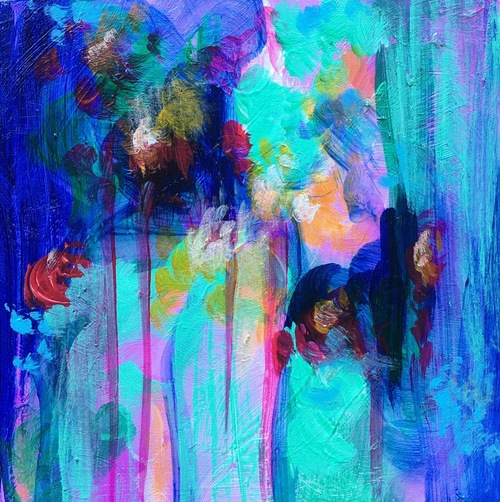 This dazzling collection of abstract paintings made it's debut in Scottsdale on September 28, 2018 with record attendance and rave reviews. The evening included a chance to meet the young artist, along with live music from DJ Erik Rodrigues plus an acoustic set by Christopher Parsons. Linkey originally began creating by drawing and painting realistic, traditional imagery, but she eventually discovered the freedom of abstract expressionism. For Linkey painting is truly cathartic, and she finds inspiration for her work through movement, sounds, and color. Her works utilize acrylic paint due to the artist's fast-paced creation process, the saturated pigmentation of the paint, and her ability to control the opacity. Color is extremely important to Linkey who feels that she is able to express many different human feelings and emotions, as well as bring our senses to life in a visual way.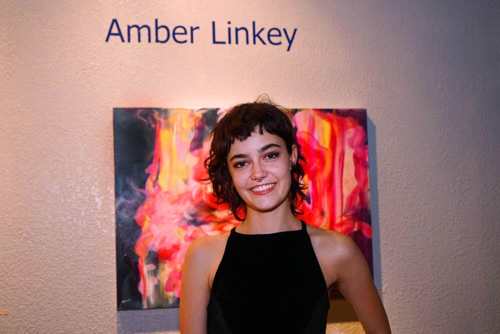 Artist Amber Linkey at her Opening Reception on September 28, 2018 at Walter Art Gallery
Walter Art Gallery will host the Closing Reception for Amber Linkey's Glorious Vulnerability this Friday, October 19, 2018 from 6:00-10:00pm. This will be a fun evening celebrating the art of Amber Linkey, along with an opportunity to meet the artist, and light hors d'oeuvres and beverages will be provided. This is the final week to see this exhibition (available by appointment) as it will only be on display at Walter Art Gallery through October 19, 2018. Walter Art Gallery is located at 6425 E. Thomas Road, Scottsdale AZ 85251.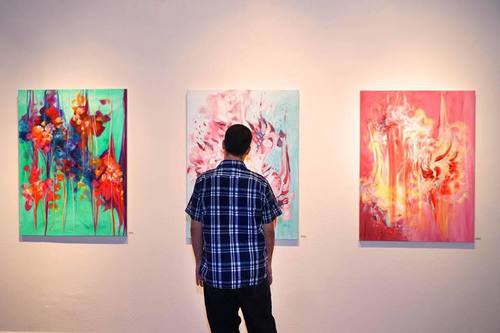 The Walter Project is an innovative community of artists, entertainers, makers, and visionaries who come together to form various creative ventures such as The Walter Art Gallery and The Walter Hive. Known for their art cars such as Walter the Bus, Big Red, and Kalliope, the purpose of this community is to share joy and spark creativity through unique experiences. For more information about The Walter Art Gallery visit http://www.walter-art.com or visit our Facebook page. Please direct all press inquiries to Walter Art Gallery at 775-302-5448 or gallery@thewalterproject.org. *All Images are courtesy and copyright of artist Amber Linkey and Alstrin Photography.