Local artists Nigel Clouse and Benjamin Goens brought a "Touch of Pop" this June to Royse Contemporary in Old Town Scottsdale.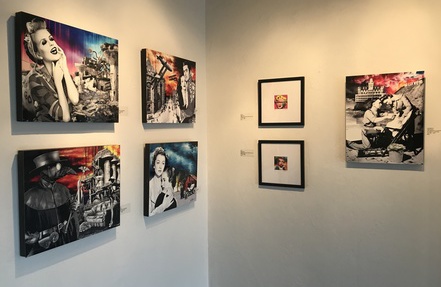 Work of Nigel Clouse
This joint exhibition showcases a dynamic selection of pop surrealistic digital composites of Clouse and the multi layered mixed media stencil paintings by Goens infused with Pop Art. "Popular Art was dominant movement in early 1960s American art, widely recognized and is easily accessible with diverse audiences around the world. The use of common household objects, consumer products, and forms of media, created mass appeal not to mention greatly inspired both artists and the overall direction of their work.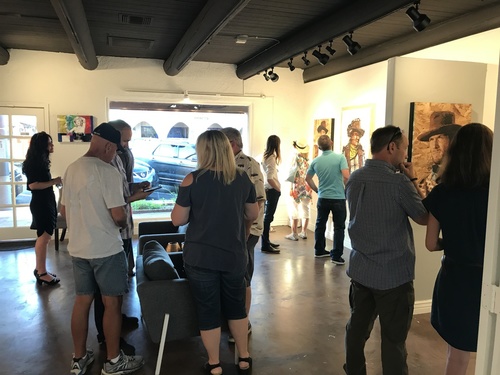 Artist Reception for "Touch of Pop" at Royse Contemporary
Nigel Clouse is a Phoenix based artist known for his pop surrealistic digital composites incorporating femme fatales, pop culture references, and dystopian themes. He combines graphic elements to form alternate realities where the fabled American Dream exists only in myth. His work is based upon a childhood spent in a section of the American Midwest commonly referred to as the Rust Belt. The rural landscape of his youth is juxtaposed with the urban environments he currently inhabits working for corporate America.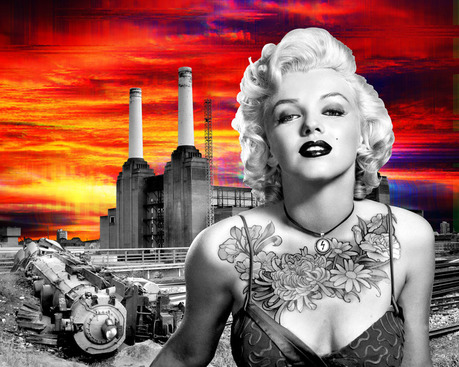 "Vexed" Canvas Giclee, 2018, 48" x 36" by Nigel Clouse
"My work is influenced by classic film, literature, television, science, technology, and social commentary, who goes on to elaborate further stating "I create art to share my misanthropic perspective with the world and to provide social commentary on personal experiences." Clouse received his Bachelors of Art in Digital Design from the Art Academy of Cincinnati and he has worked as a creative for over a decade in the American Southwest.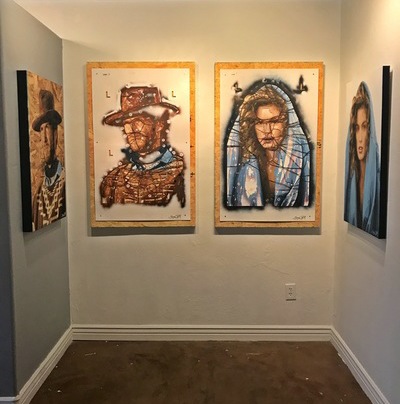 Work by Benjam
Benjamin Goens, known as Benjam is a stencil artist based in Gilbert Arizona. He creates mixed media original artwork utilizing hand cut stencils, oil, and aerosol paints on canvas. His process includes up to 20 hand-cut stencil layers in a single image, used to apply vast colors of aerosol paints as well as various other mediums to create photorealistic tonal gradations in his imagery. He received his Bachelors of Fine Arts Degree in Art History from Arizona State University and traveled extensively across Europe to study the art of classical antiquity and European masters.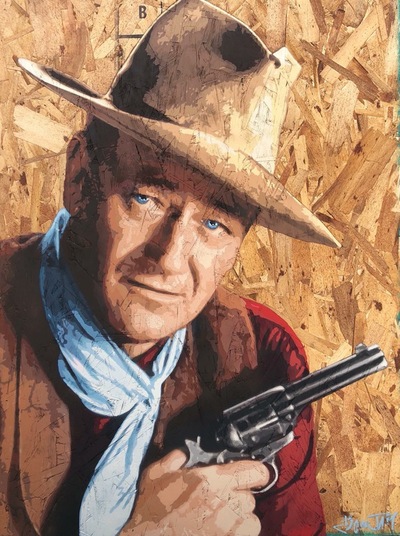 "Duke" Aerosol on Wood Panel, 2018, 32' x 24" By Benjam
"I have always held a fascination for hip-hop culture, graffiti, and the evolution of street art which inspired him to begin cutting his first stencils in 2008." Goens goes on to say "it wasn't until 2014 that he began further experimenting with stencils and ultimately production of his own multilayered artwork, learning to cut intricate stencils to create detailed depictions of his subjects." In 2018, he was a recipient of the inaugural Carmody Foundation Grant Project and recently participated in the inaugural Phoenix Mural Festival. Benjam has shown his work extensively in both solo and group exhibitions in the Phoenix metropolitan area and his work can be found in galleries and private collections around the world.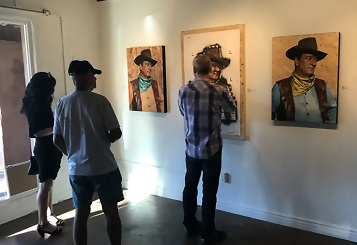 Work of Benjam at Royse Contemporary
Royse Contemporary is located in the Marshall Square complex at 7077 E. Main Street, Suite 6, Scottsdale, AZ 85251 (located on the south side of Main Street just west of Marshall Way). For more information about Royse Contemporary or featured artists visit roysecontemporary.com. *Images of courtesy and copyright of Artists & Royse Contemporary.