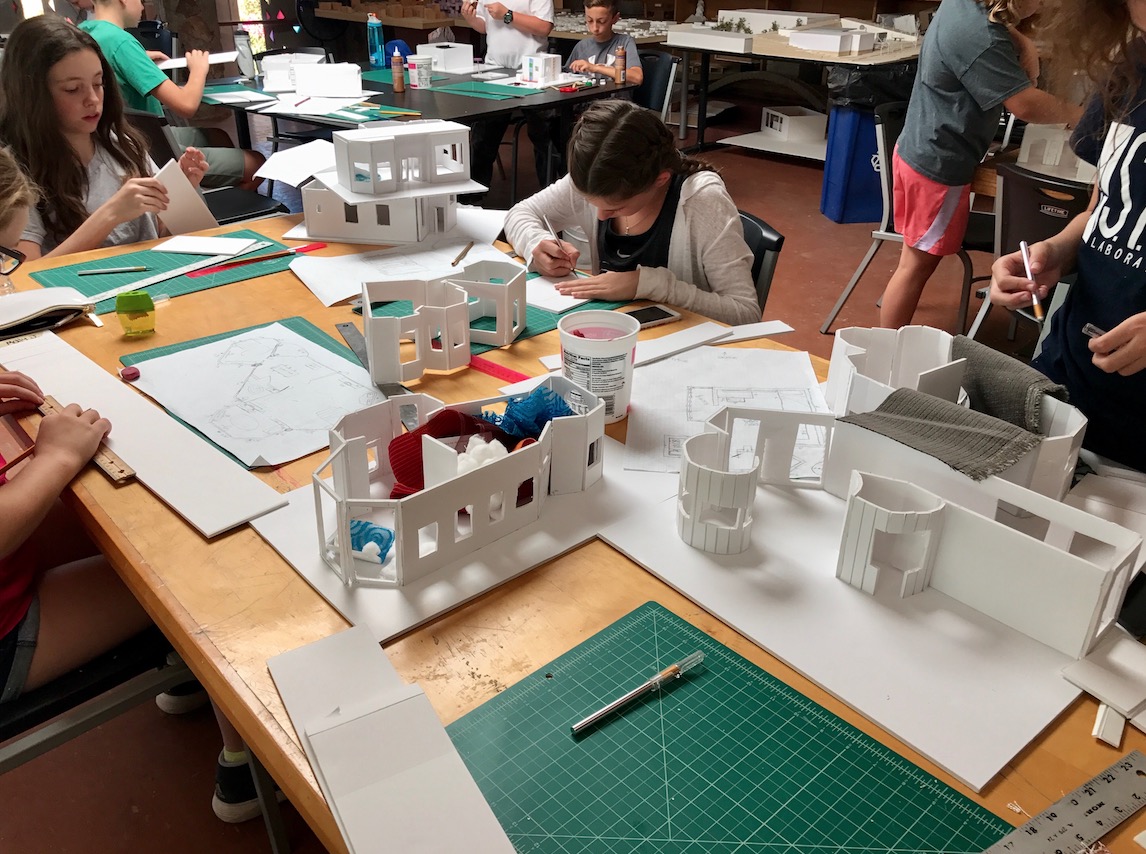 Combining creativity with academic relevance, the Frank Lloyd Wright Foundation's innovative Summer Art and Architecture Camps give students the opportunity to think and work outside the box. Located at Taliesin West, Frank Lloyd Wright's winter home and desert laboratory, the Summer Art and Architecture Camps encourage students to explore, create and design in a historic setting. Students see how their unique ideas can have a true impact on the world around them, as they engage in the fun and educational activities.
Considered America's greatest architect, Frank Lloyd Wright changed the way we build and the way we live. Wright's revolutionary design concepts and buildings at Taliesin West are used to educate and inspire people of all ages, challenging them to understand and embrace innovation in their own lives.
"Nationwide studies have found that educational summer camps can improve a child's performance in school, helping to avoid an average one-month, grade-level learning loss over summer break," said DeDee Ludwig-Palit, director of education at the Frank Lloyd Wright Foundation. "As part of our summer camp program, we add 'art' to STEM education and embrace STEAM (science, technology, engineering, art, math), which combines practical application of each discipline. Not only are these students learning the content areas of STEAM, but they are learning how to work alongside their peers and develop creative solutions to everyday problems."
Utilizing the principles of Wright's organic architecture, the camp program's curricula provide students opportunities to learn by doing, through dynamic, applied science and art projects. Students are given design problems, embedded with real-world issues, and empowered to come up with solutions through a unique architectural approach that employs all the STEAM disciplines in practical, multifaceted, hands-on projects.
Working with talented instructors, each child experiments with different techniques and design tools, following Wright's advice to visit "nature every day for inspiration," using the surrounding desert and Taliesin West's historic and forward-thinking architecture for inspiration. Campers emerge with confidence in their ability to understand and "do architecture." The camps engender critical thinking and often help youth identify potential career interests in a variety of STEAM disciplines.
Full and half-day camps are offered to students in grades two through 12 throughout the summer, but the Foundation offers year-round education opportunities and field trips to Taliesin West, a National Historic Landmark.
Summer camps are now enrolling and include Architectural Discovery (grades two to four); Photographing Wright (grades seven to 12); Design Your Own Dream Space (grades five to eight); Wright for the Future (grades six to nine) and Designing for Mars (grades five to eight).
A limited number of scholarships are available for qualifying individuals. To apply, students can complete the scholarship application form. Enrollment fees range from $250 to $350 for each of the five-day camps.
This year marks 80 years since the renowned architect staked his claim in the desert foothills of the McDowell Mountains and began building his winter home and studio Taliesin West, thus creating his Arizona legacy. What has become known as a thriving, living laboratory, today Taliesin West continues its purpose to foster continued innovation, experiment with forward-thinking design and explore Wright's principles in the modern world and beyond.
Taliesin West is considered one of Wright's most personal creations and among the purest expressions of his architectural principles. It is one of few historic sites in the country where visitors are encouraged to see, touch, feel, sit, admire and experience the property just the way one would as Wright's personal guest.
For more information on Summer Art and Architecture Camps, visit FrankLloydWright.org/education.
For information on daily Taliesin West tours, visit FrankLloydWright.org.