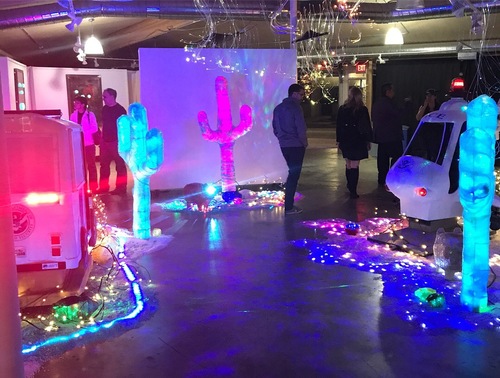 Texas based artist Angel Cabrales new art installation It Came From Beyond the Border 2: Cowboys and Aliens transformed Grand ArtHaus gallery this month in Downtown Phoenix! The artist has created an elaborate futuristic world complete with helicopter, glowing cactuses and don't forget the wonderful pigs, but on a more serious note Cabrales work helps his viewers explore tough topics of today! This unique and captivating exhibition showcases sculpture and mixed media work that explores the dehumanization of people and the sanitized, palatable aspects of culture. This work is a commentary on "the unfound fears playing a part in our current political climate through a satirical installation in a B-movie, Mexpliotation, Tequila Sci Fi format," states Cabrales.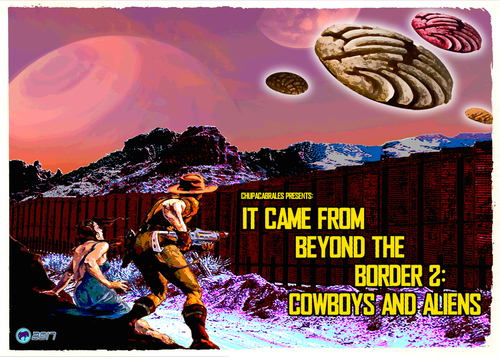 The artist has created a world and visual narrative of the colonized planet, Atzlan, and the plight of its native life, the PanDulciens. The artist's narrative is elaborate and engaging "The Planet Atzlan has been seized and colonized, its people have been subjugated, their culture usurped and sanitized, the unwilling forced out, but La Mother ship has appeared and the PanDulciens have arrived!" His artwork blends social and political concerns of today while beginning an important dialogue with the viewers by utilizing industrial design and commercialism that approaches tough topics through a satirical lens, states Curator, Nicole Royse of Royse Contemporary.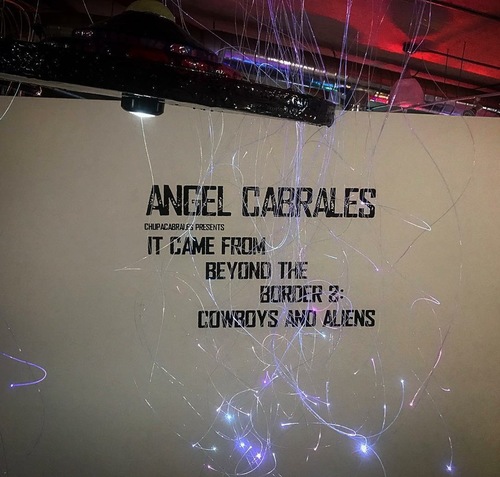 Cabrales is a multi-media sculptor who is creating dynamic sculptures, interactive installations and digital imagery. He received his Bachelors of Fine Arts in Sculpture from Arizona State University and his Masters of Fine Arts in Sculpture from the University of North Texas. Currently he is the Visiting Assistant Professor in Sculpture at the University of Texas at El Paso, as well as a mentor in The Low Residency Masters of Fine Arts Program for the School of Art Institute of Chicago.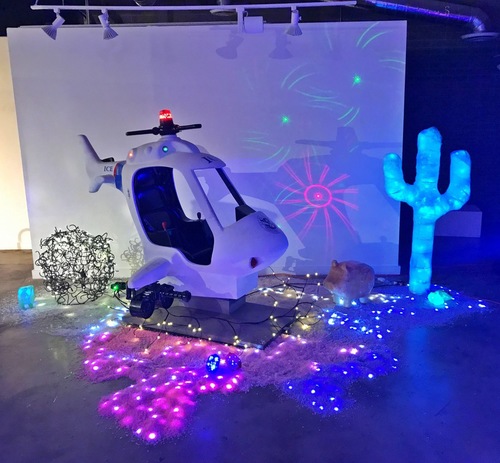 He has exhibited his artwork extensively in Texas and Arizona, having his work featured in both solo and group exhibitions at renowned institutions and galleries including most recently at the MAC, Texas Biennial, Galeria 409, the Mesa Contemporary Arts Museum, The Latino Cultural Center of Dallas, Brownsville Fine Arts Museum, El Paso Museum of Art and AMBOS Project (a intervention collaboration). Royse Contemporary in Scottsdale, Arizona and Ro2 Gallery in Dallas, Texas currently represent Cabrales' work. His work has been featured in numerous publications both online and in print including ArtNet, Fusion Magazine, Texas Architect, Huffington Post, the El Paso Times, Scottsdale Independent, and Arizona Republic just to name a few.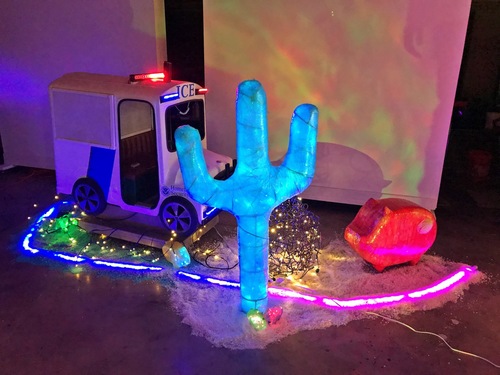 The Closing reception will be held on Third Friday, January 19 from 6:00-10:00pm with an opportunity to meet the artist and hear about his art, process and future projects. It Came From Beyond the Border 2: Cowboys and Aliens will be on view through Saturday, January 20, 2018. Grand ArtHaus is located in the heart of the Grand Avenue Arts District at 1501 Grand Avenue, Phoenix, AZ 85007. Grand ArtHaus is open First Friday 6:00-10:00pm and Third Friday 6:00-10:00pm or by appointment. For more information about Grand ArtHaus visit https://www.facebook.com/grandarthaus/ or more about artist Angel Cabrales please visit http://angelcabrales.com.