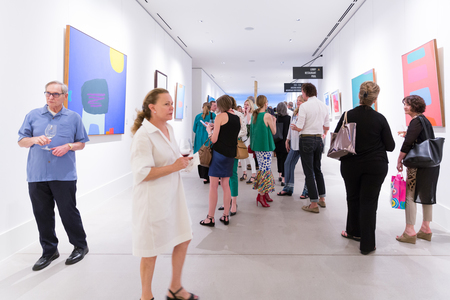 The Gallery curated by John Reyes of Reyes Contemporary Art premiered its new exhibition "Classic Abstraction", featuring spectacular works by esteemed Arizona artists John Armstrong and Dorothy Fratt.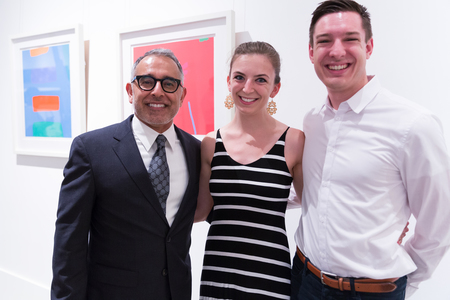 Curator John Reyes with guests Natalie Reak and Keith Wagner
This stunning exhibition opened July 1st and had a special opening reception later in the month on July 20th, catered by the acclaimed hotel restaurant Hearth 61' which featured delicious hors d'oeuvres and wine. An incredible crowd filled the gallery to celebrate the work of John Armstrong and the late Dorothy Fratt, including esteemed guests as Charlie and Christy Jerz, Joan Prior, Dave and Ann Linder, just to name a few.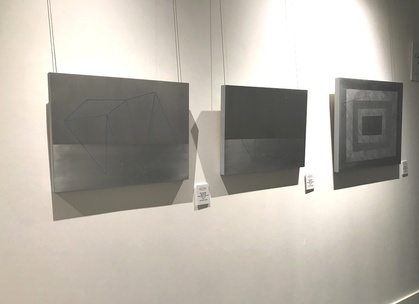 Current work of artist John Armstrong
Fantastic opening remarks by curator, John Reyes who delve into the brief history of abstract art, as well as a brief background on both of the featured artists. John Armstrong graciously followed up with brief remarks about the late great Dorothy Fratt. Armstrong shared touching stories about their friendship, her artwork and her development as artist over the course of her career. Armstrong spoke about his own work, his extensive career in the arts, along with his developement of his own work and process.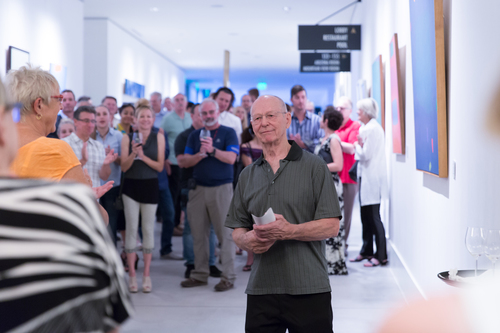 Artist John Armstrong speaking to the crowd
The exhibition showcased a broad range of work including both prints and paintings from both artists spanning decades, offering viewers an overview of their style, their impact of abstract art and their artistic growth. "At it's surface, this exhibition juxtaposes the hard lines compositions of John Armstrong with the color fields of the late Dorothy Fratt, but together these works delve into the rich history of abstraction," states curator Reyes.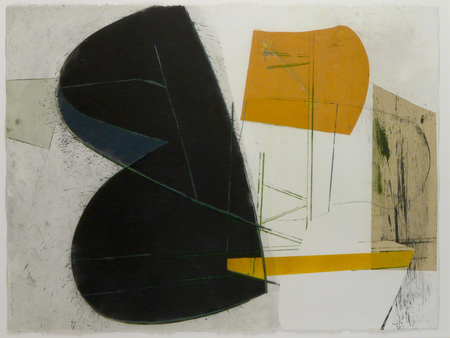 "Untitled" by John Armstrong
Armstrong's prints feature gestural lines, strong colors, captivating shapes which the artist brillantly layers within each piece. This is found throughout his work in such engaging pieces as "Untitled" and more recent work "Mountain Genesis". "He masterfully combines imagery we logically understand with imagery we instinctively understand, resulting in work that is complex, yet resolved," remarks Reyes. Armstrong has made a huge impact in the arts community as an artist, patron and chamipion, known as a master printmaker, fine art framer, curator and exhibition designer, often putting other artists careers before his own.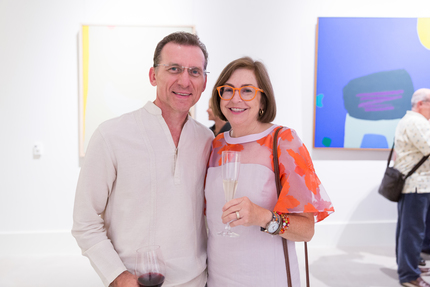 Guests: Tim Cothron and Ann Spitznogle Cothron.
Fratt's work is striking with its flat bold color palette and non-figurative style as with such memoriable paintings as "Red Jacobs Ladder" and "The Missing Gypsy" with the artist working with both acrylic and oil paint, derived from Abstract Expressionism.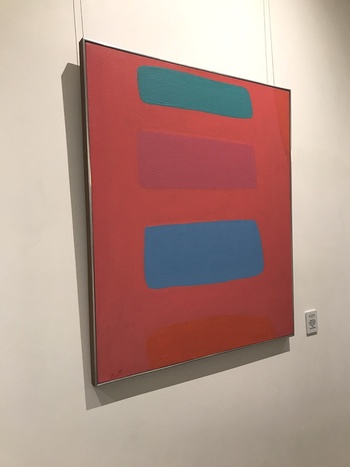 "Red Jacobs Ladder" by Dorothy Fratt
"Fratt explores the relationship of color and it's physical and emotional impact on the viewer," states Reyes. Fratt received numerous awards throughout her career and her work is included in numerous prestigious collections including the Phoenix Art Museum, the Tucson Museum of Art, and the Museum of Northern Arizona.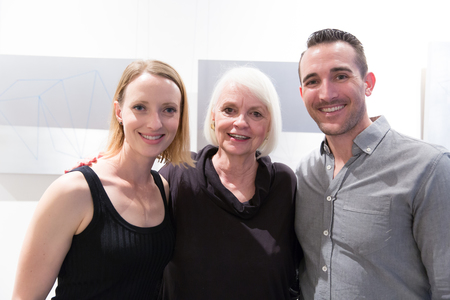 Guests: Christy Jerz, Joan Prior, Charlie Jerz.
A must see exhibition and dazzling resort, "Classic Abstraction" will be on display at The Gallery through August 26, 2017.The Gallery at Mountain Shadows resorts offers a modern and sophisticated space to showcase new local artists every two months with museum-quality exhibitions, curated by John Reyes of Reyes Contemporary. Mountain Shadows Resort is located at 5455 E. Lincoln Drive in Paradise Valley, AZ. For more information about this exhibition or artists visit reyescontemporaryart.com for more on the resort visit mountainshadows.com.
*All Images are courtesy and copyright of the Mountain Shadows and Shane Baker Studios.