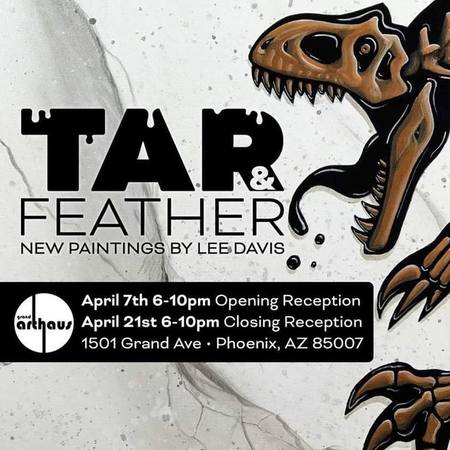 Fantastic Grand Avenue art gallery Grand ArtHaus welcomes local artist Lee Davis with his new body of work Tar & Feathered. 
Marking his debut with a much anticipated solo exhibition, Davis has once again created an intriguing and humorous collection of work that is sure to ignite the imagination!This new satirical series, based on feathered dinosaurs, takes the reluctance of accepting ever-changing scientific discoveries to absurd new height. Davis said that he is, "excited to exhibit the next evolution of my unique painting style, Tar & Feather, a concept that took six years to develop into a mature body of work." Davis extensively researched his subjects, carefully planned out his diverse work and fine-tuned his marbling technique.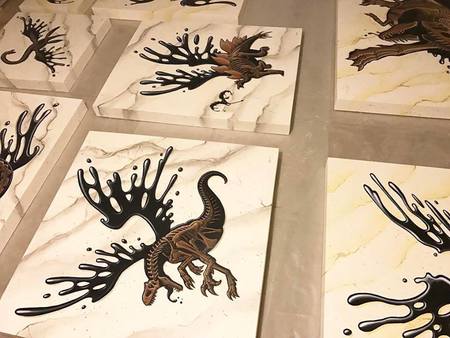 Davis is known for creating fascinating and often bizarre paintings that echo a love of science and humor. As an artist, Lee Davis aims to create "approachable conceptual art" to engage his audience utilizing bold recognizable imagery, strong lines, and a bold color palette. Davis has a very detailed and wild imagination that is apparent in his diverse and unique work. Davis' paintings demonstrate excellent craftsmanship, good use of line, color and shadows while inviting the viewer into his imagination where he often depicts the strange as beautiful.
Traditionally trained in the arts, he received his Bachelors of Arts Degree from Columbia College eventually settling in Arizona. Davis is a former member of the Eye Lounge Artist Collective in Phoenix, he has had several solo exhibitions and participated in several group exhibitions throughout the valley in recent years at such venues as: ASU Gammage Auditorium, Coconino Center for the Arts, Mesa Arts Center, the monOrchid and numerous others. Inspired by his childhood growing up in rural Missouri where he discovered his passion for flora, fauna and its inhabitants.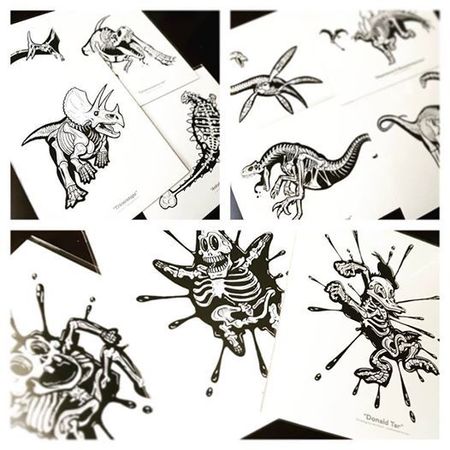 This Friday, April 7th head downtown for what promises to be an exciting First Friday and enjoy the Opening Reception of Tar & Feathered with the artist from 6 to 10pm! The Closing Reception will be on Third Friday, April 15, from 6 to 10pm. Grand ArtHaus is located in the heart of the Grand Avenue Arts district at 1501 Grand Avenue, Phoenix 85007. To learn more about artist Lee Davis and his fascinating artwork visit him online at http://www.leedavisarts.com/. *All images are courtesy and copyright of artist Lee Davis.