Kathleen Hope is a mixed media artist based in Fountain Hills, Arizona. After earning a degree in business, Hope spent years working in interior design and color psychology. Growing up with artists in her family, Hope always had the urge to create.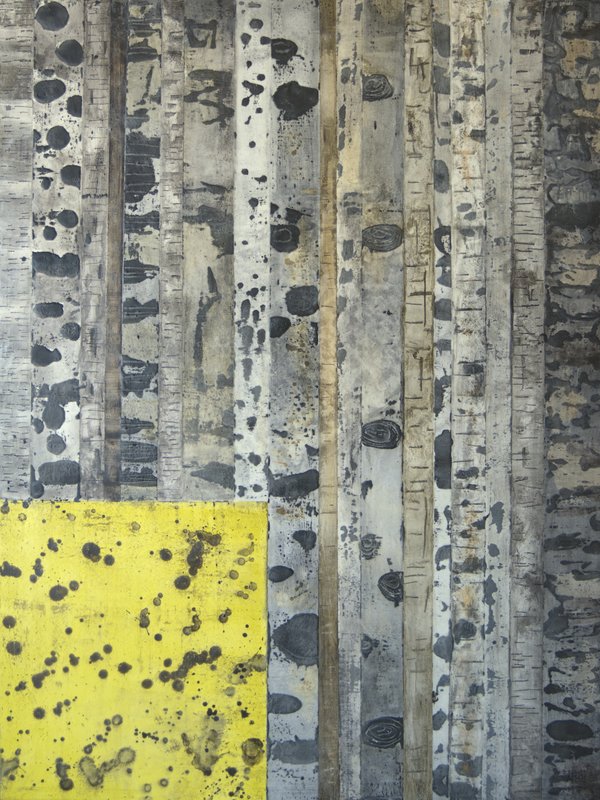 "In the Thick of It" mixed media by Kathleen Hope
It wasn't until her early 30s that she began to experiment seriously with art. And it was upon her  move to Arizona that she finally discovered her preferred medium - cement.
After relocating to the desert, Hope found herself inspired by outdoor spaces but felt underwhelmed by the lack of outdoor art options. Having worked with architects and builders for years, she loved the sculptural aspects of cement and immediately got to work.
"I have been painting for 18 years and have tried many different styles and products to create art," Hope said. "Once I started with cement, I knew I had found my thing and ever since then my career has been out of control."
Today Hope's indoor and outdoor series' are celebrated for their contemporary, textural and industrial style. Her recipe includes a mix of cements, mixed media and encaustic wax. Her indoor series includes 10 different mixes and marble dust to achieve the look she wants, while the outdoor series pieces are sealed to hold up in rain or shine.
"It's like cooking," Hope said. "You need the right consistency, mixture and controlled temperature because of the way it dries."
This year marks Hope's fourth year at the Celebration of Fine Art. Attendees might detect influences of abstract artist Mark Rothko's use of color and painter Henri Matisse's geometric shapes in her work, but most revere it's unlike anything they've ever seen.
"People say it's unique, like nothing they've ever seen before," Hope said. "People can't figure it out. They love the fact it's modern, contemporary, organic."
And while she loves seeing art lovers at the show connect the dots in her works, she most appreciates making the connections with them in person. As a gallery artist, it's not an opportunity she typically has and calls the experience life changing.
"Every year I look forward to this show," Hope said. "It's about sharing for me: artist to artist, friends and collectors. It's a very uplifting and positive place."
Meet Hope and get to know other artists at the Celebration of Fine Art now through March 26th. The show is open daily from 10 a.m. to 6 p.m. Tickets are $10 for adults and $8 for seniors and military members, while children under 12 are free. For show details and information on participating artists, visit www.celebrateart.com.