Timothy Chapman has two passions in life - animals and art. Growing up, he'd doodle and draw fantastical creatures nonstop.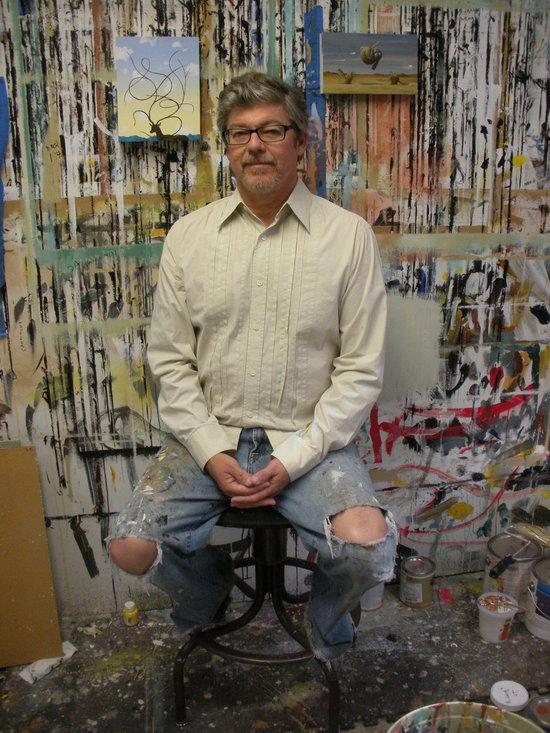 Meet artist Timothy Chapman, pictured above, and view his surrealist-inspired paintings at the Celebration of Fine Art
As a young man, he dove into his biology studies at Occidental College and later earned a degree from Arizona State University in printmaking. But it wasn't long after graduating that Chapman embraced the career he'd wanted from the beginning –– an artist.
Chapman has spent years fascinated by the surrealism of René Magritte's works. He found humor in Paul Klee's paintings and joy in the illustrations of Dr. Seuss. He is taken with Frida Kahlo's balance between magical realism and quiet surrealism. And then there are the natural history illustrators, often anonymous, who took creative liberties in their drawings. 
A lifelong animal lover dedicated to making his own mark, Timothy set his imagination free. Finding charm in quirky ideas is what established Chapman as an artist, and it's what he's known for today.
"I call my work 'invented natural history,'" Chapman said. "Nature is just nuts and scientists are discovering news things all the time that are just bizarre. It's easy for me to take a few steps sideways to say, 'This is plausible.'"
His paintings lean toward illustration with abstract qualities, mostly staying true to certain aspects of biology while tweaking a creature's characteristics just enough to stop a viewer in their tracks and perhaps cause them to crack a smile. To add to the amusement, he even titles his paintings with what he describes as "flat, dull scientific titles." 
"People can look at a giraffe…they know what it is and then they're on to the next thing," Chapman said. "I'd like to think that when I paint a giraffe with a different pattern or something, they'll stop and think. I try to wake people up and make them smile and make them happy."
With a style that's whimsical, surreal and increasingly abstract, the Celebration of Fine Art is the ultimate location for Chapman to connect with art and animal lovers in person.
"You get to meet with people who appreciate your art, which is always a treat, " Chapman said. "I just love it. You get to see people working in different mediums. It's a good bunch of people."
Meet Chapman and get to know other artists at the Celebration of Fine Art now through March 26th. The show is open daily from 10 a.m. to 6 p.m. Tickets are $10 for adults and $8 for seniors and military members, while children under 12 are free. For show details and information on participating artists, visit www.celebrateart.com.