To take a peek at Pete Tillack's passport is to jump into a story filled with globetrotting and adventure. Born and raised in Australia, his travels kicked off when he was 23 years old after finishing an electrical apprenticeship and business school. He intended to take a short break for a European surf trip but a few months abroad proved to be too short a trip.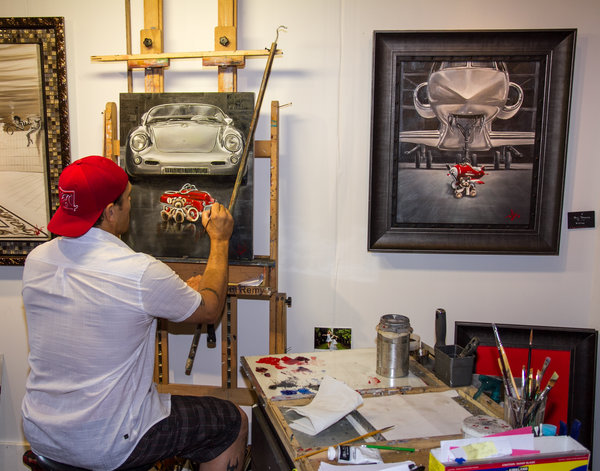 Meet artist Pete Tillack, pictured above at work, at the Celebration of Fine Art
An avid surfer, Tillack has ridden waves on beaches around the world from Peru to Hawaii. He's observed towering glaciers in Alaska to magnificent volcanoes in Reunion Island. He's stood in both the ancient city of Machu Picchu and taken in the bright and hectic rhythms of Times Square. However, it wasn't until he was helping a friend's father with volunteer street painting that he discovered and honed his artistic abilities.
"I was out there chasing the next wave not realizing I was getting the best experiences in life," Tillack said.
Today, over a decade removed from living in Australia, Tillack's artistic vision and voice are shaped by this successes, failures and travel experiences. These days, more than anything, Tillack wants to tell stories and connect to people.
Symbolism abounds across all his works. One subject matter that has stuck with Tillack for years is the concept of home, which he depicts through images of couches placed in various settings from cityscapes to icy water to grassy fields.
"The difference between a house and a home is you - you create the home," Tillack said. "The center of the home is the couch. You come home and you sit back and you feel comfortable and secure. But you get a new couch and still have that feeling, meaning a home has nothing to do with the furniture."
Tillack's art also reflects his fascination of big cities, especially Manhattan, where millions of people from thousands of different places live but do not necessarily know each other or ever even meet.
"It's a social jungle," Tillack said. "It's an index summary of the world and I use billboards in some of my work to help tell the story."
Unlike the Big Apple, meeting and getting to know people is exactly why he's drawn to the Celebration of Fine Art, even if it keeps him away from the San Diego surf for three months.
"If you could figure out how to bring the surf closer, then I could easily make this home," Tillack said. "Until then, it is just like a really long beach with a very low tide."
Tillack and 99 other artists are showing at the Celebration of Fine Art now through March 26th.  Open daily from 10 a.m. to 6 p.m, tickets are $10 for adults and $8 for seniors and military members, while children under 12 are free. Visit www.celebrateart.com for show details and information on participating artists.