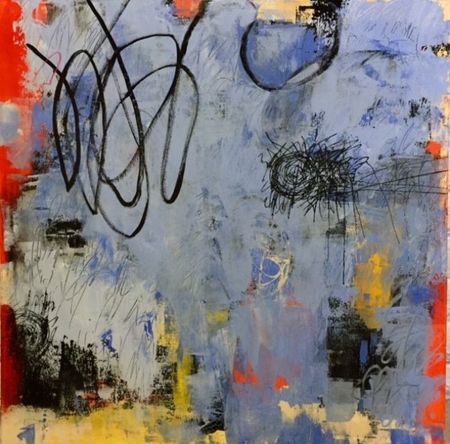 Explore The Language of Memory, the solo exhibition of local artist Diane Silver, featuring an incredible collection of mixed media paintings that center on the idea and process of the memory.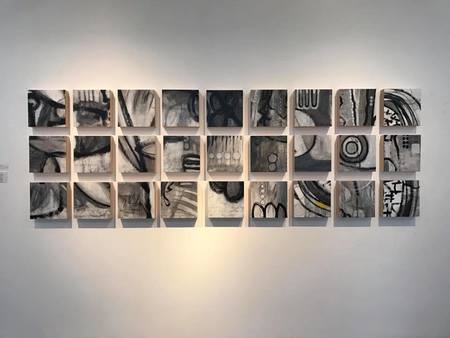 Showcasing a dynamic 27-piece installation titled "Pieces of Water" that is bold and modern, "exploring the fragile, ephemeral nature of memory and how our brains distort a past memory to fit our current state of knowledge." In her artwork, Silver says she has often blended fragments of writing with gestural mark making, but with her most recent series has taken it a step further by creating poems to accompanied each piece, as seen in her painting "Nest of Words".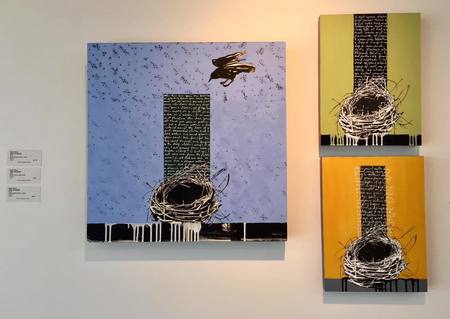 Her work is evocative offering an intriguing combination of the familiar and the unknown, while utilizing strong lines, a simple color palette, and minimal imagery. The subtle implementation of words gracefully blends into the paintings, words scrolled across the artwork creating an intimacy with the viewer and artist, such as with her painting "Time in a Bottle". When asked about her work Silver stated, "I create a language using painterly marks and sometimes collage elements, layering paint and gestural marks to expose, erase, hide and then bring again."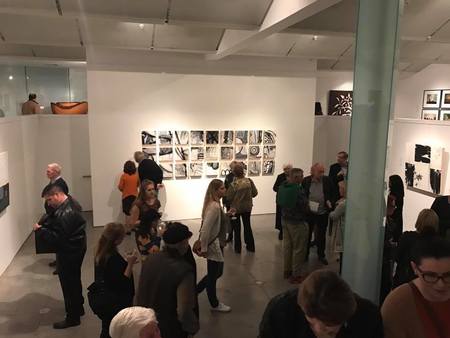 Silver has studied art at New York University, Scottsdale Artist's School, Scottsdale Community College and Anderson Ranch in Colorado and has a Bachelors Arts degree from Simmons College and a JD degree from Boston College Law School. Silver's work is currently represented in Scottsdale, Arizona by Gebert Contemporary and in San Diego, California by Alexander Salazar Fine Art. She has exhibited her artwork at various galleries around the valley including Art Intersection Gallery, @Central Gallery, Eric Fischl Gallery, the Herberger Theater Center, and the Shemer Art Center and Museum, just to name a few.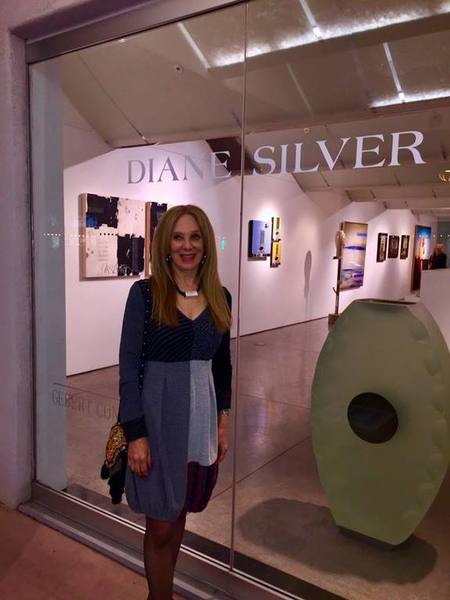 The Language of Memory, Silver's solo exhibition will be on display Gebert Contemporary Gallery through February 4th, 2017. Gebert Contemporary Gallery is located at 7160 Main Street, Scottsdale in the heart of Old town Scottsdale. To learn more about artist Diane Silver and her enchanting artwork be sure to visit her online at http://www.dianelsilverartist.com. *All images are courtesy and copyright of artist Diane Silver and Gebert Contemporary.