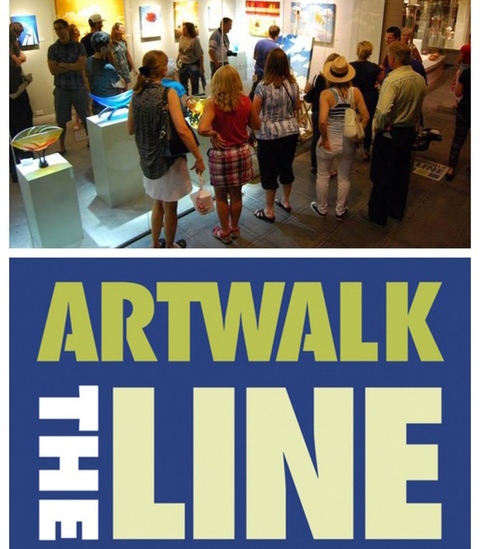 Spring has sprung, weather is perfect for an evening exploring the weekly Thursday night Scottsdale ArtWalk from 6:30-9:30pm happening April 21st.
When was the last time you walked down Marshall checking out the wonderful diverse galleries, local shops, excellent bars and eclectic restaurants that Old Town Scottsdale has to offer. Check out the great gallery roundup of exhibitions this month...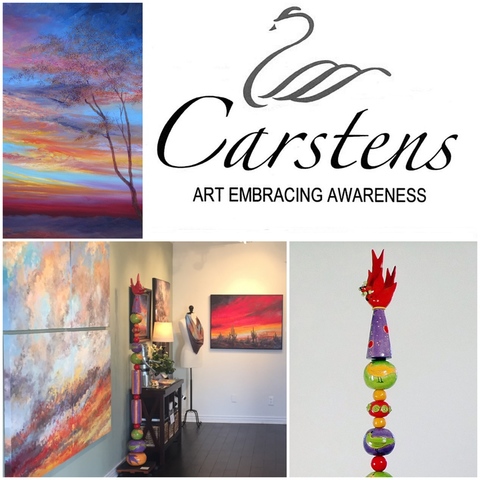 Carstens Fine Art Gallery is currently showcasing guest artist, sculptor Cheryl Brandon striking ceramic creations titled "Succulent Reflections" which are apart of her "Totem Series" complimenting Owner and artist Cyndy Carstens paintings. Together these artist are a perfect blend, offering vibrant paintings that "focus and reflect on portraying an awareness of the wide expanses of the sky and the details of nature with sculptures that are whimsical and colorful. Artist Cyndy Carstens will be on hand to speak about her work along with live music in the courtyard and light refreshments. Next up in May is "Arizona Felicity" showcasing the latest work of owner and artist, created over the last 12 months centering around the idea of "Felicity". Carstens Fine Art Gallery is located at 7077 Main Street #5, Scottsdale. For more information visit Cyndy Carstens online at http://www.cyndycarstens.com.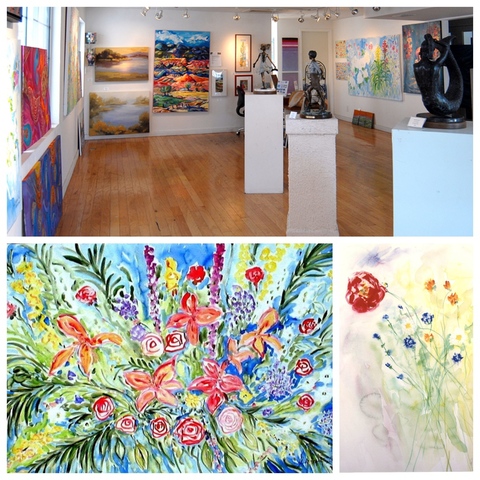 Gallery Andrea currently featuring their Annual Spring Art Show:"Andrea de Kerpely-Zak and Andrea Zakrzewski: Spring Wildflowers Event" highlighting a special series of wildflower paintings featuring African daisies, Mexican gold poppies and more inspired by the beauty of Spring from namesake artists Andrea de Kerpely-Zak and Andrea Zakrzewski. The mother daughter duo when you visit the Andrea Gallery and experience their incredible artwork for yourself! The gallery participates in the Thursday Scottsdale ArtWalk hosting a special reception from 7pm to 9pm each week. The gallery is located at 7019 E. Main Street, Scottsdale and they are open six days a week from 11am to 5pm, closed only on Sunday. For more information about Gallery Andrea visit them online at http://artandrea.com/.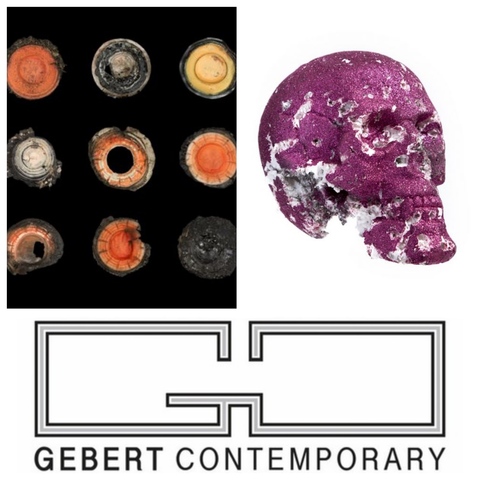 Gebert Contemporary Gallery is featuring the solo exhibition Marks from local photography William LeGoullon making his debut at Gebert Contemporary Gallery. "Marks" showcases two enthralling bodies of work that Gebert Contemporary says, "He challenges the perception of a deserted, unpopulated landscape through his use of symbolism, artifacts, and the documentation of specific narratives paralleling a romanticized persona of the once wild west and that of modern day symmetries in nature and the human experience." Marks exhibition will be on view through May 7th, 2016. They are located at 7160 E. Main Street, Scottsdale. For more information visit http://gebertartaz.com.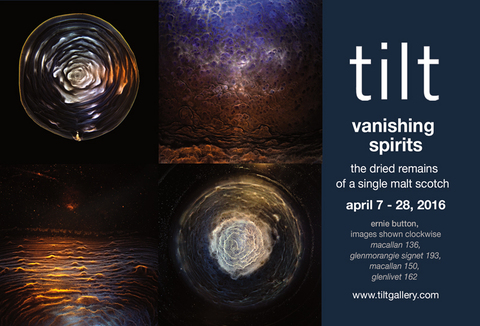 Tilt Gallery is featuring Vanishing Spirits: The Dried Remains of Single Malt Scotch, Photographs by Ernie Button. Button work centers literally around Single Malt Scotch and the residue that is left behind in the glass. "Different color lights have been used to illuminate the bottom of the glass, creating the illusion of landscape, terrestrial or extraterrestrial", states Tilt Gallery. This photography examines "The alcohol dries and leaves the sediment in various patterns, likesnowflakes in that every time the Scotch dries, the glass yields slightly different patterns and results," states Button. Vanishing Spirits: The Dried Remains of Single Malt Scotch  will be on display until April 30, 2016. Tilt Gallery is located at 7077 East Main Street, Scottsdale. For more information visit http://www.tiltgallery.com.
The Scottsdale Gallery Association in partnership with the City of Scottsdale hosts the ArtWalk every Thursday from  6:30 until 9:30 pm. The Scottsdale ArtWalk is located along Main Street and Marshall Way in Scottsdale and visitors can ride the Scottsdale Trolley for free until 9 pm!
 For more information about the Scottsdale ArtWalk or the Scottsdale Gallery Association visit: http://scottsdalegalleries.com. *Images courtesy and copyright of SGA and galleries.