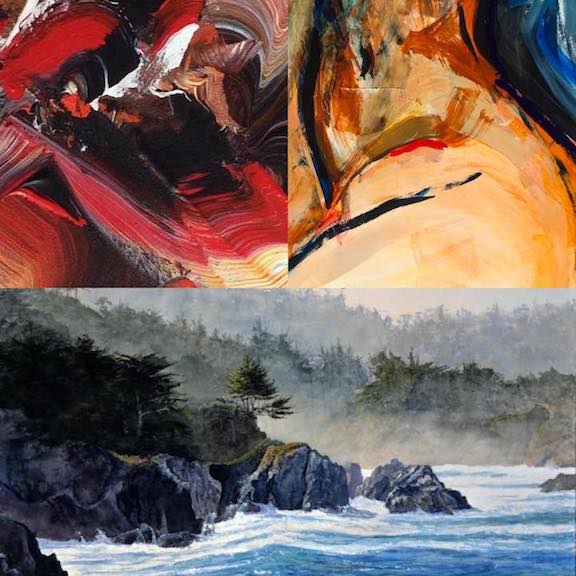 Miniature Christmas Poinsettias, Abstrations, Impressionist Landscapes, Nudes, and Christmas Fashions are on display and available all December at Gallery Andrea. The Annual Christmas Poinsettia Show features an incredible selection of diverse mediums and styles, offering something wonderful for everyone on your holiday list!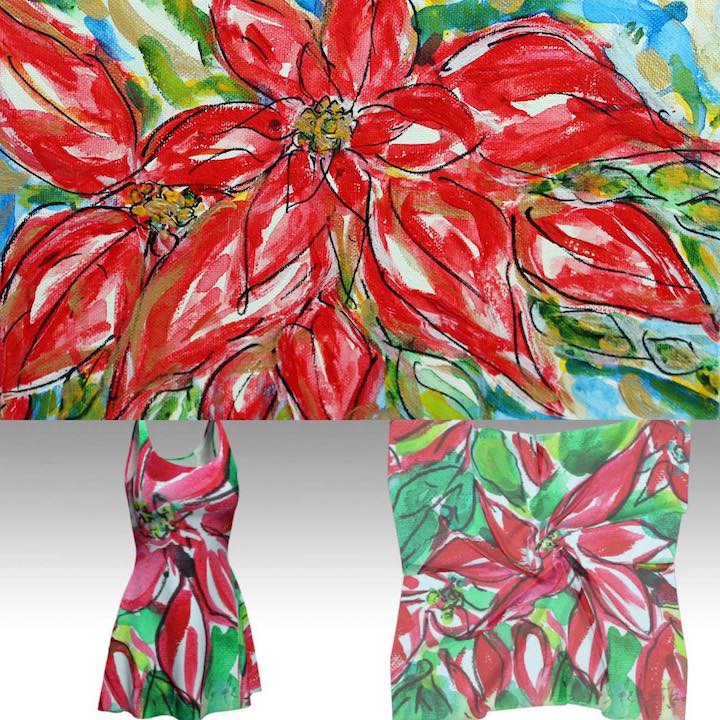 Currently showcasing a striking collection of work from three featured artists: Katha Rossein, Dennis Kleidon, and Bill Hudson, along with wonderful miniature Christmas Poinsettia paintings and holiday themed fashion from gallery namesakes, Andrea de Kerpely-Zak and Andrea Zakrzewski. Katha Rossein creates dazzling impressionist nude works. Painting the figure comes from a deep appreciation of the hidden, the emerging and finally the evolving sensuality of all bodies. Her work explores the conversation embraces the hard questions of loss, turbulence and suffering as well as triumph and change.

While Dennis Kleidon creates contemporary abstract works of art, painting robust abstractions that explore the possibilities of paint in action, reveling in color in ways that appear at first to be intuitive, but soon reveal a sure sense of gesture – at once invigorating and calming. Enjoy the work of Bill Hudson is an impressionist landscape artist creating works that celebrate all things maritime, highlighting harbors, boats, fishing and the juncture of land and sea. Utilizing watercolor on cotton fiber, cold-press paper to capture the luminosity of the sky reflected off the ever-changing sea.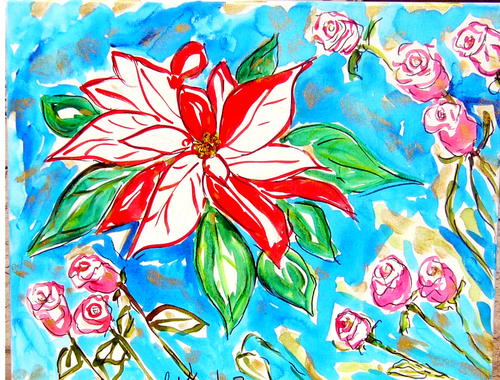 Come shop original mini Poinsettia paintings from Andrea de Kerpely-Zak and the latest wearable holiday art floral fashions including scarves, dresses and leggings from Andrea Zakrzewski. Poinsettias were considered by the ancient Aztecs to be symbols of purity, but today poinsettias symbolizes good cheer and success and are said to bring wishes of mirth and celebration. Gallery Andrea showcases Andrea de Kerpely-Zak colorful and delicate impressionist "Healing Flowers" that symbolize freedom and healing, while Andrea Zakrzewski paints akin to her mother utilizing a palette knife reflecting a loose impressionistic style. She is also the fashion designer of Artsyandreaz Floral Fashion creating custom designed floral wearable art.
The Annual Christmas Poinsettia Show will be on display through December 31, 2019. Visit Gallery Andrea and experience their incredible artwork firsthand and meet this delightful and dynamic mother-daughter duo! The gallery is located at 7019 E. Main Street, Scottsdale open daily from 11am to 5pm, Thursday 7pm to 9pm, closed only on Sunday. For more information visit http://artandrea.com/ & Andreazfloralfashion.com. * All images are courtesy and copyright of Gallery Andrea.