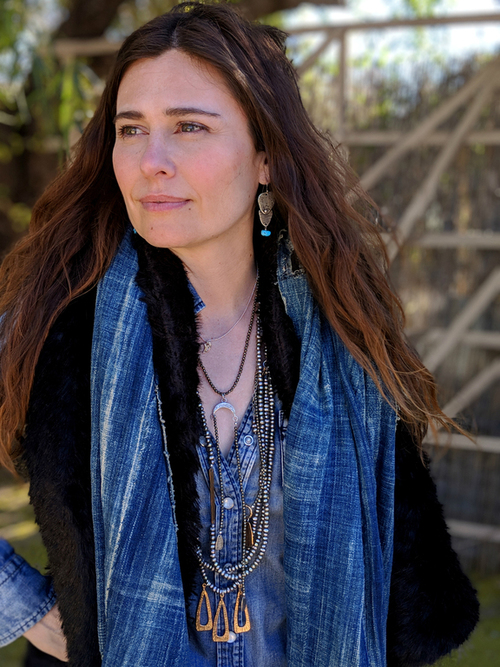 Artist Rosa Kilgore wearing earrings and necklaces from her latest collection
Don't miss your chance to add exquisite jewelry to your collection during Rosa Kilgore Jewelry Sample Sale happening Saturday, March 30, 2019 from 10:00am to 3:00pm at Studio AFUERA.
It is that time of year when the artist begins to transition on to new work, with many classic and wonderful designs being deeply discounted – up to 40% during this special sale. Kilgore's jewelry is known for being textured, raw, and having a southwestern perspective, often incorporating freshwater (cultured) pearls, along with many semi-precious stones such as garnet, amethyst, American turquoise, just to name a few. All of her pieces mix and match easily, you will find that they become your go-to jewelry. "When designing my jewelry, I prioritize versatility and personal style, I want my jewelry to be easy to wear, easy to mix, and timeless," states Kilgore.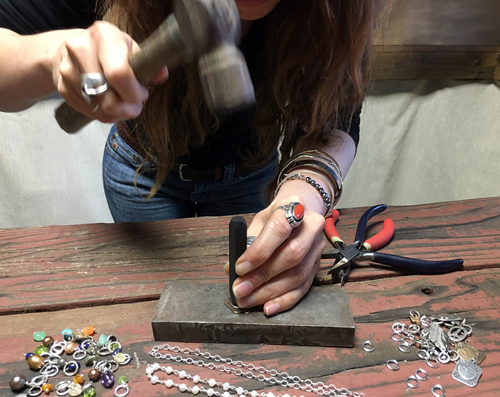 Rosa Kilgore creating beautiful jewelry at her studio
A trained silversmith, most of her pieces are first fabricated in silver and then molded for casting. Her work is created using the lost wax casting method, combined with other ancient and modern techniques, creating textured sterling silver and ancient bronze jewelry. Kilgore is a 5th generation Arizonan from a family of artists, art collectors, and gallerists. From a young age she was immersed in the art world thanks to her family and is well traveled but finds herself consistently drawn back to her native desert. She attended The Orme School and DePaul University where she garnered national awards in jewelry making. Influenced by the artists and other jewelers in her family, she grew up watching her uncle Jesse Monongye make exquisite jewelry, as well as her mother Linda Margaret Kilgore, a renowned steel sculptor. Kilgore has always been drawn to the medium of metal eventually studying casting and fabrication techniques with a Navajo silversmith, Dorothy Jeffrey.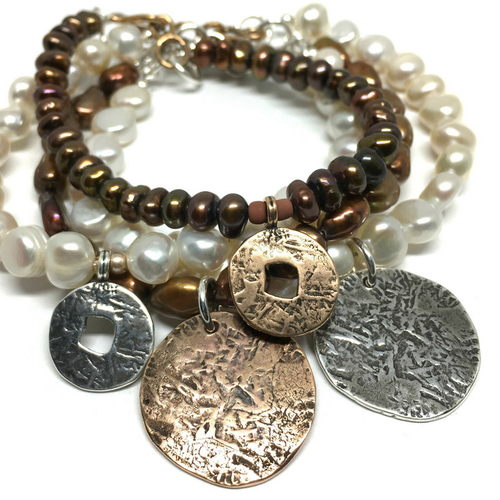 Jewelry by Rosa Kilgore Jewelry
Rosa Kilgore works out of her pine forest home studio in Flagstaff and Studio AFUERA in Scottsdale. Her jewelry is sold in galleries and fine boutiques in Idaho, Colorado, New Mexico, Texas, Montana, and Arizona. Kilgore is the March 2019 "Artist of the Month" in Phoenix Magazine and this past September, the metalsmith was featured in the Arizona Red Book Magazine along with her mother, painter and sculptor Linda Margaret Kilgore; and her stepfather, studio potter Nicholas Bernard.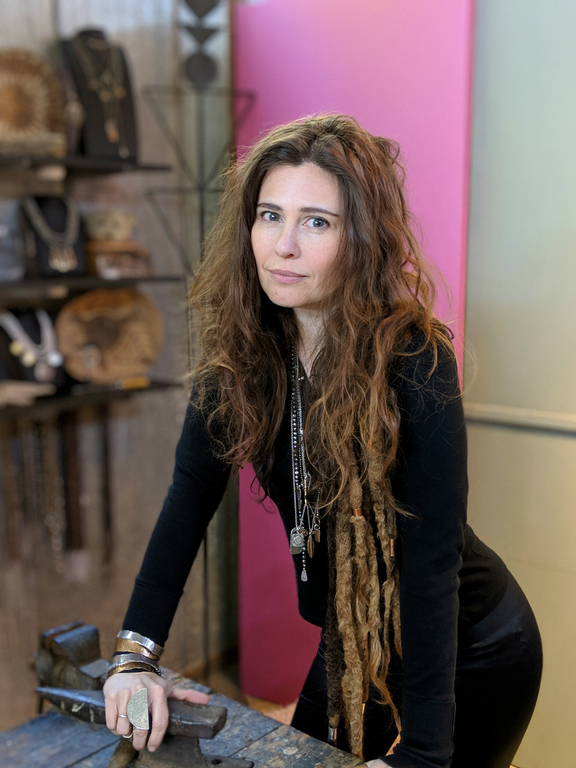 Come meet the artist and enjoy the beautiful spring at the studio and sip a light, fruity, and bubbly sangria (old family recipe) and nibble on snacks while you shop. Studio AFUERA is located at 6234 N. Cattletrack Road, Scottsdale, Arizona 85250. For more about this talented artist visit RosaKilgore.com and follow her on Instagram.com/heyrosakilgore.