Tucson foodies can sink their teeth into a recipe contest geared to vegans; a pinot puzzle of a wine dinner; CRUSH, the wine and art fundraiser for Tucson Museum of Art; and a Chinese feast for an emperor.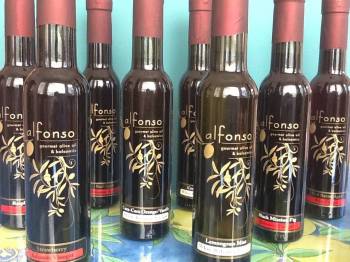 March 30 – Foodie Recipe Contest
Healthy You Network (HYN), in partnership with Alfonso Gourmet Olive Oil & Balsamics, will host its inaugural "Foodie Recipe Contest." There are two rules for contest entries: 1) the recipe must include one of Alfonso's flavored balsamic vinegars, and 2) the dish must be oil-free and vegan (absent of all meat, eggs and dairy products).
Contestants should bring their dish (and recipe) into the HYN Resource Center, 3913 E. Pima Street at 3 p.m. where the entries will be taste-tested by a panel of judges.
Tom and Nancy Alfonso, owners of the two Alfonso Gourmet Olive Oil & Balsamics stores in Tucson have donated the prizes: $100 gift certificate from Alfonso's for the winning recipe, a $50 gift certificate for 2nd place and a $25 gift certificate for 3rd place.
Contact the HYN Resource Center at 207-7503 for questions about the contest.
April 3 - Pinot Puzzle Wine Dinner
Chef Albert Hall of Acacia is hosting an interactive dinner featuring Pinot Noir from around the world. Will you be able to solve the pinot puzzle and test your knowledge as you sip your way through seven samples of pinot diversity paired with four courses for $75/pp plus tax and gratuity? Call Acacia to reserve your space.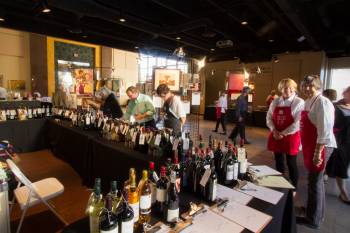 April 4 – CRUSH
Experience a world of wine, food, and art in the lobby and courtyards of the Tucson Museum of Art. Taste more than 100 different wines from famous wineries and sample fantastic foods offered by 26 different local restaurants. Bid on fabulous items including wine, art, travel, services, and more in the silent auction! This is a fundraiser for the Tucson Museum of Art. For tickets, click here.

April 6 - Man Han Emperor Feast
Chef/owner Wanda Zhang will serve a fabulous six course Chinese feast with wine pairings. Harvest Moon is located at 12125 North Oracle in the Oro Valley Marketplace. Winner of "Best Chinese" awards in The Explorer and Tucson Lifestyle Magazine for 2014, Harvest Moon features the authentic flavors of China, in a relaxing, upscale atmosphere.
Man Han Emperor Feast
Bang Bang Chicken with Carletto Pinot Grigio
Wok Seared Live Lobster with Cartlidge and Brown Chardonnay
Scallop Rice Wedges with Kendall- Jackson Chardonnay
Peking Duck Roll with Layer Cake Pinot Noir
Wok Seared Beef Filet with Josh Cellars Cabernet Sauvignon
Deep Fried Soy Ice Cream with Blanco Spice Martini
A banquet that was traditionally dedicated to Emperor Kang Xi of the Qing Dynasty, the Man-Han Feast is taken from both Han and Manchurian cuisine, representing the shared vision and unity between the Hans and the Manchurians while they were ruled as one under the Qing Imperial Court of the 1600s.
All dishes are elaborately prepared and presented with great emphasis on traditional ceremony and etiquette.
The cost per person is $50 plus tax and gratuity. Reservations are limited.