For a mad moment, forget about the blacktop and sidewalks of a bustling downtown. Instead, savor the instant bodily response of entering the soothing Old Town Artisans La Cocina courtyard with its expansive shady trees, lush foliage, and inviting pond filled with flapping fish.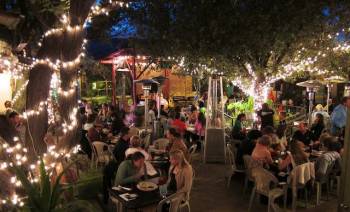 This downtown escape conveys a sense of wonderment. We regulars are not the only ones who feel this way -- tourists dangling cameras around their necks snap away at the unexpected allure of it all.
"The original vision has changed to support the demands of the neighborhood," said Jo Schneider who has owned La Cocina (LaCo to the locals) since August 5, 2010. "We're now more bar, more tavern, more entertainment."
Entertainment happens every Friday and Saturday as well as other nights. Music at dinner features jazz, blues, folk, or country but at 10 p.m. DJs create lively theme events like retro vinyl dance party, funk, and the forgotten sounds of today. There's even live harp playing at brunch. Heavenly.
Award-winning bartenders pride themselves in taking classic cocktails and giving them a signature twist with house-made infused spirits and syrups. Their tap rotates Arizona brews on a daily basis. Think Barrio Brewery, Nimbus, Thunder Canyon, Mother Road Brewing Co., 1055 Brewing, Grand Canyon Brewery, Four Peaks Brewery, Sentinel Peak, Borderlands, and Old Bisbee.
The menu tries to keep it local with grassfed beef and some veggies and herbs from nearby farms and gardens. Menu items satisfy carnivores, vegetarians, vegans and people with gluten intolerances. The culinary goal is hearty and healthy with something for everyone. A late night taco grill feeds the imbibing crowd, and on weekends, brunch is served to a civilized 4 p.m.
Some favorites include the South American breakfast of melt in your mouth corn cakes with eggs, black beans, salsa, guacamole, sour cream and cotija cheese; Moroccan chicken salad with Sriracha, garlic, lime marinated chicken, spinach, almonds, orange curry vinaigrette, with a lemon, mint, cucumber quinoa; lemongrass coconut curry with chicken or tofu; and turkey pozole served with corn tortillas.
Fundraiser in a Box
One of their visions was to build community by giving back. Tuesdays for Tucson invites 501 (c)(3) non-profit organizations to host fundraising events where 10% of the dinner sales will be donated back to the charity. Groups may use the covered stage to bring in live music, host speakers, and have silent auctions and raffles. Participating groups who used this "venue with a menu" to raise money include BorderLinks, Tucson Arts Brigade, Iskashitaa Refugee Harvesting Network, Humane Society of Southern Arizona, Handi-Dogs, and Pawsitively Cats, to name a few.
Come for the cocktails, stay for the music and magic of the twinkling lights woven through the trees. If the air is still cold, sit near a heater and sip a Diablo hot chocolate laced with tequila. Enjoy!