If those three words, "Southern Fusion Gastropub" don't get your mind racing, nothing will.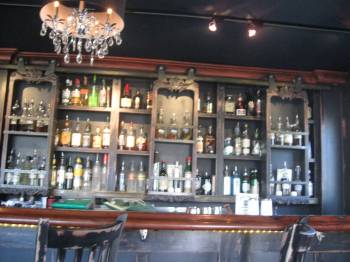 Since 2011, The Parish has been a welcome addition to Tucson's restaurant scene and the fact that it can survive, but most importantly, thrive on busy Oracle Road where restaurants are here today and gone tomorrow, is a testament to its loyal popularity.
Bacon Popcorn
The best kind of restaurant advertising is word of mouth. This writer cannot remember how many personal recommendations I received for "bacon popcorn." And finally, when  tasted, I was not disappointed.
 The Parish has taken everyone's favorite movie theater nosh and exalted it to cult status. What makes bacon popcorn so popular? Perhaps it's popped in bacon grease? Perhaps the little crumbles of bacon share space in your mouth with the freshly popped popcorn and finely chopped chives? Whatever, the inspiration was – it works. The menu says slightly buttered, impossible to eat just one. To the best of my knowledge, The Parish is the only Tucson restaurant serving bacon popcorn.
Bacon popcorn pairs so well with the many bombers, bottles, and cans of beer on the wall from crafts to imports. How about a Union Jack IPA, Strubb's Flemish Red Ale, Polygamy Porter (from Utah), or Pecan Harvest Ale?
 You can make a whole meal out of a few noshes here. The baked oysters bleu was a generous serving of melt-in-your-mouth oyster-ish goodness with bacon (again!), Creole bread crumbs, and lemon-bleu cheese vinaigrette. Another menu item, not seen much in Tucson is frog legs disguised at Hot Legs Le' Jean. A vibrant dish of black pepper and horseradish rubbed frog legs wrapped in bacon (encore!), then served with Creole remoulade. If you bring your vegetarian pals along, try the edamame with a Southern kick and hand cut fries with saffron or truffle aioli for dipping.
 Some of the most popular menu items are the gumbo, drunken angel pasta, the grilled N.Y. strip with extras, and the Parish Burger with bleu cheese, bacon (!), red onion marmalade, and Dijon mustard. And for vegetarians, try the Big Hippie burger, roasted eggplant croquette with all the fixings.
 If you think it's only about the 37 different kinds of beer plus two gluten-free offerings, think again as The Parish infuses their own spirits. Some customer favorites include La Verdad (house-infused cucumber tequila, agave nectar, fresh lime juice, ginger ale); Dutch Well Water (house-infused cucumber gin, fresh lime juice, peach bitters, lavender water); and The Parishioner (house-infused basil vodka, fresh lemon juice, grapefruit bitters, orange flower water). And the Sazerac, which is the official cocktail of New Orleans.
Who's the brilliance behind The Parish? Some local guys who have lived in Louisiana, California, Texas, and places in between: Steve Dunn who operated restaurants in New Orleans' French Quarter; Chef Travis Peters who has spent 20 years in culinary arts butchering, growing and gathering, and even milking goats; Bryce Zeagler formerly owned the French Quarter in Tucson for seven successful years. The Parish menu is influenced by his grandmother's Southern recipes.
Crawfish Boil
Celebrate Fat Tuesday at The Parish serving 400 to 500 pounds of crawfish (and it's all going to sell according to owner Steve Dunn). Live it up with live music – rockabilly, Dixieland, blues, funk and soul. There's a $10/entrance plus first come, first served.
 There's no better place to get your ya-yas on than at The Parish in Tucson.