Westward Look Wyndham Grand welcomes renowned guest Chef Rick Tramonto who will prepare a special five-course dinner on Thursday, March 13 at GOLD restaurant.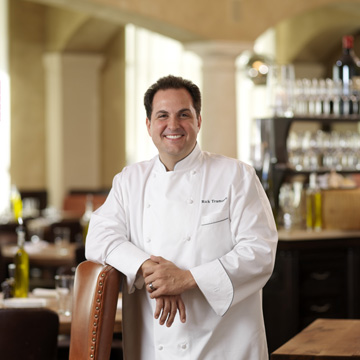 He will be partnering with Westward Look Wyndham Grand's Executive Chef, Antonio Rodriguez. This culinary duo will create Chef Tramonto's cuisine paired with wines from Banfi Vineyards (Tuscany). Diners will be able to meet Chef Tramonto, who is visiting for the Tucson Festival of Books on March 15 and 16.
For eleven years, Restaurant R'evolution Executive Chef Rick Tramonto was executive chef and founding partner at Chicago's world-renowned four-star fine-dining restaurant Tru. Tramonto is also culinary director of Tramonto's Steak & Seafood and RT Sushi Bar & Lounge. (Above photo credit - Tim Turner, Random House)
Tramonto has received a bevy of awards and honors, including the James Beard Foundation for Best Chef: Midwest Award, the Robert Mondavi Award for Culinary Excellence, Food & Wine magazine's "Top 10 Best New Chefs" 1994 and Outstanding Service Award from The James Beard Foundation. Tramonto has a number of television appearances, including "Oprah," "Today," "Iron Chef America," and as a judge on "Top Chef."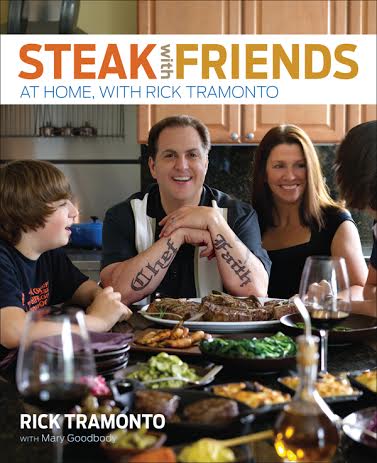 Tramonto is an accomplished author with eight titles to his credit: His memoir, "Scars of a Chef," was published in March 2011. His most recent cookbook is "Steak with Friends: At Home with Rick Tramonto."(Photo credit - Ben Fink, Andrew McMeel Publishing, LLC)
Reservations are a must. The cost is $90/pp (not including tax and gratuity). Doors open at 5:45 pm and dinner commences 6 p.m. Space is limited to 60 diners. RSVP now by calling 520-297-1151 and asking for in-house reservations.
I interviewed Chef Tramonto via email:
Please tell me what you like about Tucson and the Westward Look Resort.
Tucson, in general, has a very beautiful landscape and great weather. Since the resort is located in the Foothills, it is surrounded by both the mountains and the desert, which offers a truly great aesthetic. Also, the resort has an overall relaxing environment, which is paired with great food and a great team.
This link details the National Restaurant Association's Top 10 Food Trends for 2014. Trends are more long lasting than fads - Do you agree or disagree with any? 
Yes, I agree that trends are definitely more long-lasting than fads. I personally think that molecular gastronomy is here to stay. I think that contemporary technology will continue to influence the way that food is prepared and will be utilized to create innovative dishes.
What trends (if any) are incorporated in the meal you will prepare at GOLD?
A modernist cuisine technique – cooking sous vide – will be incorporated into the meal preparation.
I notice that on your menu at the GOLD dinner, you're pairing foie gras with chocolate sauce and macadamia nuts. What can you tell me about that?
I saw the combination in France in the late '90s at Pierre Gagnaire and was always inspired by it. This particular dish is about exploring the richness and creaminess of the foie gras combined with the sweetness of the chocolate, in order to create a savory and sweet combination.
What inspired you to create this March 13 meal?
The meal is a culmination of my seven cookbooks and repertoire over the years. I've pulled out favorites to create a "best hits" meal. This meal will showcase the overall style of Rick Tramonto.
More Tucson restaurant events
--Pastiche will donate 15% of all sales (dine-in, dine out, retail wine sales) to the Humane Society of Southern Arizona on Wednesday, February 26. Throughout the day and evening, raffles will also be held. Reservations are not required but are recommended.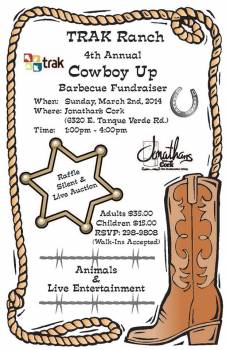 --Jonathan and Colette Landeen, owners of Jonathan's Cork, will host the 4th Annual Cowboy Up fundraiser for TRAK "Therapeutic Riding for Animals and Kids" on Sunday, March 2 from 1 to 4 p.m. at the restaurant, 6320 E Tanque Verde Road. This annual fun family event will feature a petting zoo, live and silent auctions, full BBQ buffet and live entertainment. Admission is $35 for adults and $15 for kids. For more information, call 520-298-9808.