Drink beer and lots of it. February 15-22 is Arizona Beer Week. Suds up! But before we get to drinking the beer, here's a shout out to Haile Thomas and NOX, a new restaurant.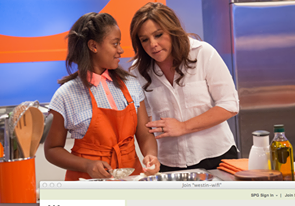 Cooked on the TODAY Show
Twelve-year-old Tucsonan Haile Thomas has had a whirlwind of firsts that most of us just dream about. She's been to the White House a few times, met the President and First Lady, been invited to President Obama's second inauguration, met Deepak Chopra, cooked on the TODAY Show, met Rachael Ray and Guy Fieri, sat on the board of a charity for healthy eating, eloquently spoke at Tucson Tedx among other places and was recently named in the Grio's 100 most influential people for 2014. Congratulations Haile!
NOX Nox, Who's There?
Nox is Tucson's newest restaurant having recently opened February 9, in the former Café Jasper address at Skyline/Campbell. Jason Anderson's classic-modern restaurant design features a worldly menu of New American cuisine and craft cocktails. The setting of vintage finds, eclectic art, aged wood paneling, intimate lighting and a wrap-around bar opening up to the patio lounge set the mood. Nox is open for lunch, dinner, happy hour and late night; live music on some nights.
Several events will be going on across the state. In Tucson, here's a sampling:
--Sentinel Peak will be releasing a collaboration Lemon-Pepper Witbier designed with the fine people of Granite Mountain Brewing in Prescott and an Imperial Red, both brewed specifically for Arizona Beer Week.
--Crafty Hour at Boca Tacos Y Tequila on February 15-22. Craft beer and craft tacos go together like Beyoncé and Jay Z. Every day from 3 to 6 pm, get $1 of all local Arizona beers.
--Brew N Bikes on February 15 – 11 am to 5 pm. Get those wheels ready to roll starting at Barrio Brewing Co. The journey takes riders through the heart of downtown Tucson looping around University Street and ending at Sky Bar. Beware of modern cable car tracks.
--Arizona's 102nd Beer and Brats Birthday Bash on February 15 – 4 to 10 pm. Playground Bar and Lounge might be Tucson's only rooftop bar (so far). So come on up for some picnic type fixings where $15/pp gets you all-you-can-eat grilled hot dogs and brats and a beer flight of four 4-oz Arizona pours. Designated drivers and kids eat for $10. The Arizona beers featured include 1055, Dragoon, Barrio Brewing Co., Borderlands, Four Peaks, Grand Canyon, San Tan, Oak Creek, and Sleepy Dog.
--Upslope Brewing Happy Hour on February 21 – 5 to 7 pm. It had to happen -- a microbrewery from Boulder, Colorado is being released in Arizona courtesy of Golden Eagle Distribution. Maybe it should go head to head (pun intended) with an Arizona brew. I see a showdown brewing in the works. But for now you can be the first to try the new beer at Canyon's Crown Restaurant and Pub.
"Beer, it's the best damn drink in the world." ~Jack Nicholson