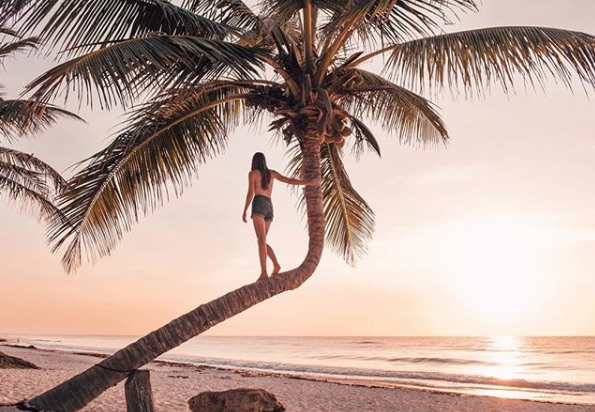 @nomanbefore
Cancun has reigned over the list of top college spring break destinations since the days when MTV's Spring Break was the television event of the year for underage students all across America.
Just the mention of the word "Cancun" conjures up images of oiled up girls throwing back tequila shots and guys in neon-colored board shorts with a Corona in hand.
I'd be lying if I didn't admit to being part of this crowd. However, now that I've experienced spring break in real life and learned the hype behind it is a bit excessive, I find it a crying shame that MTV's depiction of Cancun is how most Americans of my generation were introduced to this place.
Because the truth is, Cancun (and the entire Mexican state of Quintana Roo) is unlike anything your teenage-self thought you felt a split-second of envy for as it flashed across your television screen during that infamous week on MTV.
Rather, Cancun is a more sophisticated, magical place full of charm, adventure, stunning sights, and incredible people. Oh yeah, and the fresh and fabulous food is nothing short of exceptional -- and is something we are guessing MTV spring breakers didn't have a chance to experience.
There is no better time than now to put to rest the unrealistic renderings of Cancun that reside in your head, and replace them with the reality of the mystical world of Quintana Roo -- all the way from ziplining atop its lush and stunning jungle to spelunking through its mysterious Mayan Xibalba underworld.
Here, the top sites to see, spots to stay, and expeditions to embark on to ensure your Quintana Roo experience is an authentic one that will be the envy of everyone, spring breakers and beyond.
Where to Stay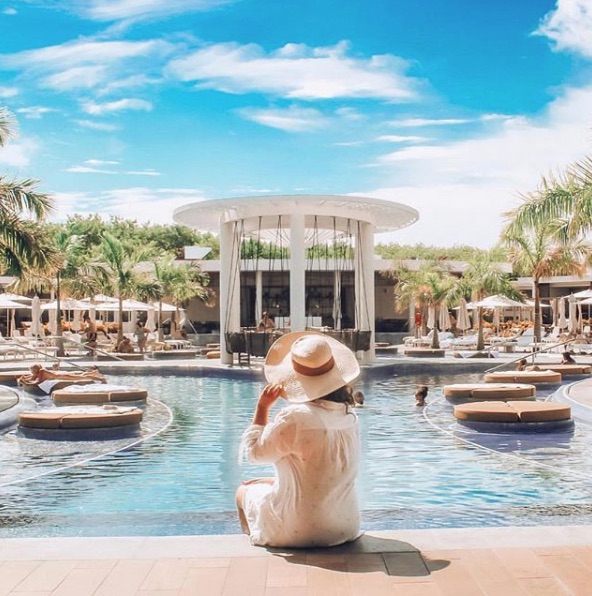 @palaceresorts
The Grand at Cancun's Moon Palace Resort is truly palatial -- an all-inclusive heaven. Let's start with one of its most notable and heavenly attributes: the food.
From JC Steakhouse offering up Tomahawk Prime 46-ounce steaks and truffle mac 'n cheese, to the Boulangerie serving up fresh pastries and treats 24 hours a day, it is impossible not to leave much unsaid when it comes to the food at Moon Palace. Your options range from Asian to Lebanese; and it might as well be a money-back guarantee that you will never ever go hungry here.
Since it's easy to go overboard on the resort's culinary indulgences, thankfully it has a fully-equipped gym facility that includes a Pilates machine, spin bikes, and much more. Floor-to-ceiling windows allow you to soak up the sun from indoors, awhile working off the guilt from those over-the-top meals that are impossible to turn down.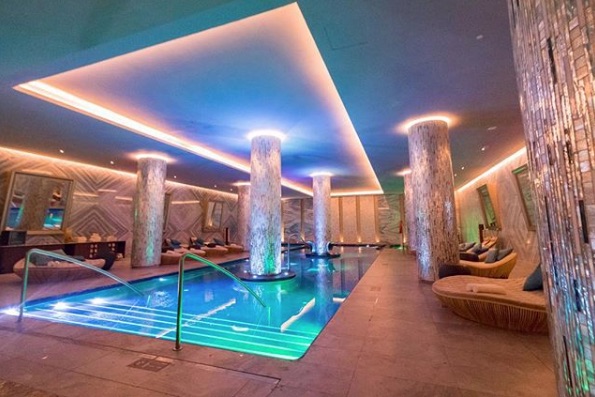 @palaceresorts
Though nearly every aspect of this resort is mind-blowing, the most impressive part is undoubtedly Awe Spa. With over 70,000 square feet of bliss that includes 64 suites, 61 private treatment rooms, and relaxation rooms that bring you to a level of repose you never imagined possible, the struggle to leave this paradise will be real.
How to best experience the water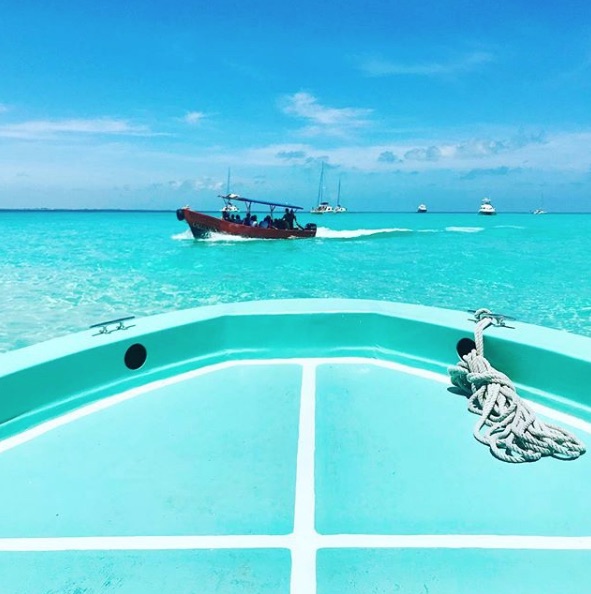 @wendyaltschuler
It is worth planning your trip to Quintana Roo between the months of June and September exclusively for the reason that this is the prime time to experience the magic that is swimming with the biggest fish in the world -- the whale shark.
Cancun is home to Earth's largest aggregation of whale sharks, and a guided excursion with Eco Travel Mexico gives you the best possible chance to not only see these creatures close-up, but to actually swim with them.
Over 20 miles off the coast, in the middle of what feels like nowhere, the whale sharks gather to feed on plankton during the spring and summer months, thus providing you with an opportunity of a lifetime.
As someone who has spent their entire life fearing (above everything else) wide open waters, swimming with whale sharks was truly life-changing. Whether or not you share my fear (thanks, Jaws), this experience is something you absolutely cannot miss.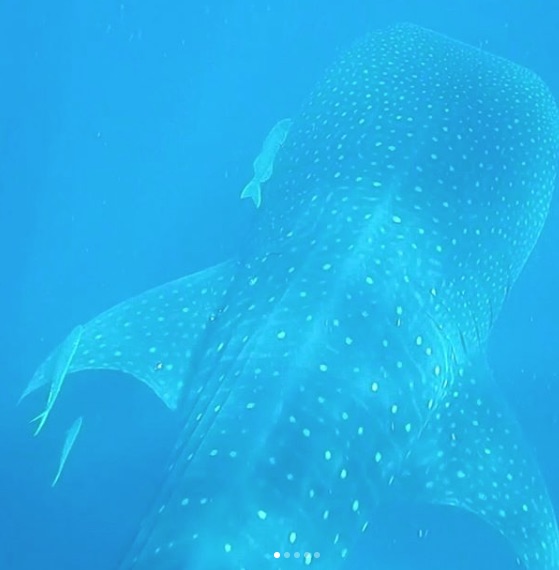 @wendyaltschuler
Wetsuit, flippers, and snorkel on, you'll hop off the boat to join the whale sharks in their natural habitat, and simply marvel at their beauty. The aura of peace these animals carry with them is truly palpable. You'll find yourself oddly comforted in the midst of the wide open sea with these 30-foot long, 40,000 pound giants.
The waters in this part of Mexico are known to boast some of the best snorkeling in the world, made even better when given the opportunity to get up close and personal with the gentle giants that are whale sharks.
However, always look, don't touch. Because tourism is the main driving force of Quintana Roo's economy, it is important that every visitor who comes through this state and into its waters does his or her best to preserve the natural environment. This stretch of water that butts up against the Caribbean is truly stunning, and conservation is key to ensuring that adventures such as the whale shark swimming can continue.
Plan on 7 hours for the excursion, as it takes a while to get to the secret whale shark spot, prep for the swimming, get a couple swims in, and eat a tasty lunch of fresh ceviche -- prepared by the boat's captain himself. The tour also includes a stop to swim in the water off the coast of Isla Mujeres. Here sits what is claimed by some to be one of the most beautiful beaches in the world.
How to best experience Xibalba, the Mayan underworld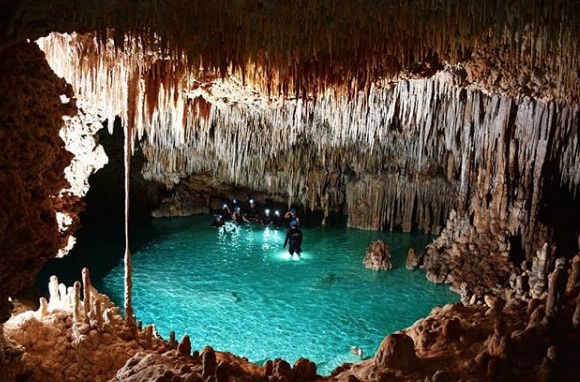 @riosecreto
In Mayan culture, the underworld, Xibalba is a sacred place. Massive systems of caves lie underneath the jungles of Quintana Roo that, according to Mayan culture, serve as the portal to this underworld.
And, at Rio Secreto in Playa Del Carmen, you have the opportunity to step foot into the underworld and experience its magical and mystical beauty.
Though the gear you'll be rocking to go into the underworld isn't exactly magical, mystical, and certainly doesn't exude much beauty.
Once you've suited up with your wetsuit, your lifejacket, your water shoes, your helmet, and your headlamp, you've got one more step to go before making the journey into the underworld.
Each excursion into the caves begins with a cleansing ritual performed by a Mayan shaman. Using smoke, the shaman cleanses each person, and asks the gods of the underworld permission for you to enter their domain.
Then, the exploration begins. As you traverse through the mystical caves, your guide teaches you all about the geological formations in this stunning world, and how the magic of nature has created such a place. From sharp and protruding stalactites that seem otherworldly, to the crystal clear water that seems too pure to be real, science can't possibly explain away all the marvels of these caves, leaving you to believe that Rio Secreto is truly full of secrets.
The history here runs much deeper than the water -- the caves date back to over 2.5 million years ago. To describe what you'll feel while swimming in these ancient waters and taking in the sights from what may as well be another planet is quite a challenge. Just know this experience is nothing short of magical.
How to best experience the jungle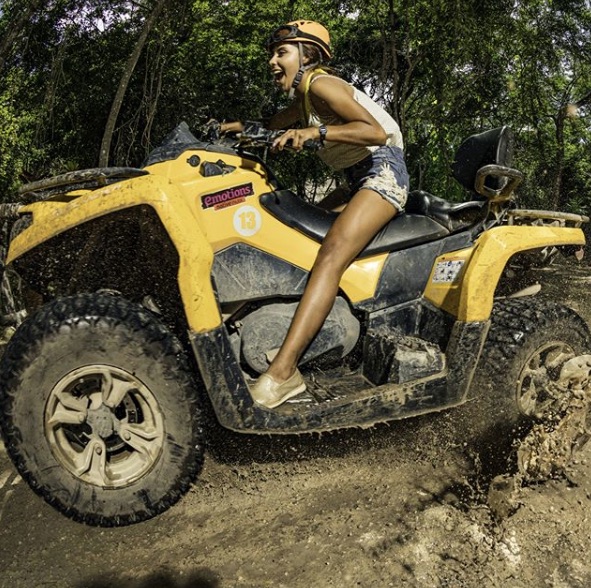 @alltournative
The jungles of Quintana Roo are stunning, but truth be told, are most beautiful by night. Though you aren't able to see all the abundant green in its daytime glory, the energy that exudes from the lush life here in the nighttime has a magical aspect to it.
And the ideal way to experience the jungle at night is via Alltournative's Emotions Jungle Night. Start off with a zipline adventure to feel yourself soar above the abundant, green vegetation, with a smile on your face you won't be able to wipe off.
Next, your inner speed demon will get its chance to shine with a thrilling ATV tour by starlight through the jungle. There is something about hurling through the jungle at night behind the wheel of this vehicle that takes your mind and body to another place, a place where you feel freedom unlike ever before -- making this my favorite part of the entire experience.
Speaking of going to another time and place, as part of Emotion's Jungle Night you'll also experience a Mayan ritual that serves as a cleansing prior to venturing into the ethereal cenotes for a night swim. Your experience with the underworld comes to a close with a bonfire and some good old-fashioned marshmallow roasting.
In short: It would definitely be easy to get used to life in the jungle.
How to best experience the culture and traditions of Mexico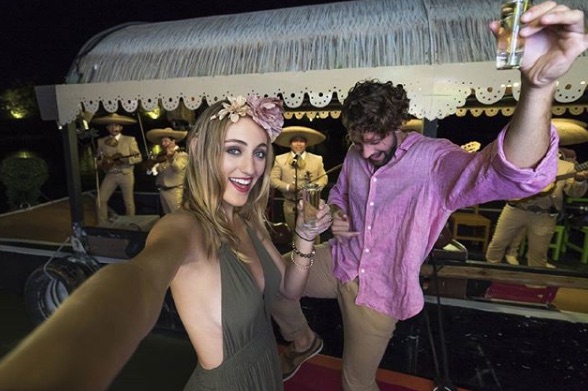 @xoximilcocancun
Mexican culture is truly unlike any other, and is absolutely one you cannot live your life without experiencing. The colors, the music, the food, the dancing, and the all-around joy happening at the Xoximilco floating fiesta will wow you, and likely make you fall in love with the culture here.
Hop on board a party gondola for a night of dinner, dancing, drinks, and fun. Your host takes you on a river cruise through the different pieces that make up the Mexican culture, while an open bar with tequila will have you really amping up the night. In fact, before heading on the gondola, you'll have to sign a waiver that clears any responsibility should you decide to drink yourself into the water (literally-- it has been known to happen).
Using the word "fun" to describe this experience does it absolutely no justice. It's more than just a party with dancing and drinking; it is a night that allows you to step into the Mexican culture and see it in all its beauty and all of its jubilation. By the end of the night, I certainly found myself envying the culture and feeling thankful I got to be an honorary part of it for the night.
Cancun and all of Quintana Roo was much different than the preconceived notions I had in my head, and I guarantee will be different you expect it to be -- especially those of you who think Cancun is simply the land of MTV Spring Break.
Take the opportunity to experience and learn more about the incredibly rich culture of Mexico, and while doing so, experience and learn more about yourself. You'll leave Quintana Roo feeling a new sense of awakening and vitality that cannot be found elsewhere.
To plan your exploration today, head to visitmexico.com.