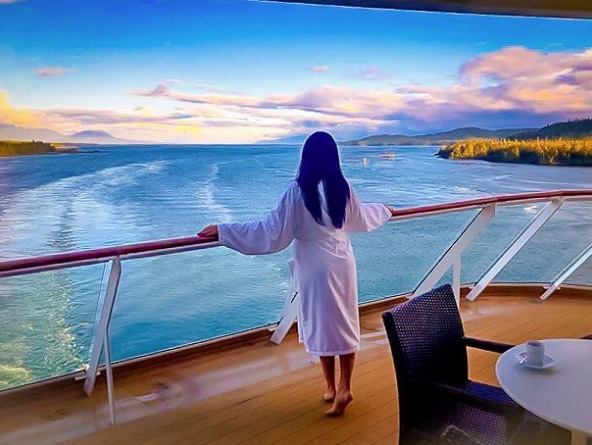 I ask you to put away any preconceived notions you may have about cruises.
Don't worry -- I had them too, the most prominent of which was: "cruises are for old people."
Ouch.
Though harsh, it was something I wholeheartedly believed prior to my first cruise, and is a thought many people who have never been on a cruise have firmly planted in their heads.
However, when embarking on my first oceanic voyage, my hypothesis that cruises were reserved for the older crowd was quickly disproven.
And, it was proven wrong yet again (to an even greater extent) when I stepped on board the hottest new cruise ship at sea -- Norwegian Cruise Line's Bliss.
---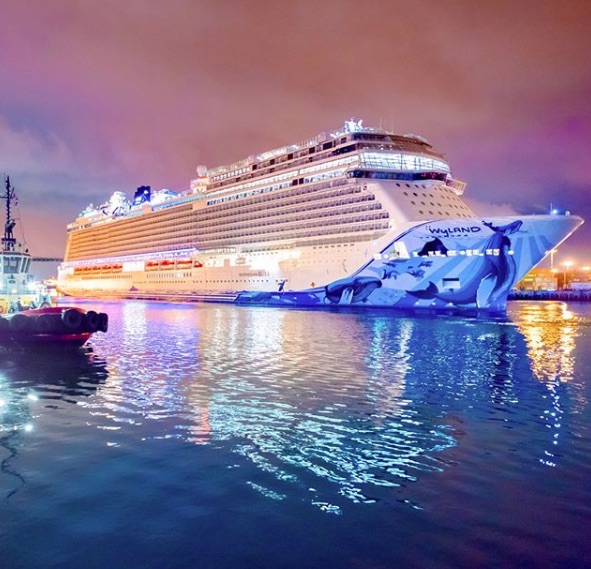 "Bliss" is an understatement for the magic that this ship has to offer. Its size alone will make your jaw drop.
Able to accommodate over 4,000 guests and more than 2,000 crewmembers, Norwegian Bliss is the biggest ship to cruise the western United States.
With 20 decks and a bow-to-stern length of 1,094 feet, the size of Bliss ensures you'll never get bored while on board, though I guarantee you'll get lost.
But size isn't all that matters with this ship.
Though Bliss could boast about its size alone to draw crowds, there is much more to this grand craft than you see on the outside.
Before we dive into what wonders the ship's interior holds, let's pause to appreciate the titanic piece of art Bliss served as the canvas for. World-renowned marine life artist Wyland is the man behind the brilliant "Cruising With the Whales" artwork that dons the hull of this epic vessel.
Meant to not only bring unique life and character to the ship, "Cruising With the Whales" is also a source of inspiration; a visual reminder for people to appreciate and nurture nature, and to always do their part to conserve it.
---
Norwegian Cruise Line (NCL) was born in 1966 under the name Norwegian Caribbean Lines, and from its inception, this cruise line has distinguished itself from its predecessors and now, competitors.
Rather than focusing its attention on giving travelers a vessel on which to get from one place to another, NCL conceptualized creating for travelers a destination on the ship itself.
And the line's new Bliss ship is this dream realized, in the most truly romantic way.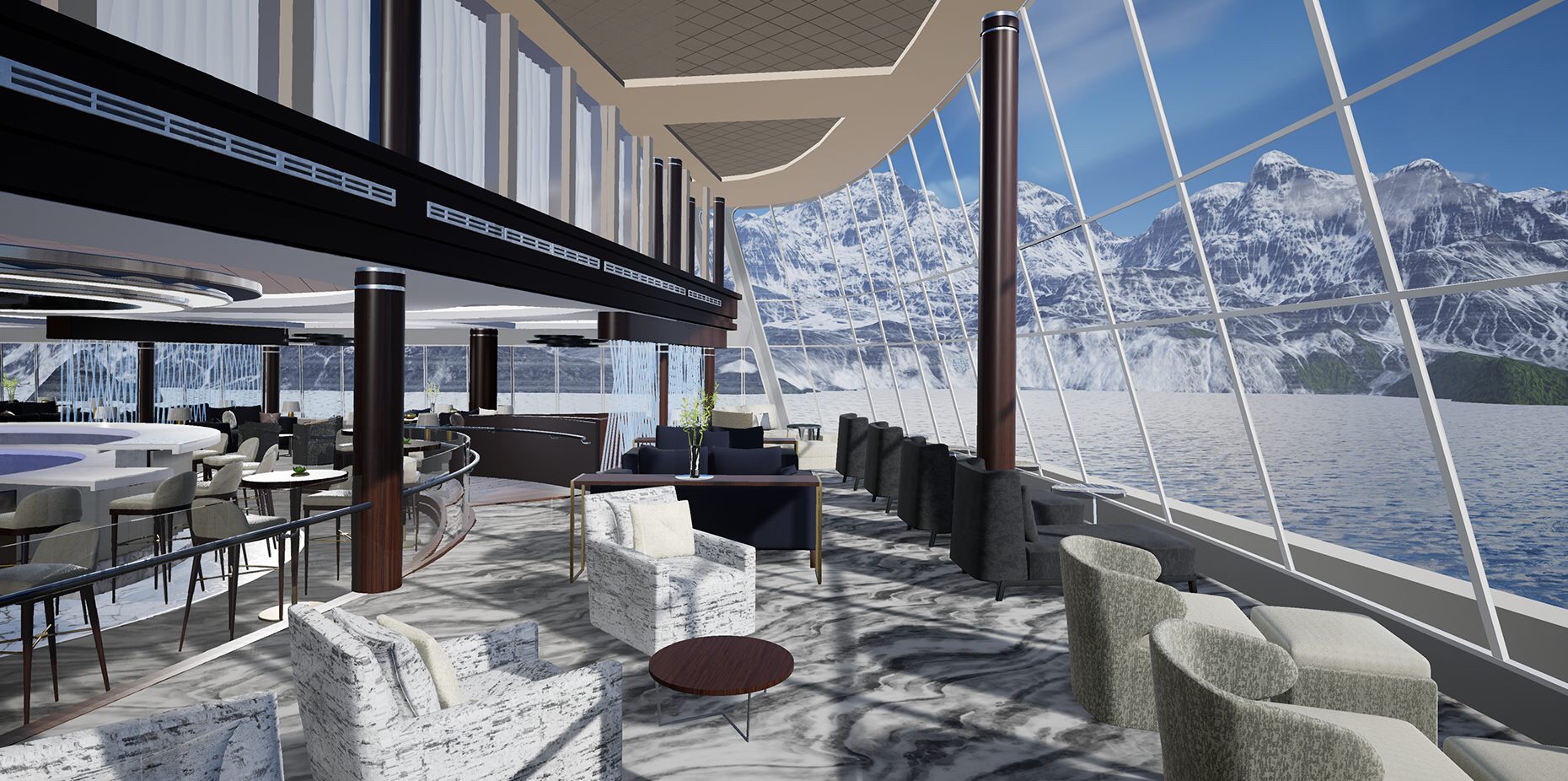 To find a starting point in sharing the glamour of Bliss is a challenge, but I'll begin with what I found to be the most impressive place on the ship -- the Observation Lounge.
This 20,000 square-foot lounge with floor-to-ceiling windows spanning the entire front section of the ship is, hands down, the best place on sea to relax.
Sink into the perfectly plush velvet chairs while taking in the most grand panoramic views of the wide open sea, or whatever port anxiously awaits your arrival.
And just when you think things couldn't get any better in the Observation Lounge, you've got a full-service bar right at your fingertips to guarantee this experience goes right to your head.
---
Speaking of bars, this ship is home to more watering holes than you could visit in one night (unless your nights out consist of touring 13 bars -- in which case, I salute you).
From a comedy club where you can drink until the jokes become funny, to the Beatles-themed Cavern Club with enough free-flowing drinks to convince you you're floating the seas in a yellow submarine, there is a bar for everyone here.
Come one, come all to toast to life aboard Bliss, because it is truly fabulous.
---
And when a few too many drinks has you feeling the boat rock more than you'd like, there is a state-of-the-art stateroom calling your name.
Bliss features over 2,000 rooms for travelers to call home, and boasts a truly luxurious experience at its exclusive enclave, The Haven. Here 80 staterooms of sheer luxury and countless other amenities sit perched at the top of the ship.
An upgrade available on other Norwegian cruise ships, The Haven is the crème de la crème of the line's accommodations, and of course that crème is extra creamy here on Bliss.
Bliss is home to the biggest Haven in Norwegian's fleet, which comes complete with its own private restaurant, an exclusive lounge with drinks crafted by a master mixologist, a two-story courtyard with a retractable roof, and really anything else you could ever want in your cruise life of luxury.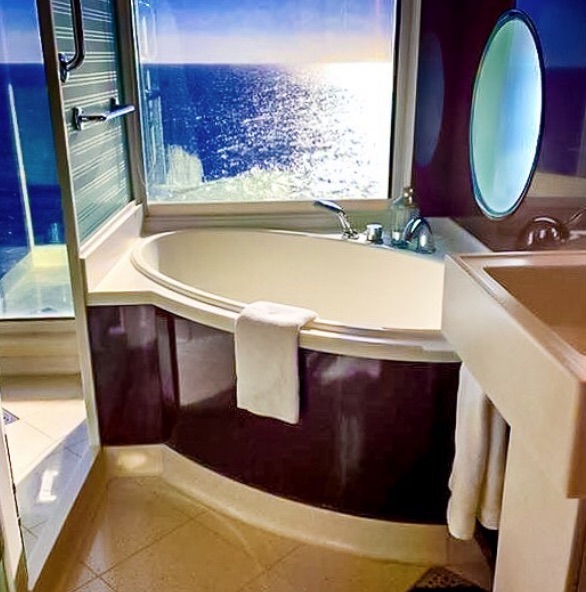 But the best part? The 24-hour butler service, obviously -- for those nights when you absolutely must have a pistachio macaron or ten delivered at 3:30 a.m. while relaxing in your Haven Spa Suite's hot tub.
And for those whose rooms are a few levels down in the lower decks, don't worry -- you're not exactly a plebeian in steerage amongst chaps like Jack Dawson.
The staterooms outside of The Haven are stunning, spacious, serene, and somewhere you'll love returning to for some R&R after exploring your way around the ship.
Because you will be exhausted.
---
It would take someone spending months aboard Bliss to discover all the adventures big and small on this mammoth vessel.
The more obvious fun lies in the big-ticket entertainment such as Bliss' Go-Kart racetrack, its open-air laser tag, and its live entertainment.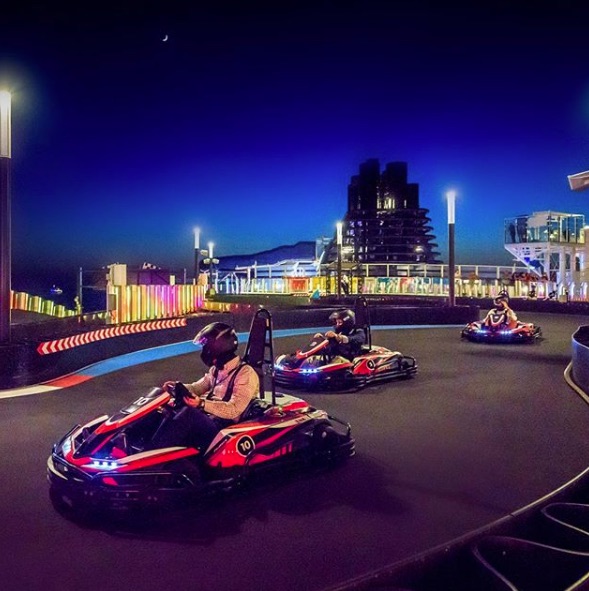 Norwegian wouldn't settle for anything but the biggest and the best, so their Go-Kart racetrack is not only the first one in existence on a North American-based ship, but also the longest racetrack on any sea, anywhere.
You're never too old to throw on a helmet, hop in a racecar, and put the pedal to the metal (which here means 30 m.p.h.).
Age limitations are also thrown to the wayside when it comes to joining a crew of self-proclaimed space colonists in the ship's laser tag course. Why not pretend you're lost in space when you're at sea?
And, when you're done launching into the future, blast into the past by putting on your finest cruise wear and heading to the ship's spectacular live performance of "Jersey Boys." Prepare to have your judgements of what to expect from a cruise ship's musical performance blown out of the water.
Sing along with Frankie Valli and The Four Seasons to "Can't Take My Eyes Off You" as you find yourself entranced and unable to take your eyes off these performers (and their flawlessly coordinated moves and outfits).
The production value of this show woke me up to the reality I had truly underestimated the power of a cruise ship's live entertainment.
---
While the flashier experiences of Bliss steal the spotlight, there are some hidden treasures on this ship that are certainly worth digging up, my favorite of which is the crewmembers.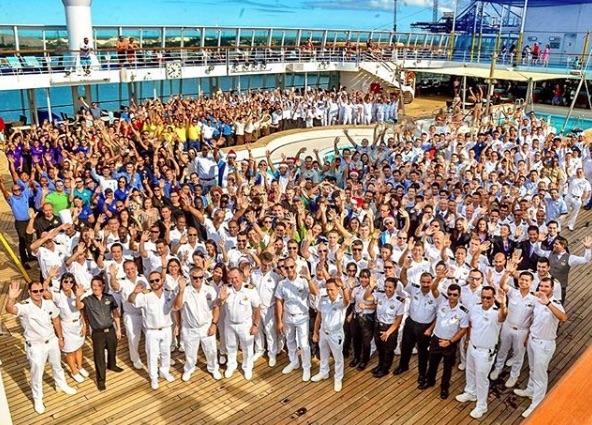 I vehemently urge you to take a few moments between glasses of wine, or when swapping out your pool towel for a fresh one to talk to one of the 2,000-plus crewmembers that make this ship run smoothly.
They hail from the farthest corners of the world, and have brought with them stories that will fascinate you. Couple that with their unparalleled level of dedication to your enjoyment on the ship, and you've got something that makes for a rich and riveting story of its own.
---
What really takes home the cake of this cruise ship is the cake, and all the other delicious eats available at every turn on Bliss.
The food on this ship (particularly the speciality dining) is nothing short of five-star. Whether you're hankering for some hickory smoked BBQ or lusting for some lasagna, Bliss has food for your every mood.
From the seafood extravaganza (which resulted in so much indulgence on my part, I headed afterwards to the breathtaking Fitness Center to attempt to run off the excess lobster and other sea dwellers I had inhaled) to the Tuscan tastes of La Cucina; from Jimmy Buffett's Margaritaville at Sea to Coco's chocolate paradise, I dare you to stick to any semblance of a normal, healthy eating routine while on Bliss.
Thankfully no one goes on a cruise with diet plans in mind. Though the healthy options are there, you'd be a fool not to satisfy all of your cravings while at sea.
Because what is Bliss without a dash (or deluge) of gluttony?
---
To book your own blissful adventure, visit ncl.com.